72-plus-miles per hour. We wouldn't have believed it had we not just done it ourselves. Aboard a showroom stock 2016 Yamaha FX SVHO WaveRunner, we ran an incredible 72.3 mph (that is, with the current. We clocked a 71.5 mph upstream, making our average speed 71.9 mph). To be safe, we ran redundant systems, being a second Garmin GPS (which recorded a best of 72.2 mph) and the Speed Box app recently downloaded to our iPhone (although not nearly as precise giving us a basic "72 mph" as a result).
Normally, these are the types of speeds typically given to the low altitude canals of Louisiana and Florida, not 446-feet above sea level in Middle Tennessee. With air temperatures hanging around 58-degrees and the water at 42-degrees, Old Hickory Lake was deathly quiet when we took our first speed pass. The trees were still as our Carbon Metallic and Electric Green FX SVHO streaked by, the electric trim set one notch above neutral, a scant 4 gallons of gas in its 18.5 gallon tank, our 228-pounds low over the back seat.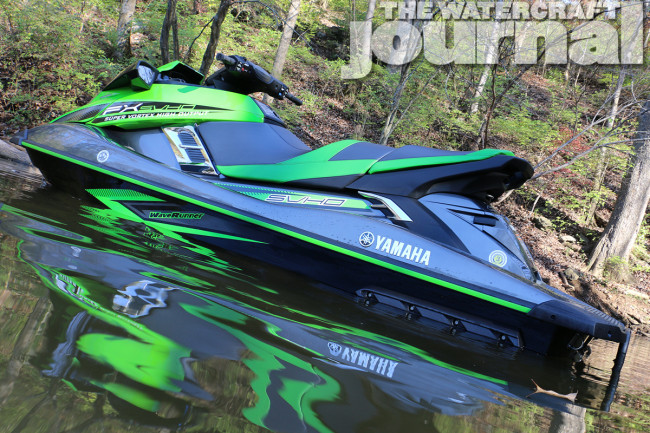 From a standstill, the unofficial 265-horsepower (estimated) of the centrifugally-supercharged 1,812cc Super Vortex High Output 4-stroke erupts with power, enough to propel the entire WaveRunner's 140.2-inch hull from the water if not trimmed low and if you're not high up over the bars. Despite its long, 3-seater look, the FX rides on Yamaha's NanoXcel2 hull and deck, whittling its dry weight to a mere 833 pounds (making it lighter than the new Sea-Doo RXP-X at 850-pounds).
The second pass fared slightly slower as heat began to soak the engine and wind began to sway the barren treetops, rippling our lake's once glassy surface. Nevertheless, the numbers were there and in unison from multiple devices. A single GPS can record a "jump," a slight blip in speed that gives a false positive. But dual systems recording near-identical numbers is indisputable. Either Yamaha reached down and finally unleashed the SVHO from its chain, or we had a one-of-a-kind fluke on our hands.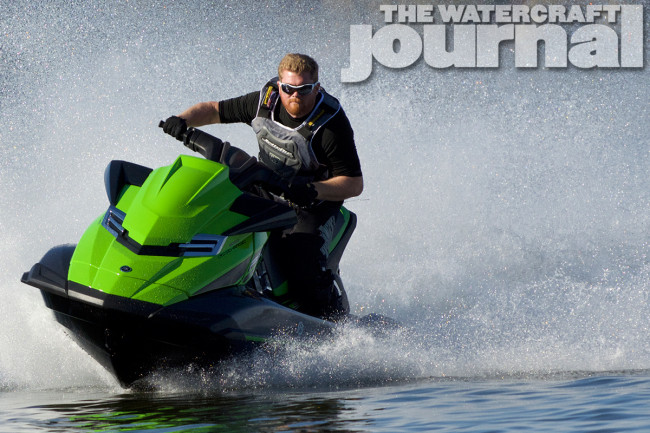 A late night post on Facebook proved otherwise. "I got 70 mph from mine," one reported. "I go 71 mph all the time," another echoed. Those who raced the SVHO-powered FX in this past year's AquaX season sent private messages saying likewise. What exactly was going on? Exactly one month ago, we published a review of a near-identical and well-broken-in '15 FX SVHO that at its best tipped 69.2 mph. What changed? First of all, the conditions: Both the air and water temps were significantly warmer in early October. And, the yellow '15 was ridden in Lake Havasu. Although Havasu is 448-feet above sea level – almost identical to Tennessee – the corrected barometric pressure directly effects the altitude density to nearly 100-feet higher.
Changes between the '15 and '16 models were kept for the most part quiet, being specifically the re-engineering the 4-cylinder's DOHC timing chain. The new model features a stout double width chain that, according to a few lucky enough to see early pictures, call "impressive." Whether the timing gear(s) have been modified remain speculative [we're still investigating – Ed.]. Otherwise, all production part numbers appear to have gone unchanged. The addition of the aforementioned carbon-and-green livery is also accompanied by a fetching Azure Blue Metallic scheme.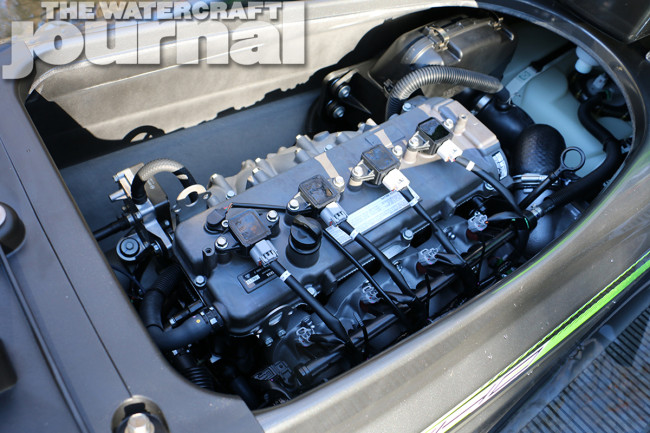 With those, carryovers include the inclusion of Yamaha's new RiDE dual throttle brake-and-reverse system. Some will note our first impression of a RiDE-equipped SVHO unit as being "abrupt" and "throttle-happy." Not so anymore (leading us to further speculate that certain tweaks were made to the '16 ECU tune). Rather, the 2016's transition from stopped-to-reverse comes on measured and progressively. Braking at speed is still stellar and is as equally satisfying as the latest improvements made by Sea-Doo with their second generation iBR.
In lieu of a large bow compartment like that of the new Sea-Doo S3 models or Kawasaki's cavernous stowage, Yamaha breaks up its 33.2 gallons of capacity throughout the craft: a moderate front bin, an ample glove box, two watertight screw-top compartments – one in the dash, the other beneath the rear seat – and a wet storage locker in the rear swim platform, with each place seemingly being specific for its use; tow ropes in back, cell phones and wallets near the dash, a drink and sunscreen beneath the 5-point tilt steering, etc.
A wide, clean and uncluttered dashboard provides a traditional analog tachometer flanked by a LCD speedometer and info display on either side. Dash controls are tucked beneath the steering, above the glovebox, and can be tricky for some to navigate with the bars low and while traveling at speed. The steering features wide set-apart bars with electronic toggles for trim and Cruise Assist with multicolored buttons for start/stop and No Wake Mode. The '16 also continues use of Yamaha's comfortable "pistol-style" handgrips.
Unlike the next-level-up FX SVHO Cruiser, the 2016 features the slightly stepped seat. But what lies beneath is what counts: As stated before and familiar to most by now, the Yamaha's SVHO runs 60-pound injectors spraying 8.5:1 compression forged pistons. A large capacity intercooler – an impressive 22-percent increase in efficiency over the previous SHO model – chills the charge of a 86mm HKS supercharger spinning a 6-vein impeller pressing out 60-percent more boost over the SHO as well.
All of this spins the race-inspired 3-blade 160mm impeller in its race-inspired 8-vein pump enough catapult the full-sized machine from 0-to-30 in 1.5 seconds, and to 60mph just past a second over that. As expressed at the beginning, not only did we blow past 60 mph in about 2.7 seconds, but ticked over 12 miles per hour past it. Now, what of the fabled "handshake agreement" with the USCG, you ask? Yamaha promises that the WaveRunner still complies when fully laden with three-passengers and adequate stowed weight as promised.
Yet, when freed, the FX SVHO rides like a culmination of decades of race experience rolled into one. Handling is predictable, steering input is sharp, throttle response is almost precognitive, and the hull reacts intuitively to shifts in body weight. Due to its lightweight, the FX doesn't plow through moderate to heavy chop as predictably like the heavier Kawasaki Ultra or suspension-equipped Sea-Doo GTX and RXT. But in mild to rough windblown lakes, the SVHO has plenty of oomph to propel the motivated rider through and over without screaming wildly as others might.
Again, at 72.3 miles per hour, this is unequivocally the fastest production watercraft (intended for sale within the United States) that we have ever tested. Yamaha does not offer a special "international" model or "uncorked" tune, either. And no, this particular FX SVHO WaveRunner was not modified, save for disconnecting the visibility spout and decorative engine cover (as we're sure some eagle-eyed readers will point out). Nevertheless, priced at $15,199, the 2016 Yamaha FX SVHO WaveRunner is bold, brazen and now the fastest thing on the water. Bar none.