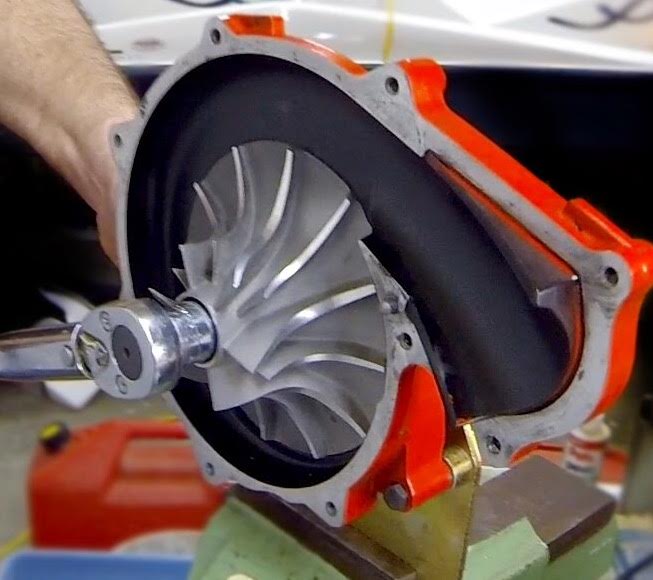 Uh oh! You start to feel that familiar surge of acceleration begin to wain; your supercharged Sea-Doo just ain't packin' the punch it once had. Believe it or not, the factory centrifugal supercharger does require maintenance just like the rest of your machine, and the team at Broward Motorsports Racing has exactly what you need!
If you're the daring do-it-yourselfer or have a shop that you trust, you can now pick up a complete kit to rebuild your supercharger packed with all of the quality Sea-Doo genuine parts and metal washers you need to return your runabout back to its former glory and increase its reliability for many more hours to come – all for $369.99.
And just like The Watercraft Journal reported earlier, you can now purchase your performance parts using BMR's payment program. If you choose to use their Affirm service, this kit will put you back a meager $35/month. So get back on the water faster!
Fitment applications:
Sea-Doo 2013 GTX LTD IS 260 Supercharger
Sea-Doo 2013 RXT 260 Supercharger
Sea-Doo 2014 WAKE PRO 215 Supercharger
Sea-Doo 2015 GTX LTD 215 Supercharger
Sea-Doo 2013 RXT-X 260 & RS Supercharger
Sea-Doo 2013 RXT-X aS 260 & RS Supercharger
Sea-Doo 2013 RXP-X 260 & RS Supercharger
Sea-Doo 2013 RXT 260 & RS Supercharger
Sea-Doo 2014 RXT-X aS 260 & RS Supercharger
Sea-Doo 2015 RXP-X 260 & RS Supercharger
Sea-Doo 2015 GTX LTD IS 260 Supercharger
Sea-Doo 2014 RXT-X 260 & RS Supercharger
Sea-Doo 2014 RXT 260 & RS Supercharger
Sea-Doo 2014 GTX LTD 215 Supercharger
Sea-Doo 2015 RXT-X aS 260 & RS Supercharger
Sea-Doo 2014 GTX LTD IS 260 Supercharger
Sea-Doo 2015 RXT 260 & RS Supercharger
Sea-Doo 2014 RXP-X 260 & RS Supercharger
Sea-Doo 2014 GTR 215 Supercharger
Sea-Doo 2015 WAKE PRO 215 Supercharger
Sea-Doo 2015 RXT-X 260 & RS Supercharger
Sea-Doo 2015 GTR 215 Supercharger
Sea-Doo 2016 GTX Supercharger – 215
Sea-Doo 2016 GTI-GTR-GTS Supercharger – 215
Sea-Doo 2016 WAKE PRO Supercharger – 215
Sea-Doo 2016 GTX Supercharger – 260
Sea-Doo 2016 RXT Supercharger – 260