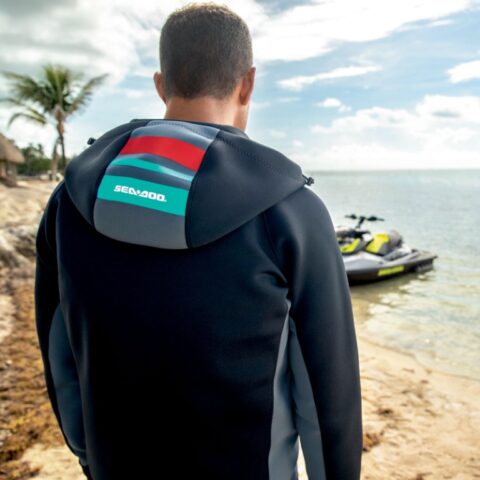 With an end to social distancing still out of reach for most folks coupled with cold weather this time of the year, many people are eager to extend their ride time on the water.
What better way to do so and stay comfortable than by using some great Sea-Doo riding gear including the warm and comfortable Sea-Doo Ride jacket.
This is the perfect cold weather accessory to keep you on the water longer.  With a front zip design and deep side pockets, it is designed to be worn over your life jacket.  It even looks good when not riding so you can literally multi-purpose wear it all over.
Check out what Sea-Doo has to say about it:
The Sea-Doo Neoprene Ride Jacket is the ultimate cover up when mother nature whips up less than steamy days.  The ride jacket is worn overtop your lifevest to keep you warm year round and includes pockets with velcro closures and a hood to keep the splashes from running down your neck.  And there are no rules saying you can't wear this jacket when your feet are on the street.  The Sea-Doo life is cool no matter where you wear it.
For more details and info on the Sea-Doo Neoprene Ride Jacket and other cooler weather Sea-Doo riding gear, check the link HERE