Last weekend, a different kind of turf met the surf at RPM Racing Enterprises 2nd Annual Hot Products Huntington Beach MotoSurf & Impros Freeride Exhibition. Early Friday morning, race trailers packed the parking lots lining Pacific Coast Highway and prepared for an action-packed weekend of battling the 3-4 foot swells against the beautiful backdrop of Huntington Beach Pier. This event is probably the most anticipated event on the West Coast, drawing in hundreds of racers from all over.
One racer, Tim O'Neill, traveled all the way from Brisbane, Australia to compete, and he plans to make the same trip next year! Even a recently-fractured ankle belonging to Canadian Mike Klippenstein couldn't keep him away from driving out last minute to compete in 12 motos over the course of the 2-day event. Racers also had the chance to watch the event at home thanks to Richard Ignacio and his livestream. Film crews were on site grabbing footage for the highly-anticipated movie "Hot Water."
The pier and beach grew packed during the freeride exhibition as riders dumped their skis off their carts and headed into the water, launching their skis to spectacular heights, eye-to-eye with spectators cheering and screaming on the 30-foot tall pier. The freeride couldn't have been pulled off were it not for TC Freeride's Mark Gomez and Hot Product's Tom Perry, who after a few phone calls and late nights, were able to pull together the first Pro Freeride Invitational event, with 8 competitors on the line.
Gomez himself went on to win the first Freeride Invitational after battling with Lawlor Bros' own Brandon Lawlor in the semi-final round. Winning the Invitational didn't stop Mark from going on to race 12 motos that weekend in Pro Ski GP, Vintage 550, and Sport Spec. "I came in front of some steep wave faces, and I just had to pin it!" Mark laughs when the crowds went wild as he pulled off a backflip on his race-built Rickter in the middle of a Pro Ski GP moto. "It's moto-surf racing, and as exhausted and spread thing as I was, I wouldn't have it any other way! More participation with the city this year granted us more RV parking, which brought the whole race family together."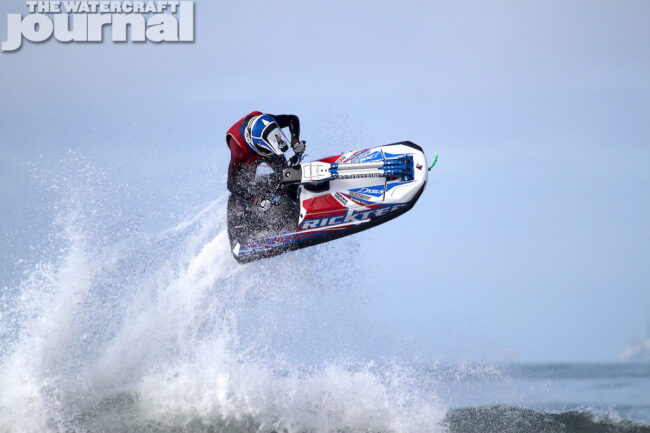 Surf racing definitely has its perks that separate it from the normal racing scene. There was no start band, so racers had to tune in to the airhorn being blown behind them to signal their take-off, which also signaled to the crowds that racing had started! The biggest class turnout was none other than Vintage 550 with 11 racers on the line. The churning surf definitely took a toll on a few racers, from bloody noses and bit lips, to a variety of helmet visors, goggles and hoods all lost to Davy Jones's Locker.
Yet that didn't stop racers from coming together to help and support each other, some even being first-time rookies and never riding a wave before. "It's always awesome to see other riders and teammates jumping in to help out," mentioned Angie Carlton. "Even with the intensity of the waves, the riders did not back down, and gave it their heart and soul as they launched their skis. This truly was an amazing event!"

IPD photographer Ally Emig spent most of her time up on the pier both days, taking photos and gathering feedback from the people that, apart from the racers, will guarantee this event coming back to this location: the spectators. "The pure fascination from the kids as they pulled their parents closer to the edge of the pier to watch brought pure joy to me. They wanted to know everything about the sport, where we all came from, how long we've been racing, and most importantly, when would we be back!"
Local shopkeepers and vendors enjoyed the event's presence too, benefiting from the hungry and thirsty crowds that the event drew in. Pier-goers stopped in their tracks the second they heard Pro Ski GP fire off. "They were dumbfounded as I rattled off names and ages of racers, the top speeds of their skis; they couldn't believe it!"
Spectators also took the time to wander down to the beach after the racing was over, immersing themselves in a world filled with dedicated racers, hard-working promoters, and best of all, genuine racing families coming together and doing what they love. This race event truly knocked itself out of the park. "There's nothing better than seeing a kid high-five and get a picture with their favorite racer, and saying to his parents, 'Dad, I want to race jet skis!'"