Because of the logistics in distance and AquaX officials inexplicably refusing our photogrpahers access to cover the racing action from the water, coverage from this year's Round 2 of AquaX USA racing in Jacksonville, FL is somewhat different; The Watercraft Journal took the time to focus on the racers' experience, concerns and thoughts moving forward in what is quickly becoming one of the sport's most followed series.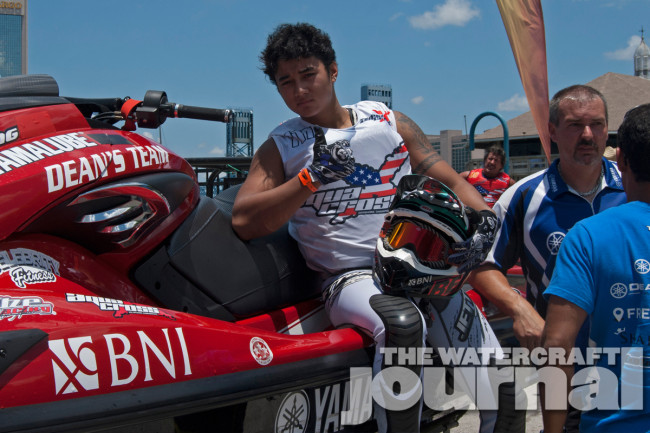 Aqsa Aswar
Rough waters and a tight course on the St. Johns River in Jacksonville, FL, didn't shake Aqsa Aswar from the early lead in the 300 class of the 2015 AquaCross Tour that he secured with a win in Round 1 at Daytona Beach in late April.
Aswar clinched the win in Saturday's race, edging out Stuart Rasmussen. Saturday's Moto saw a number of riders hit the water as the sheer mass of boats and the shallow waters of the river churned up a tough ride for competitors.
"It was rough, really rough," Aswar said after the first Moto on Sunday. "It's 60 boats out there, all at once, so it's real rough."
Sunday's equally choppy water conditions and the pack of riders only left Aswar with more boats to pass as he pushed his Yamaha FZS to the top spot in Sunday's Moto 1.
"In the start, I got off fast, then worked my way up," he said. "I stayed second for a long time, then passed the first guy, then it was the checkered flag."
Moto 2 failed to see anyone overtake his lead, and Aqsa took the top spot in Round 2 of the AquaCross series, with second place in the 300 class secured by Aero Aswar, mirroring the results of Round 1 in Daytona Beach.
"AquaCross is more endurance race, you have to have strong stamina and don't fall off the ski," Aqsa quipped as he headed to the pits after the race, saying he was already looking forward to Round 3 in July in Sarasota — a course he has never raced before.
Eric Francis
Team Kawasaki's Eric Francis powered past technical issues in Moto 1 at Saturday's AquaX Round 2 competition in Jacksonville to come back strong for Sunday's races. Strategy, position and stamina play a key part in the AquaCross race, Francis said.
"Yesterday, I came out of the hole shot probably 20th. Today I probably came out about 10th, so I would say there is some advantage to having the inside line," he said following the first race Sunday morning.
"Yesterday, we had some trim issues – the boat was bouncing around a bit," he said. "But today we ended up getting it a little bit better and we're going to make it a little bit more aggressive for the final moto — we're making progress on every race."
Finishing Sunday's first race in fifth, Francis felt sure a few changes in the final Moto could still put a Round 2 podium spot in reach.
Francis finished out the top four in Round 1 of the series in Daytona Beach, falling just behind Craig Warner and the Aswar brothers.
Rob Greenwald
Challenging race course conditions played to Rob Greenwald's preferences at the AquaX Series Round 2 this past weekend.
"It was really rough, a lot rougher than it looked," he said Sunday afternoon. "There was a heavy, tight cross-chop, 2-to-3 footers coming in from out of I don't know where — it made it very erratic and I saw a lot of guys getting ejected from their ski. I, myself, had a few really good close calls that I had to recover from and it was a tough race, but I enjoyed it."
The choppy waters changed the emphasis of the race, Geenwald said.
Above: A tangle between several boats going into the first turn of Moto 1 Sunday sent several riders to the pits, including #30 Carlito Del Valle and #535 Lazaro Diaz. Frank Silva, #555, also returned to the pits after the incident. Diaz's boat suffered a gash in the hull, and the #30 boat showed significant damage after being towed to shore, and at least two riders were sporting bandages following the crash.
"I like it when the water's rough because it makes it more about the rider and not about the ski," he said.
Preparation for an endurance-based race like the AquaX differs from training for shorter-duration races, Greenwald said.
"It's not so much about training on the ski as training off the ski; it's keeping your strength and endurance up because whats going to happen is you'll see guys start to fade," he said. "It's being able to keep strong, keep pushing and keep your tail up off the seat."
Early Round 2 results for the 200 class of the 2015 AquaCross Series mirror Daytona Beach's Round 1, with Factory Yamaha teammates Travis Zielasko in first and Greenwald securing second.
Brent Venderley
Brent Venderley — who rounded out a Yamaha-dominated podium at the AquaX Round 1 in Daytona in April, finishing behind Travis Zielasko and Rob Greenwald — looked set to up his ranking with the first race of Round 2 in Jacksonville this past weekend.
"I still haven't seen official results yet, but I think I ended up third yesterday behind (Zielasko and Greenwald), but initially they said I had won," Venderley said between Motos on Sunday. "I don't know if there was some mix-up over the radio or what, but they pulled me over to do the interview at Memorial Park and then, coming back here (to the pits) and talking to these guys, I thought I was in second or so, but I think I ended up in third."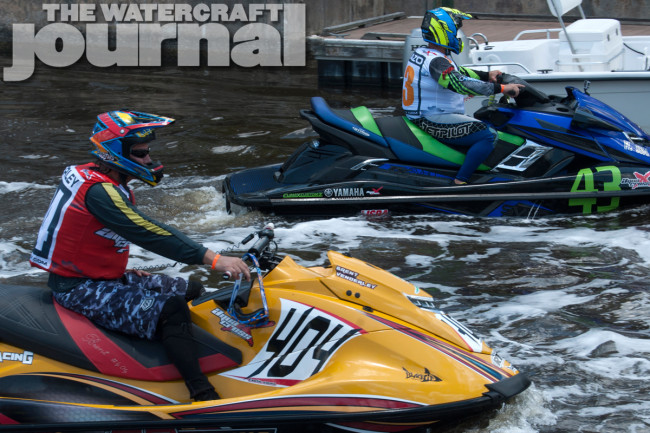 Challenged by a packed field and tight finishes, officials struggled with scoring following the first race, as did racers themselves.
"Even when you're in the race, it's almost impossible to tell what position you're in," Venderley said. Relatively new to the AquaX race, Venderley said endurance and stamina play a large part of his training for the AquaX as opposed to shorter races.
"I'm just kinda starting to figure it out. This is my first full year racing AquaX. Racing closed course, we do practice buoys one weekend and then go take a long ride one weekend," he said. "So what I've started doing is just getting more used to being on the boat for an hour or more, and just actually riding the boat for longer than 15-20 minutes," he added, saying a 50-mile practice session was typical, helping to train muscles for the stamina needed for the AquaX race.
Official results from this weekend's Round 2 competition in Jacksonville have still not been posted yet. Race officials stressed, during Sunday morning's rider's meeting, the difficulty of scoring with the amount of racers and often five boats crossing the line at once, and said tapes from each Moto would be reviewed before official results were posted.