"We've had [a 2019 Yamaha FX SVHO] in the hands of our development team – Bruce Clarkson, Mark Nystrom and Jesus Garcia – for a while now," RIVA Racing's Dave Bamdas prefaced. "Getting performance out of the SVHO (Super Vortex High Output Yamaha Marine 1,812cc Marine Engine) was easy with our Maptuner X software, but getting the speed and more importantly, the handling right took some doing."
Bamdas was careful not to echo some sentiments swirling around the performance tuning threads online. Doubters and naysayers blithely crow that the new Yamaha FX platform is slow, some going so far as to call it a step backwards. "Not so," Bamdas defended vigorously. "But to get the ski to stay consistent at higher speeds took quite a bit of testing and development to get right."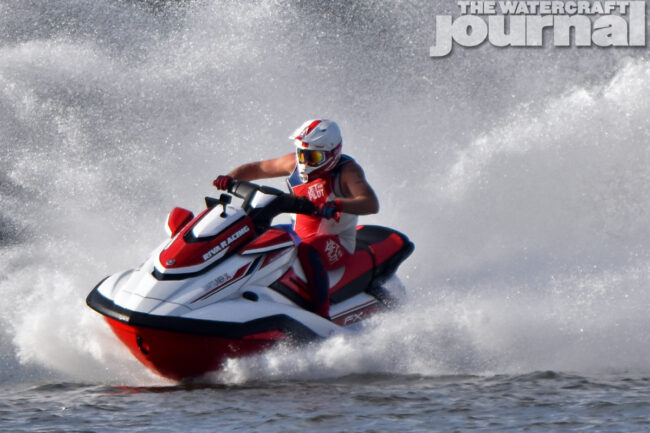 In the past two years, aftermarket performance enthusiasts have become spoiled by the immediacy of 80-plus-mph speeds provided by the Yamaha GP1800 – and now GP1800R – with solely a couple of modifications. "We were hitting 78 miles-per-hour with pretty much just an ECU reflash," Bamdas recounted. "It didn't take much at all. And we hadn't even touched handling components. [The GP] didn't need it."
The new full-sized, 3-seater FX though, proved not as responsive as its smaller sibling. From the showroom floor, both craft clocked reasonably identical (sustained) top speeds: a fraction over 68mph. Although the new FX borrows heavily from the GP's successful hull design – particularly below the splash-deflecting chine – the added 50-pounds (769 vs. 818-pounds) and length (131.9 vs. 140.9-inches) does increase the FX's running surface, and thereby surface tension (ie. drag), considerably.
"We had to get the nose up," Bamdas explained. "In its stock configuration, the ride plate works great. But once we got up into the mid-70's, we knew changes needed to be made." Reshaping the ride plate began with an extended planing surface, altering the attitude of the FX. This raised the nose from plowing, and placed a greater emphasis on the center and rear of the hull, and consequently, decreased purposing in rougher conditions.
Additionally, deep concave channels improved the hydrodynamics of the ride plate, giving the FX superior traction in lean-in cornering. In all, developing the RIVA Yamaha 2019+ FX Performance Ride Plate (PT# RY21120) became one of the single-most important steps to unlocking the FX's hidden potential. "It not only opened up an extra 5mph, but was a quantum leap in top speed handling," Bamdas concluded. "It's allowed us to take the FX to a whole new level."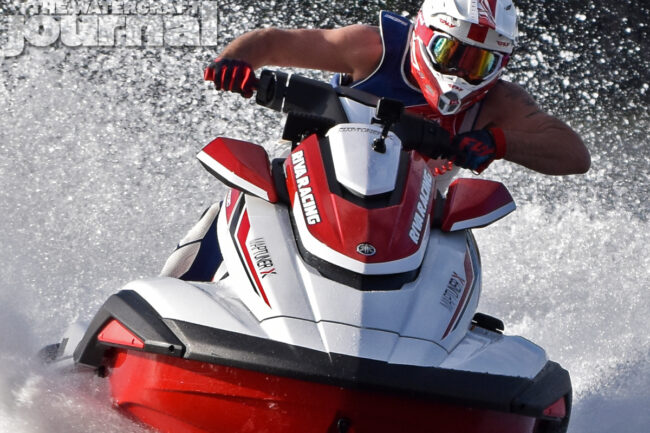 That "new level" is RIVA Racing's Stage 1 Plus Kit. The yet-to-be-officially-priced package delivers a massive performance gain, both break-neck acceleration and race-winning handling – all with a top speed increase of 12mph. And all with half a dozen simple bolt-on parts and RIVA's MaptunerX Yamaha 2018+ 1.8L Bundle (PT# RY110SC-B-1) ECU reprogrammer. No cutting or permanent changes are needed (meaning you can reverse the changes back to stock at anytime).
Beneath the seat, a Maptuner X reprograms the factory ECU (Engine Control Unit) for instant horsepower. RIVA's team labored to write the air-fuel curves to perfectly match the performance kit. The reflash itself is responsible for an incredible 9mph top speed gain – and all done with easy-to-use and easier-to-follow prompts on a full color, touch screen display.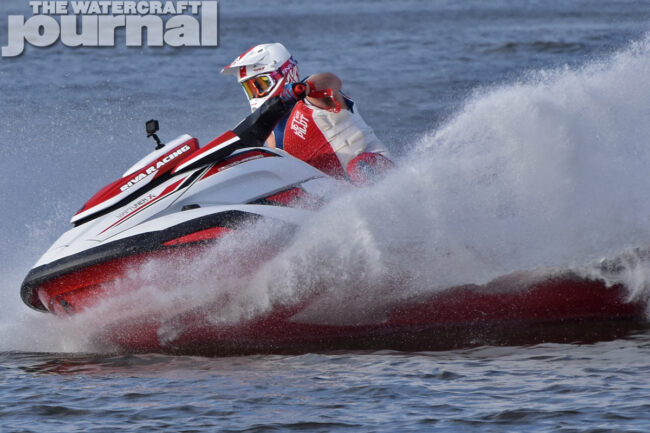 Owning a Maptuner X also includes full access to RIVA's World Famous Tuning Library and RIVA's unmatched technical support. Users can switch between different performance tunes quickly and easily, download new tunes from RIVA, and even restore their ski's stock tune settings if going in for scheduled service or warranty work.
With the engine's ECU unrestricted, the rest of the engine is opened up via a RIVA Yamaha FX SVHO 2019+ Power Filter Kit (PT# RY13120) accessing greater air flow for added throttle response and top speed; and RIVA's Engine Breather Upgrade Kit, 2012-19 Yamaha 1.8L (PT# RY19040-12-EBUK), which according to RIVA, "eliminates power-robbing crankcase emissions from your engine's air intake. Increases horsepower by removing the engine's requirement to burn relatively non-combustible oil."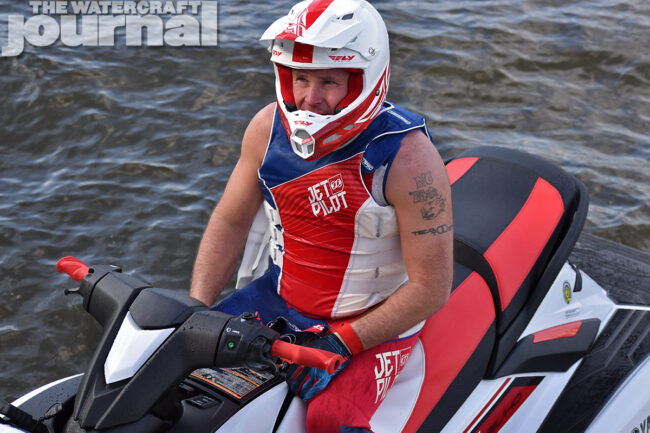 Additionally, RIVA's Engine Cooling Upgrade Kit, SVHO, Stage 1/Stock (PT# RY10080-ECUK-I) opens up the water flow to the stock SVHO engine and intercooler by greatly reducing engine "heat soak" or "fade."
While not available just yet, RIVA expects to have its adjustable Yamaha 2019+ FX SVHO Pro Series Sponsons (PT# RY26120) in the coming months. These, like the Pro Series Sponsons for the GP series Yamahas, took a while to perfect, and RIVA's team is whittling away to shape the blades and backing plates to optimize the FX platform as best as possible.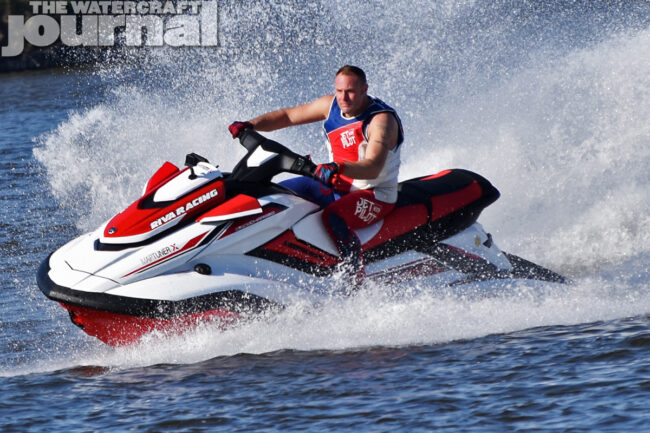 Lastly, RIVA worked closely with Solas to create a Yamaha 160mm Concord 13/18 Impeller (PT# YV-CD-13/18) that incorporates "a large blade area and superior hub design that delivers increased acceleration." In total, the Stage 1 Plus kit promises a sustained 80mph at 8,300rpm all while radically improving handling and cornering, as well as straight line stability in a variety of water conditions.
While these performance numbers were stellar, RIVA wanted to confirm its findings and sought out a second opinion. Reaching out to RIVA Racing-supported National and World Champion Brian Baldwin, Bamdas flew the no-holds-barred racer from his home in North Carolina to RIVA's test lake in Pompano Beach, Florida. There, Baldwin was given one challenge: "Break it."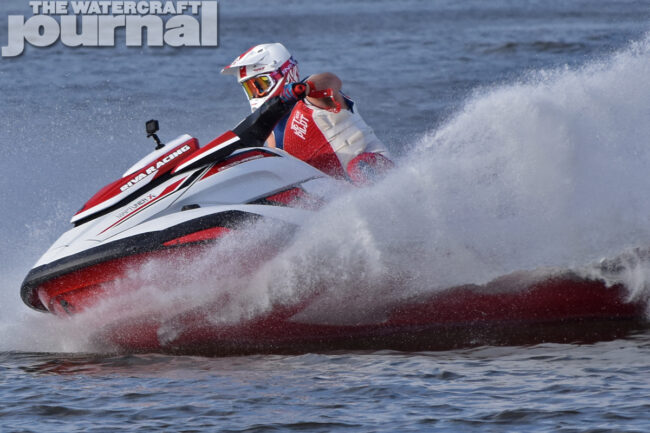 "A few weeks ago, before he got the handling down," Baldwin told The Watercraft Journal, "Jesus got [the FX] to 80 and said 'I'm not riding that thing again 'till we figure something out.' At those speeds, the FX plowed the nose really bad and felt like it would spin out with the flick of the bars." After riding the Stage 1 Plus-equipped Yamaha several hours, Baldwin beamed, "They nailed it. It's absolutely perfect. It feels like a GP."

Baldwin spent the morning thrashing the modified FX SVHO around the lake, pushing the Yamaha harder and harder. Coming in to the dock, Baldwin let out his signature "WHOO!" as he peeled off his helmet. "It's amazing. What a difference!" But his day wasn't over yet. "We took it out to the ocean that afternoon," Baldwin revealed. "It's really good. Jesus and I went out in the afternoon when it was rough. It beat the pants off of the tuned Sea-Doo RXT-X 300 we brought. I can't wait to take this out on the race course."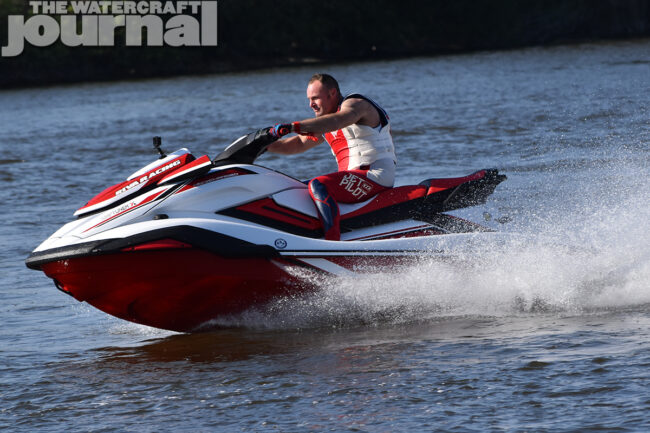 As noted, RIVA Racing's Stage 1 Plus Kit isn't quite ready yet, and availability will be announced in the coming months. Meanwhile, others are rushing to social media to post top speeds, but few (if any) are showing how they've tackled managing the FX's handling at such speeds. "That's dangerous stuff," Bamdas cautioned. "Speed is easy nowadays. But it takes lot of homework to make sure you're safe at those speeds. That's why RIVA Racing doesn't play around. It's either right or not at all."
[Editor's Note – the video below is taken from this same day, with Brian Baldwin putting the Stage 1 Plus-equipped 2019 Yamaha FX SVHO WaveRunner through the paces. While RIVA officially advertises the Stage 1 Plus kit as a "sustained" 80mph package, you'll notice that in ideal conditions, the GPS records a steady 83mph (with the wind) with it tickling 84mph on three different occasions. If peak top speed numbers are what keep you up at night, an 84 miler per hour FX SVHO is now available. – Ed.]
All images provided by Erick Arenas