As representatives from dealers, media and other organizations poured into the conference center at the MGM Grand in Las Vegas, Nevada for BRP's annual dealer meeting, many were buzzing with what to expect from Sea-Doo. As the lights dimmed and the music climbed, BRP's CEO Jose Boisjoli was more than happy to share some of the philosophies and motivations propelling the brand not only into 2020, but beyond.
"There are many talks about recession, but we don't see it. The three critical indicators we follow are employment rates, the number of new home construction and consumer confidence," Boisjoli expressed that both nationally and globally, all signs look incredibly positive. When joined on stage by Sea-Doo Watercraft Global Product Manager, James Heintz, both he and Boisjoli were excited to announce that since the Spark's introduction, over 130,000 units had been sold.
Considering the natural progression of Spark buyers who graduate to a larger Recreation segment vehicle, Sea-Doo saw it time to completely redesign the GTI platform. Borrowing a great deal from the larger ST3 platform, BRP engineered a smaller 3-seater runabout that is more stable thanks to an added inch of width and a lower center of gravity, and more comfortable due an ErgoLock seat.
A longer, flatter rear swim platform incorporates both the screw-capped port for the LinQ Retractable Ski Pylon as well as the LinQ accessory attachments. Other smaller details include a new orange-backlit 4.5-inch dashboard replaces the outgoing analog gauges; a redesigned front storage bin that holds a whopping 40.2-gallons, a 2.3-gallon glove box for smaller items, and a watertight phone box.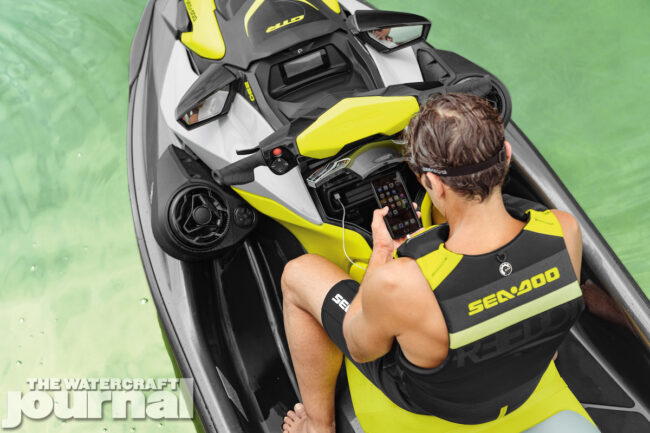 That phone box will come in handy if you opt for the optional BRP Premium Audio Package, the same 100-watt audio system available on the ST3 models. But of course, we're burying the biggest news for the GTI lineup: a new hull material and three engine choices. Riding on Sea-Doo's new Polytec GEN 2 material, it's now thicker and lined with an additional fiberglass inner skin.
This drops the GTI's weight down to 739 pounds from 790 previously, a significant difference. Powering the GTI lineup are the same Rotax 900 ACE producing 90-horsepower (with a top speed of close to 42 mph) and 1630 ACE at 130-horsepower (a top speed of 50 mph), but for 2020, BRP upped the ante with the retuned 1630 ACE knocking out 170-horsepower (with no advertised top speed listed).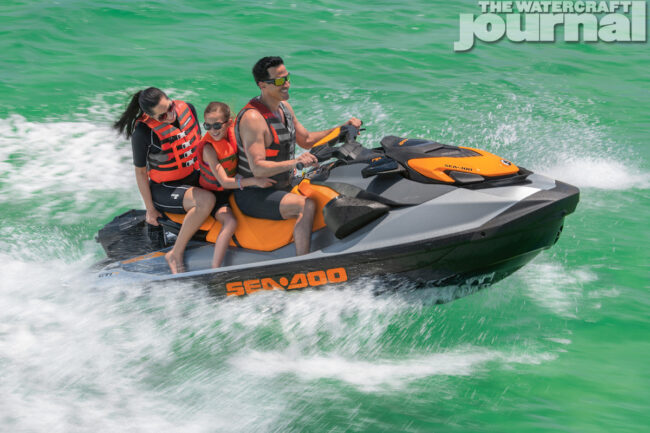 The four GTI vehicles offered are the GTI 90 ($8,999), GTI 130, GTI SE 130 ($10,799) and GTI SE 170; all available in either Metallic Beach Blue and Lava Grey, or Ice Metal and Orange Crush coloring. Fuel capacity also remains the same as the previous models at 15.9-gallons. Although unavailable for the everyday consumer, the GTI Pro remains unchanged from last year for the rental market.
The advent of the new 170-ponies 1630 ACE also replaces all runabouts using the previous 3-cylinder; that includes the Wake 155, Fish Pro and GTX. Speaking of the Fish Pro, the industry's only dedicated fishing PWC remains mainly the same – apart from the slight bump in horsepower that is sure to please – and retains its White and Night Green coloring and $14,999 price tag.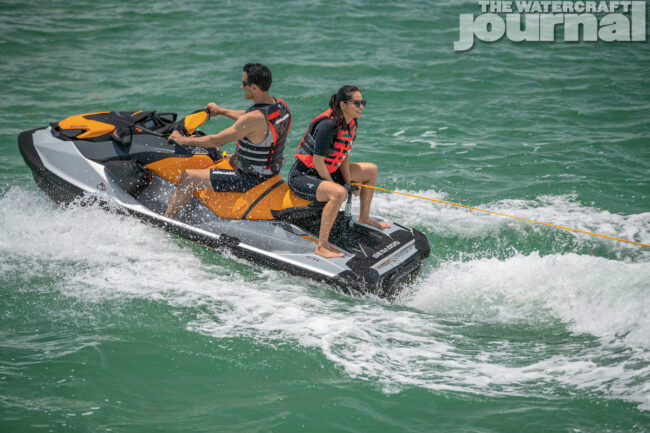 For tow sports, the newly rechristened and redesigned Wake 170 ($12,199) comes in Malibu Blue and Neon Yellow, enjoys all of the benefits of the newly re-engineered GTI platform including added stability, better ergonomics, a more comfortable saddle, new dash, and voluminous storage; but also rides on the new Polytech GEN2 hull material. (Although weight increases from 718 to 747-pounds.)
The Wake 170 is paired in coloring with its larger Wake Pro 230 sibling ($14,899), who also gains the much desired 18.5-gallon fuel tank. BRP's Premium Sound Package is available for both of these machines for a premium, so make sure to check the box to order the package from the factory, as it'll cost less than having it installed at the dealer at a later date.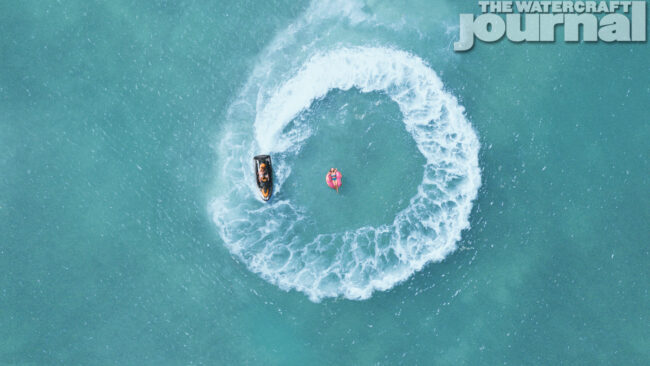 Sea-Doo's Touring segment sees minor changes; firstly, the entire segment receives the larger 18.5-gallon tank. The previous year's GTX 155 and 230 – although now with 170HP – ($12,999) retains last year's Beach Blue Metallic and Lava Gray coloring options; while the more opulent GTX Limited 230 and 300 models (starting at $16,199) are bathed in Liquid Gray Metallic with Beach Blue Metallic highlights and come with BRP's Premium Audio standard (as well as a king's ransom of other accessories).
In contrast, big changes were made to Sea-Doo's Performance segment although zero mention was made during the presentation: gone are the GTR-X 230 and RXT 230; the RXT being a mainstay model for nearly 20 years. The GTR 230 rides on the newly redesigned GTI platform, uses the same second-generation Polytech hull material, enjoys better seating, the digital dashboard and other features built into the new design.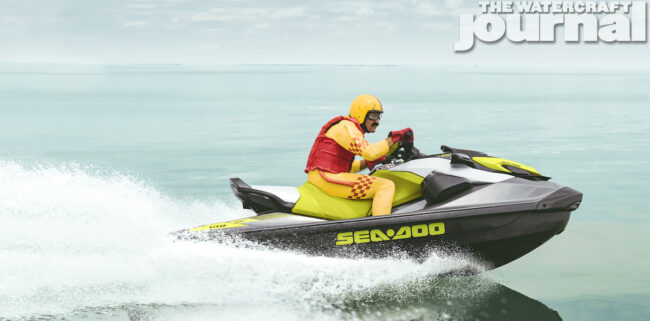 Wrapped in Neon Yellow and Eclipse Black, the new GTR 230 shaves off a few pounds from its previous 807 to 774 pounds, thanks in large part to its Polytech lower half.
Priced at $12,399, it's the lowest entry in the segment. The RXP-X 300 ($15,399) remains almost entirely untouched save for a repaint in California Green Metallic and Black, or last year's Eclipse Black and Lava Red livery.
The top-of-the-food chain RXT-X 300 picks up the much anticipated 18.5-gallon fuel cell and also shares the same coloring options as the RXP-X, which is to be expected given its popularity;
California Green Metallic and Black, or the limited edition Eclipse Black and Lava Red. Disappointingly is the lack of a much-needed adjustable sponson similar to what comes standard on the RXP-X.
Surprisingly, Sea-Doo chose to only offer the Spark ($5,499 and up) new set of colors (Blue Raspberry and Pear; Licorice and Mango; or Vanilla and Blueberry) and a bunch of accessories. The Spark Trixx ($7,499) also received a new color package (Chili Pepper and Pear; Jalapeno and Pear) – all of which are available as either 2-up or 3-up seating configurations.
Lastly, a final bit of interest to you cold weather riders, Sea-Doo's accessory division just added Heated Grips. Featuring five heat settings controlled with an integrated button on the left grip, these little bad boys pair perfectly with the available Wind Deflectors. And while this is a quick overview of the 2020 Sea-Doo lineup, you can expect detailed exclusive reviews of many of these new units in coming weeks and months as The Watercraft Journal starts to rack up plenty of seat time on them!