With less than two weeks away from the 2021 Yamaha WaveRunners official reveal, it would appear that Kawasaki's European division jumped the starter's pistol yet again, and rolled out the entirety of the international lineup of 2021 JetSkis. Although all of us are excited to see what each of the Big 3 have in store, it came as little surprise that much of the lineup remains entirely unchanged for the new model year, particularly as 2020 saw a rollercoaster of sales due to the COVID-19 panic.
Wanting to group its watercraft division into segments, Kawasaki has broken up the range into Ultra, STX and SX-R groups. Albeit a little on-the-nose, each category offers buyers a selection of pricing and performance to meet his or her particular budget and preferred riding style. Interestingly, all models share an ever-so-slightly modified variant of the same 1,493cc dual overhead cam 4-stroke, four-cylinder engine. This uniformity across the board allows Kawasaki to keep manufacturing costs down and retain a rather robust catalog of replacement parts sitting on shelves.
Those few models that received new paint schemes and decals have also otherwise gone unchanged (what many in the industry jokingly call "BNG" or Bold New Graphics, marketing speak for "new colors and graphics"). No newfangled technologies or whiz-bang features here, folks. And for some, that's all they want – and it's true. Kawasaki has experienced impressive growth numbers over the past couple of years, and hope to see this growth ratchet skyward in the coming months as these 2021 models roll out.
For the STX group, the base model STX 160 returns unchanged in its Gelcoat Crystal White and Sunbeam Red color scheme. Domestically, the mid-level STX – the 160X – came in a very fun Ebony and Riptide Turquoise in 2020; internationally, the STX 160X came only in Ebony and Lime Green, and includes Cruise Control and No Wake settings. The top-of-the-segment STX 160LX ups the ante with a heat-resistant 3-tiered seat and Bluetooth-controlled Jetsounds audio system and remains unfazed in last year's Ebony and Candy Lime Green coloring.
Stepping up to the full-sized Ultra platform, the international market receives four variants, while those residing in the United States are offered a unique Ultra 310X Special Edition (SE). Nevertheless, the lowest-entry in this segment is the naturally-aspirated Ultra LX, which unlike the STX 160X sold internationally, comes in the Ebony and Riptide Turquoise that we so liked. We're still waiting for the Ultra LX to receive the same luxury features found on the STX 160LX and supercharged Ultra 310LX, such as Jetsounds and plusher seating.
A new and somewhat exciting color comes on the Ultra 310X as it shines in Ebony and New Citrus Yellow. The aforementioned Ultra 310LX returns to the top of the fleet in Ebony and Metallic Carbon Gray, which shines brilliantly in the sun. Lastly, the Ultra 310R returns with its iridescent green sponsons coated in Ebony and Lime Green, which is expected since we can't recall a year that it wasn't black-and-green since its 2014 launch.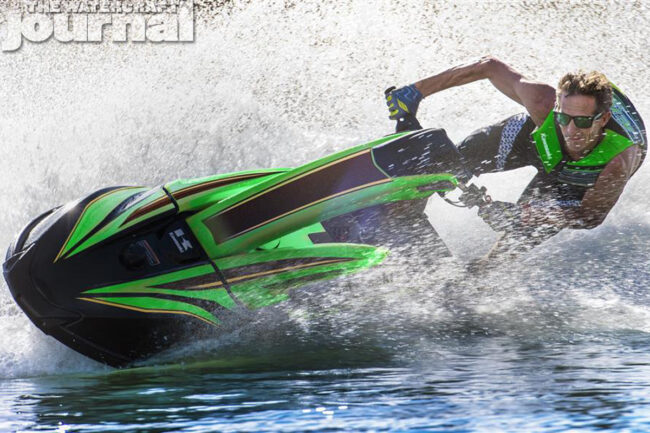 Lastly, comes the SX-R JetSki. Returning with its Ebony and Lime Green for 2021, the lone standup is rumored to face some competition in the near future. Either way, the SX-R has become a weapon-of-choice for many racers and performance standup enthusiasts in its 4 years. In all, Kawasaki enters the European market with a formidable 8 models for 2021, and seeing that Kawasaki's Lincoln, Nebraska manufacturing facility didn't experience any production shut-downs, it is expected for new units to be arriving at dealers as this article is published.