Earlier this year, we went down to RIVA Racing, and got exclusive access to several awesome Limited Edition machines built for some lucky customers. If you already subscribe to The Watercraft Journal you may have already seen our articles and videos we made on the RIVA Edition Yamaha GP1800R SVHO and the RIVA Edition Sea-Doo RXP-X 350. The last of these was this very cool Limited Edition 2021 Yamaha SuperJet.
Out of the box, the stock SuperJet comes with a 100-horsepower TR-1 EX engine. RIVA reflashed the ECU with a Maptuner Bundle bumping the horsepower up and allowing it to rev crisper than before. With the new tune, the TR-1 needed to be able to draw in more air, so a RIVA Power Filter kit was installed. It replaces the factory air box and restrictive flame arrestor includes the oil catch can and separator kit.
As more air comes in, more air needs to be evacuated out and that's where RIVA's Free Flow Exhaust comes in. Not only does it increase the volume and rate of exhaust flow, but it also gives the SuperJet a nice throaty sound that the factory exhaust just couldn't deliver. All of that was done below the hood, but above it RIVA continued with the upgrades:
Yamaha wowed a lot of folks with its aftermarket-inspired adjustable handlepole; RIVA improved on it by adding a new Pole Spring to lighten up the otherwise heavy feel of the handlepole. Next, RIVA completely replacing the steering with its Pro-Lite Steering System giving the standup a far smoother feel and quick-steer adjustment.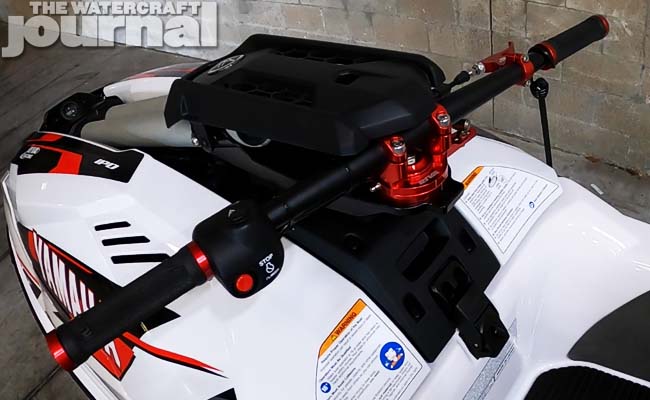 A pair of 4-degree Bulge Bars, a new billet Throttle Trigger (and cable adapter), ODI Grips with anodized Grip Ends totaled out the new steering controls, ensuring a sharper, more concise feel whether leaning hard on the rail or just carving up a quiet cove. When it was time to address hookup and handling, RIVA didn't leave anything on the table. A Solas 12/17 impeller swapped out the factory prop; a redesigned Top-Loader Intake Grate features an aggressive blade and rounded chip for increased bite.
The resculpted Performance Ride Plate radically changes the SuperJet's pitch with an extended running surface and three vertical skegs for razor-sharp tracking. Together with the Top Loader Intake Grate, the RIVA Edition SuperJet only needs one more thing to complete the handling package: sponsons.
RIVA Racing's new marine-grade anodized aluminum Sponsons mount directly under the rearmost edge of the bond rail and work to slice deep into the water giving the SuperJet newfound traction and improved cornering stability that the Yamaha didn't have before. It's crazy how much difference such a little part can make.
Wrapping up the package, RIVA partnered with IPD Graphics to whip up some super cool graphics. Available in either Red, Teal or Yamaha Racing Blue, these graphic kits aren't exclusive to this Limited build. Nope. Anyone can get 'em and put 'em on pretty easily.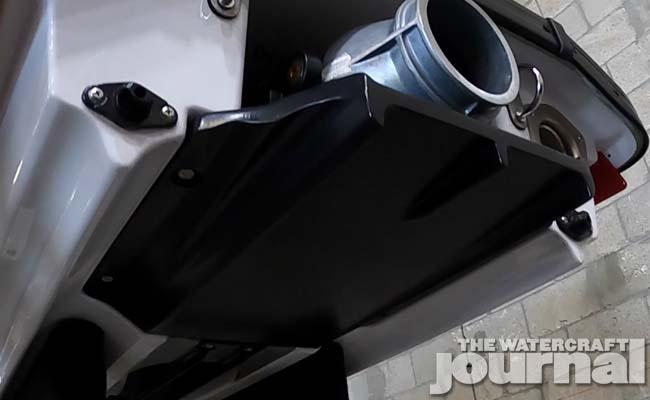 While we were a little bummed that we couldn't ride this particular Yamaha – it belonged to a paying customer after all – we're stoked to learn that nothing used on this SuperJet couldn't be ordered from www.rivaracing.com and installed by pretty much anybody.
Nothing shown here requires a master's degree to install – just follow the instructions provided by RIVA Racing, and if you get stuck or run into a snag, Dave promised the team he's got in the call center are ready answer your questions and walk you through the installation process. So if you're looking to get a new Yamaha SuperJet and want to really wake it up, definitely hit up RIVA Racing for any or all of the parts shown here.