Chances are you're no operator. You're no Mat Best. And you sure as $#@% ain't with Beckwith's Unit, son. Nope, rather it's far more likely that you're a regular ol' schmuck like us – so something like what RIVA Racing whipped up is probably not going to be your cup of tea. What you're seeing here is the result of a unique request made to RIVA's special vehicle team. This quiet division of RIVA Motorsports builds custom PWC for Military, Search & Rescue and other special applications.
"The units were supplied to the US Government for military patrol purposes," RIVA's Dave Bamdas explained to The Watercraft Journal. Unlike RIVA Racing's limited 25-unit "Special Edition" performance edition runabouts, the two stealthed-out '18 Yamaha FX HO WaveRunners were two-of-a-kind builds that, while having stirred up interest online, are not a regular offering. "We have no standard specification for these craft. Each one is custom built to our customer's specification."
Beginning with a pair of hold-over 2018 Yamaha FX HO WaveRunners, RIVA sought to build a pair of durable, reliable and easily operated machines that could be used for stealth extraction and infiltration. "The Yamaha High Output Marine Engine is really reliable, runs quiet and still has plenty of horsepower to get the job done," Bamdas added. The "Black Ops" military build required that the units were stripped down for painting; all graphics were removed, all of the chrome elements were prepped and primed for painting as well.
"The hull and deck were painted with special non-reflective black paint along with hood panels and all exterior trim components," Bamdas detailed. The plastic rear "wet storage" panels were removed to permit more deck space. Black rub rail inserts were installed as was a RIVA non-slip tactical seat cover in non-reflective black. Wrapping the rail of the WaveRunners was a WING Inflatable Stability Bumper.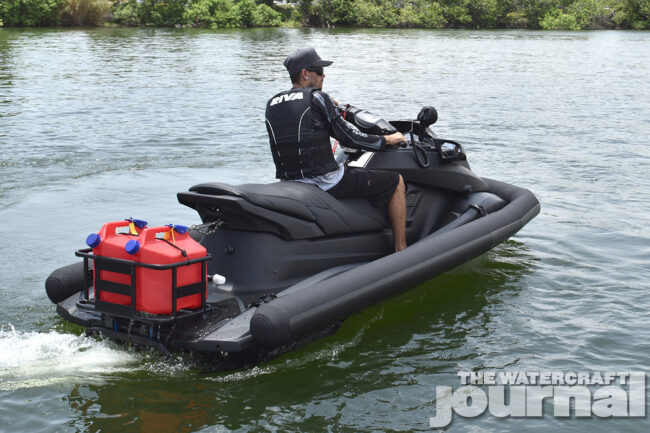 For being a stealth vehicle, RIVA installed quite a bit of lighting, including a removable spotlight with a RAM mount; a navigational light system including removable rear pole light (with a remote military-spec switch); and an infrared headlamp also with remote military-spec switch. A Garmin Echomap 44cv GPS/Sonar was mounted on glove box door with the transponder puck mounted below the rear swimstep.
Keeping the Yamahas powered was a main battery switch with a custom military-spec wiring harness integration. As redundant systems are standard military issue. Completing the build were a pair of custom rear aluminum fuel racks from Super Rack, both secured with stainless steel turnbuckle; each filled with a pair of SureCan 5 gallon fuel containers. The final result were a pair of unique machines that military personnel could use reliably in night maneuvers with confidence.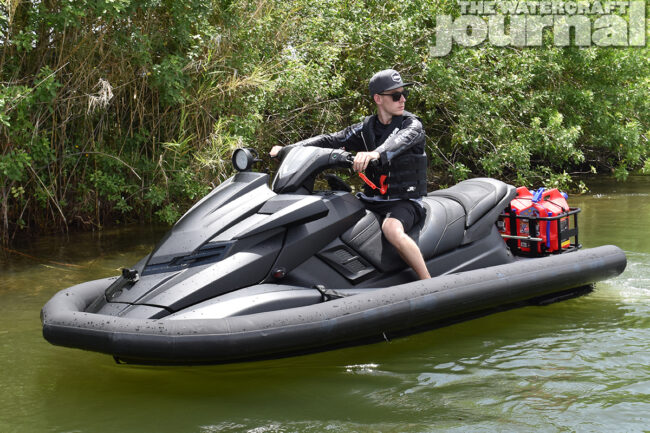 Well after the client received the two units, RIVA Racing was given permission to share the results of the build with The Watercraft Journal. Earlier in the month, RIVA's social media team leaked out a few pictures of the stealthy build to almost instantaneous adulation. "It was a little surprising," Bamdas laughed, teasing: "Obviously, this isn't something that we do for anybody, but the sudden demand for customized one-off watercraft was exciting. We might have to consider looking into it."