It's interesting what a watercraft does when pushed well beyond the factory parameters. Runabouts that would normally track straight, corner with predictability and deliver snap-quick throttle response from the dealer floor often reveal unusual characteristics when pushing 50-percent more horsepower to the prop. Suddenly, that mild-mannered hull begins to chine walk, bow hunt or even offload or over-stuff the pump. A sudden increase in thrust can overrun traction in a heartbeat – and with today's modern powerplants, eking out added horsepower can be pretty easy to do.
Tuners up and down Florida's coastline have made names for themselves by pressing ungodly amounts of power from supercharged and even turbocharged Sea-Doos and Yamahas. Yet, where they excel in engine tuning, their experience in handling mechanics, mitigating traction loss, and superior quality control is woefully lacking. There's an old army maxim warning green soldiers to fear old men in their positions; as no amount of youthful vigor can replace experience and know-how. To that we caution those looking to challenge RIVA Racing; you better bring your A-game.
Since the early 1990's, RIVA Racing has been elevating the stakes of PWC performance. Even when the competition gains a few yards in the battlefield, RIVA retaliates with a thundering salvo, picking up the lost ground and handily expanding its perimeter. This is war after all, and the research and development team at RIVA Racing has been dug into the trenches for a very long time. It's a poorly held secret that RIVA participates in the development of new OE product, permitting the company unprecedented access to information that other outlets simply don't have.
Think that's an outlandish claim? Just take a look at the ride plate bolted to latest Yamaha GP1800R or VXR. Look familiar? Yeah, that's RIVA's design from just a couple years ago. The same has been seen on machines across the market for decades; intercooler routing and engine oil management; improvements to supercharger shaft and clam shell design; the list goes on. RIVA is as much of an asset to the OE's as they are to the performance aftermarket. We at The Watercraft Journal pay close attention to where RIVA sets its sights, because more often than not, that's where the future is headed.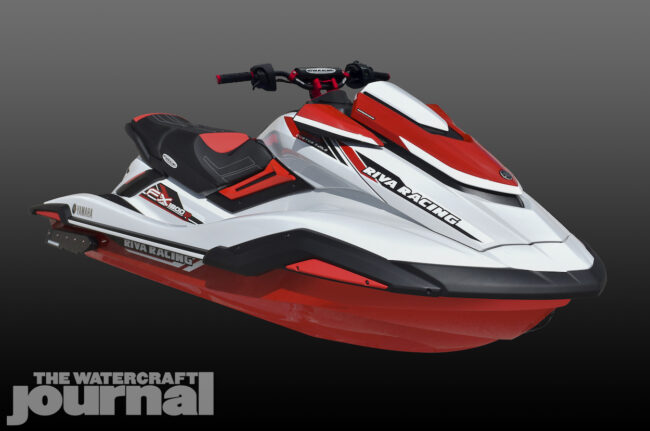 Late last year we introduced you to the RIVA Yamaha FX1800R. The latest addition to its Limited Edition series follows the first FZR 350s and GP1800Rs, producing a healthy dyno-proven 350-horsepower from the Super Vortex High Output 1,812cc 4-stroke powerplant. Equally, the 2019 FX1800R will be produced by RIVA's team by-hand in a limited run of 25 units; each designated with an engraved number plate fixed to a powder coated red valve cover. The engine itself has been modified to deliver reliable-yet-neck snapping acceleration, all while retaining its high octane pump gas accessibility. No race gas needed.
To accomplish this, RIVA begins with its MaptunerX (PT# RY110SC-TL) engine remapping software. Unlike the aforementioned tuner shops, RIVA dedicates hours of time measuring for proper AFR (air fuel ratio) mixtures to maximize burn efficiency, ignition timing and mitigating pre-detonation (or "knock"). Too often, tuners merely lean out the AFR, quickly picking up big power but at the cost of superheating valves and pistons, leading to premature engine failure. Speaking of fuel delivery, RIVA adds its Yamaha 1.8L High Flow Billet Fuel Rail (PT# RY12040-BFR).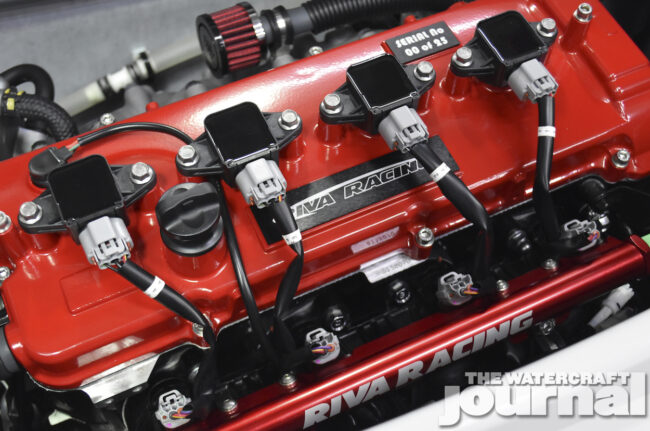 Because the SVHO is now tuned to spin up to 8,800rpm, the RIVA Yamaha Valve Retainer Upgrade Kit, 1.8L (PT# RY19040-SRU) is added. Pressing the intake charge is a surprisingly stock factory Yamaha-supplied HKS supercharger upgraded with the RIVA Yamaha Supercharger Shaft Upgrade Kit (PT# RY17040-UK-6S5-4). Both the wheel and housing remains as per factory. Feeding the engine with a cool supply of air is a RIVA Yamaha FX SVHO 2019+ Power Filter Kit (PT# RY13120), and a RIVA YAMAHA Rear Exhaust Kit, 2019+ FX (PT# RY15120) to evacuate the spent gases and relieve back pressure.

The final additions are tantamount to the SVHO's success: the RIVA Engine Breather Upgrade Kit, 2012-19 Yamaha 1.8L (PT# RY19040-12-EBUK) siphons off excessive internal engine atmospheric pressures, ensuring that crankcase ventilation is at an optimum. (Please see our full length feature on engine blow-by and crankcase pressures). Next is RIVA's Pro Series Engine Cooling Upgrade Kit, SVHO (PT# RY10080-ECUK-PC-2) that dramatically improves the cooling efficiency to the engine and oil cooler. And finally, the most impressive is the all-new RIVA GEN 3 Yamaha Power Cooler (PT# RY17081-PC-TV).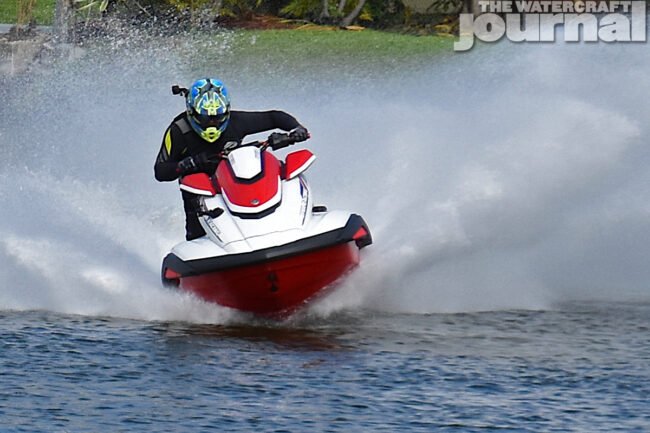 We spoke to RIVA's own Dave Bamdas, who explained: "The all-new RIVA GEN 3 Yamaha SHO/SVHO Power Cooler Kit is our latest intercooler system, featuring a huge cooler element that is rated for up to 600hp! It delivers an increase of 20 peak horsepower over OEM intercooler alone! With its high capacity cooler core, the GEN 3 Power Cooler resists heat soak delivering optimal thermal efficiency. It's so efficient over the stock unit that exit temperatures average 50F cooler than stock. And of course, it features an integrated 50mm TiAL Blow-Off Valve for improved supercharger reliability and performance."
All of this delivers on the promised 350-horsepower at 8,800rpm, yet like stated earlier, how does it translate into traction? RIVA begins by installing a Solas Yamaha 160mm Concord 13/18 Impeller (PT# YV-CD-13/18), leaving the rest of the factory Yamaha pump be. Channeling that inflow of water is a RIVA Yamaha FX SVHO & FX SHO/HO 2012-19 Top-Loader Intake Grate (PT# RY22070) and RIVA Yamaha Pump Seal Kit, For RY22070, FX 2012-19 (PT# RY25070). Yet, what could easily be the single most important design feature was RIVA's all-new Yamaha 2019+ FX Performance Ride Plate (PT# RY21120).
When designing the new FX WaveRunner, Yamaha engineered a hull that could track true through cross-current, wind-blown chop without having the bow search (or "hunt"). This meant pre-loading the hull's attitude in the water, favoring the nose. While this new posture scrubbed some top speed from the stock FX models, it radically improved its handling characteristics. In pushing the craft over 80mph, RIVA discovered that a ride plate that extends the planing surface, elevates the nose and extends the chines not only freed up speed but actually magnified the hull's stellar handling.
Paired with RIVA's Yamaha 2019+ FX Pro Series Sponsons (PT# RY26120), the FX1800R enjoys immeasurable gains in performance handling, rough water tracking and most importantly, rider response. This input is communicated through a RIVA Yamaha 2015-2019 FX Pro-Series Steering System (PT# RY20120) that replaces the plastic, insulated steering system with billet aluminum components; as well as ODI Ruffian Lock-On Grips, 130mm, No Flange, Black (PT# L31RFB-S) and RIVA PRO-BAR 30″ Runabout Bars (PT# RY205BK-BAR-2).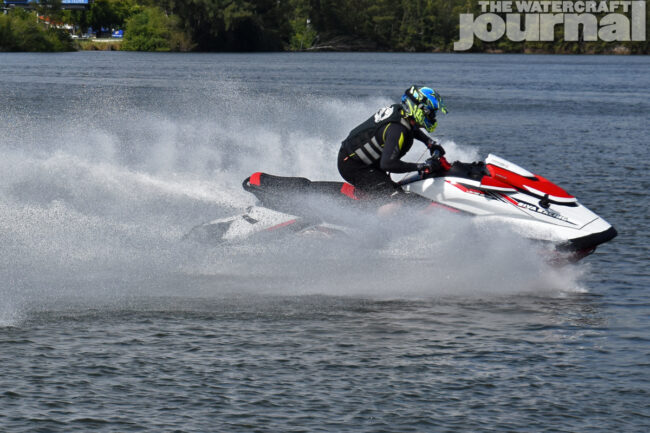 Being the latest of the Limited Edition offerings from RIVA, the FX1800R features exclusive hull graphics giving the craft an almost "sleeper" look, and red anodized components, as well as a RIVA Yamaha FX 2019+ Seat Cover – Black/Silver Stitch (PT# RY5-FX19-1) made exclusively from Jettrim, as well as a custom "RIVA Racing" CNC-cut traction mat made by Hydro-Turf. All of this comprises a uniquely-built, made-to-order Limited Edition package that can be had for $26,995. While you can purchase each of these items and replicate the same performance, it would actually cost you more – and wouldn't look nearly as good, either!

And as promised, the RIVA FX1800R Limited Edition delivers – and so much more so. Unlike our opening example, RIVA's team has struck a perfect balance of power-and-handling. Throttle response is immediate; the boost comes on hard and pulls continually in a linear arc – no surging or low spots. It just climbs and climbs. We did indeed clock (via Garmin GPS) a maximum speed of 83.2mph with a 240lbs. rider and at near sea level. More importantly, the FX1800R never wandered, felt twitchy or skittish, and remained firmly predictable. Even more so than last year's GP1800R from RIVA.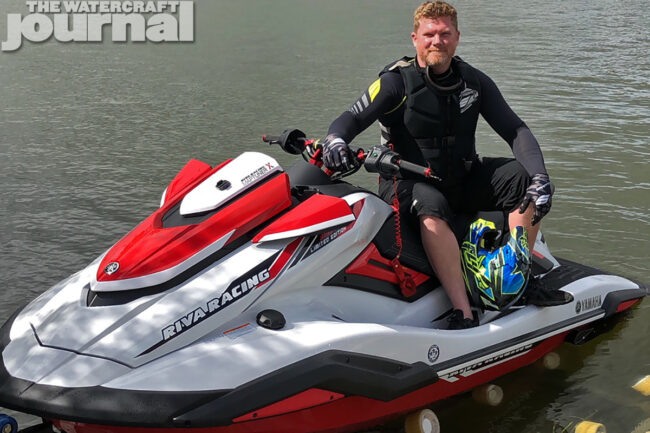 This is a race-ready muscle craft that certainly could be taken to the track or local buoy course, or remain the meanest, fastest machine on the lake. Either environments would suit it just fine. It's not often that a custom-built PWC can "do it all" but somehow RIVA Racing has managed to do exactly that. The through-hull exhaust note doesn't cackle or pop; the increase boost of the supercharger doesn't lunge or surge. The FX's added heft insulates far beyond the stripped down GP1800R. It's deceptively well behaved for its power output…even a little disarming. Because with a squeeze of the throttle and a snap of the bars, you can be carving S-turns in seconds.
RIVA Racing faces no shortage of challengers these days, but none offer a turn-key, put-your-money-where-your-mouth-is proof-of-concept machine like its Limited Edition Yamahas. Were challengers were ever to do so, we wager a shootout would be needed. Yet until that day, the FX1800R solely elevates Yamaha's FX SVHO to new heights and frankly, we cannot praise it enough. Although exceedingly premature to mention, but had this ski been offered by the OE, it could easily bring home The Watercraft Journal's coveted "Watercraft of The Year" award. Seriously, it's that good.