Personal watercraft are now staples in garages and boat lifts all over the world due to their ever growing fun and convenience. With popularity comes desirability, both for honest owners and lowly thieves. Protect your pride and joy with these six steps to deter watercraft theft whether on a trailer, in a marina, or on your lake house boat lift. Remember, the harder the process to free your PWC, the harder it is to steal!
Passcode/Lanyard
If your personal watercraft has a built-in anti-theft device by all means use this first! Modern Yamaha WaveRunners use a fob to electronically disable or grant access, and the new FX series uses a digital passcode for even more convenience. SeaDoo and Kawasakis utilize a lanyard system that links each unique lanyard key to the craft. Both systems are straight from the manufacturer and should be the first line of defence against theft. If your model or manufacturer does not include an electronic lock-out be sure to store your lanyard separate from your PWC.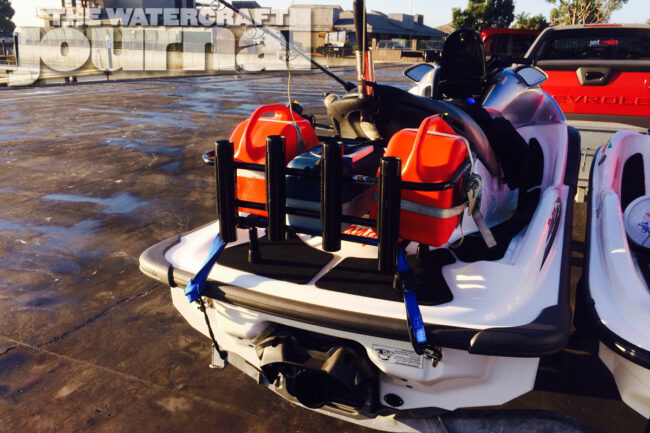 Traveling with Trailer
Whether traveling with your PWC to the dealership or a vacation getaway, always secure the trailer to your vehicle with a trailer tongue pin lock. Get the thickest and tightest fitting one to make it as difficult as possible to get bolt cutters around the lock. Don't neglect a hitch receiver pin lock too, as an unlocked hitch can slide right out still attached to your trailer!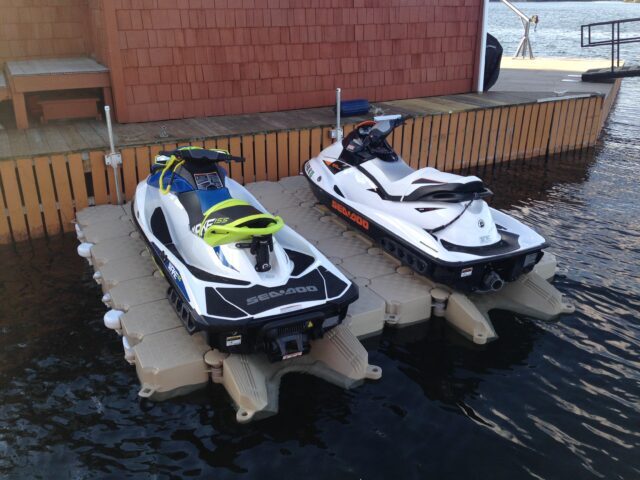 Storing Trailer
If you store your PWC on the trailer then you have several options to secure it. The tongue pin lock mentioned above can be used in addition to some of these options. Along with locks, it is best to park an unhitched trailer in a difficult to access location, preferably surrounded by other objects, with the tongue facing away from the street.
Hoop Lock: Simple, inexpensive, easily available, but potentially less effective than other options. Determined thieves can cut or pry one of these locks off your trailer given enough time.
Coupler Clasp Lock: There are numerous styles and options to choose from to suit your trailer size. The theme with these style locks is indifference to standard cutting and prying. As with most everything, you get what you pay for and the beefier the better!
Wheel Lock: This type of lock disables a wheel from rolling. These locks are effective, but not as convenient to install as a hitch lock due to size and complexity. That goes both ways though, and can deter many thieves from tampering with your trailer when they see a bulky wheel lock.
Chains: Attach your trailer to something sturdy with chains for another level of security. It does not look the prettiest, and probably should not be the only line of defense due to cutting ease.
Remove Wheel: Not for everyone as it requires a jack and torque wrench to properly tighten the lugs once reinstalled, and you must be mindful of shifting weight when lowering the wheel-less side of the trailer. Damage to the trailer or PWC can occur when done improperly. If you have access to tools and knowledge, this is an inexpensive way to keep your trailer from rolling away in the wrong hands.
Marina/Boat Lift Lock: PWC are prime targets in marinas and home boat docks because of their small size and ease of towing behind another vessel. Choose a well lit marina slip with security cameras (that actually work). If at your home, visible security cameras can stop a theft before it happens, or record for possible recourse if theft is successful. Bicycle style cable locks () are an option to secure the PWC to the dock or lift, but the ever-present issue is how easy they are to cut. Be aware the draped cable can rub against the deck and hull causing damage to paint/gelcoat, so choose attachment point wisely.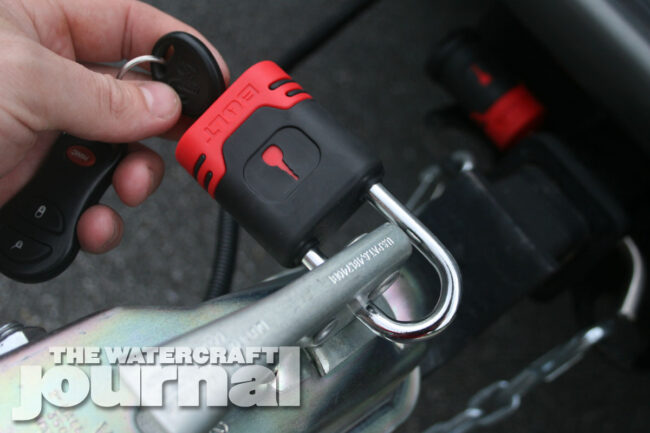 GPS Tracker
Some GPS trackers notify you if your item is being moved. They also can aid in recovery if your trailer or PWC does get stolen. There are two power types, battery and wired. The benefit of battery operated GPS trackers is no need to alter the wiring on your PWC. The obvious downside is the unit's battery is not limitless and will need to be swapped out or charged manually. That is where the wired GPS tracker comes in to play. You do have to tap in to the 12V battery power system, but these trackers give you the piece of mind that they will always be powered. Remain powered, that is, as long as you use your PWC often enough that the battery is charged periodically.
Insurance
When all else fails, the thieves get away with your watercraft, and you are left with no way to recover your property – PWC insurance can cover your loss. Shop around to determine the best insurance for your needs especially when you start adding modifications to your PWC. Make sure they are covered!