It was back in September of last year when The Watercraft Journal revealed to the world the first-ever production electric PWC. Christened the Orca, Taiga Motors' first foray into personal watercraft definitely made a splash with interested buyers. The first 100 of these watercraft were entirely bespoke, built to match the buyer's preferences in color and seat material.
These limited-run Orcas were sold as "Founders Editions" and were priced at a eyebrow-raising $28,000 USD each, with the promise that purchasers would collect their customized electric waterscooter during the summer of 2020. [Hopefully, once they begin to arrive we'll start seeing them out on the water. – Ed.]
Encouraged by the flood of inquiries and interested buyers, Taiga Motors has given the go-ahead to not only accelerate production of the Orca but offer the unit in three different trim and performance tiers. This not only gives Taiga a selection of PWC (rather than a single unit) but also permits buyers to enter into ownership of an all-electric watercraft at an impressive $15,000 USD.
The model packages are labeled as "Sport," "Performance" and "Carbon" and provide the buyer degrees of performance and useful features. What we find most interesting is the Orca's direct competitiveness with other conventionally-powered gasoline burning watercraft in its size, weight and overall performance.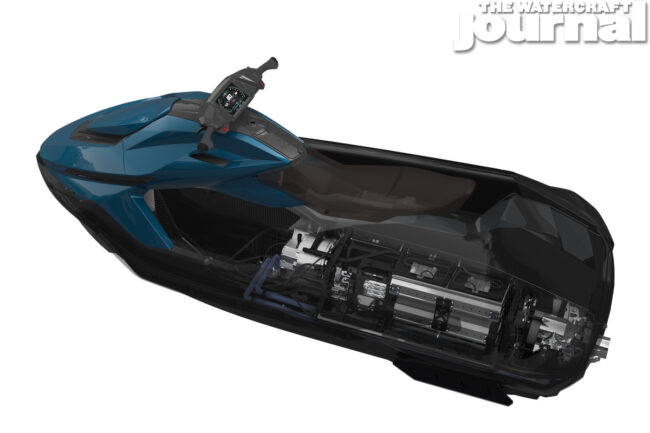 Propelling all three of the new models is the same Taiga RADIX all-electric powertrain – namely a sealed, vibration-proof, lithium-ion battery capable of 400 volts – the same found in Taiga's TS3 electric snowmobiles. "It is exciting to see the intensive R&D behind our electric platform accelerating the rollout of new models.
Alongside this, we have made great progress with our manufacturing partners to introduce Orca models at a lower price point sooner than expected," explained Taiga CEO Samuel Bruneau. Weighing in at 275.5-pounds, the Orca's battery can be recharged from a regular outlet for overnight charging, an automotive charger (at a rate of up to 10kW), or by DC to "fast charge" to 80% in 20 minutes.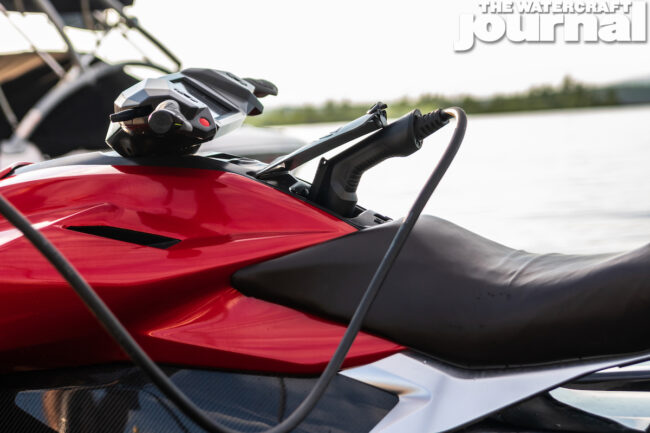 And speaking of weight, the Orca varies on which model you select. Beginning with the Sport model, this $15,000 "entry level" unit comes in at 533-pounds. Made using "an advanced plastic composite" material for the hull and deck, the two-seater Orca Sport is pretty diminutive in today's day of big and gnarly PWC.
It's 114.2-inches long; nearly 9-inches shorter than a Yamaha EXR, or 4-inches longer than a 2-up Spark. At 47.2-inches wide, it's just an inch-and-a-quarter wider than the 2-up Sea-Doo as well. Standing at 39.8-inches tall, it's about an inch-and-a-half shorter than the Spark as well. All Orcas include a 15-gallon front storage bin too.
But in keeping with the aforementioned Yamaha EXR, the Orca Sport can reach a GPS-confirmed top speed of 56mph thanks to its equivalent 120-horsepower output. When it comes to range, the Sport fares the lowest of the three offerings given its 20kWh capacity battery is the smallest. According to Taiga, that gives the Orca Sport a 32-mile range when averaging 28 miles-per-hour.
What does come standard across all three tiers is Taiga's digital brake & reverse system; a user-configurable Power, Acceleration and Speed modes (think "Touring," "Sport" and "Eco" modes on a Sea-Doo); a huge 7-inch HD color center console with GPS speed & mapping, LTE, WiFi over the air updates, and Bluetooth phone connectivity via phone app settings.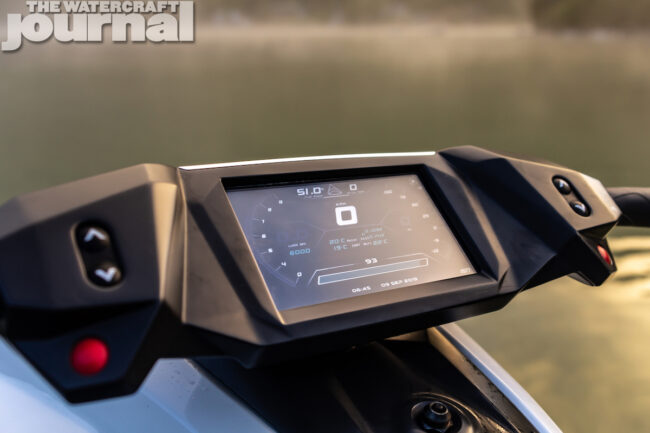 Now, if you're looking for something with a little more oomph, take a look at the $17,500 Orca Performance. Curiously, the Performance shares the same composite material for the hull and deck as the Sport but weighs in slightly heavier at 588-pounds. This weight gain is attributed to the larger 25kWh capacity battery giving the Performance its 180HP rating.
This gets the Orca to run closer to 38 miles when averaging 28mph. But who the heck wants to run 28 when this guy can hit 65mph on the radar gun? And like the smaller battery in the Sport, it too is cooled via a closed loop system, it doesn't require flushing or maintenance. Equally, Taiga says each battery features a "low quiescent drain, and can be left up to 5 years unplugged."
Lastly, the Performance model comes standard with quick-adjusted trim and an optional 3-person tow sport package with instant low-end torque. Finally for the premium segment is Taiga's Carbon Orca. With all of the go-fast goodies as the Performance model, the Carbon not only shaves off the added pounds thanks to its carbon construction, but also shaves down the price of the Founders Editions by starting at $24,000.
Equipped with "enhanced drive dynamics and options for tailored color and material selections," the Carbon gives the buyer nearly all of the one-of-a-kind offerings of those early 100 editions, but the competitive pricing of the production units.
Although Taiga lists the Carbon's performance numbers equal to the Performance model, namely a confirmed top speed of 65mph and total distance of 38 miles at 28mph, the Carbon comes in at a slightly lighter 570-pounds. It also comes standard with the additional 3-person seating arrangement and tow package, as well as electronic trim control.
In addition to its carbon fiber construction, the Carbon edition offers options for "tailored body panel color options, customizable seat and deck mats," according to Taiga as well. To sweeten the pot, Taiga also offers a zero-maintenance 5-year electric powertrain warranty in addition to 20-times less noise, zero emissions and a whisper-quiet ride.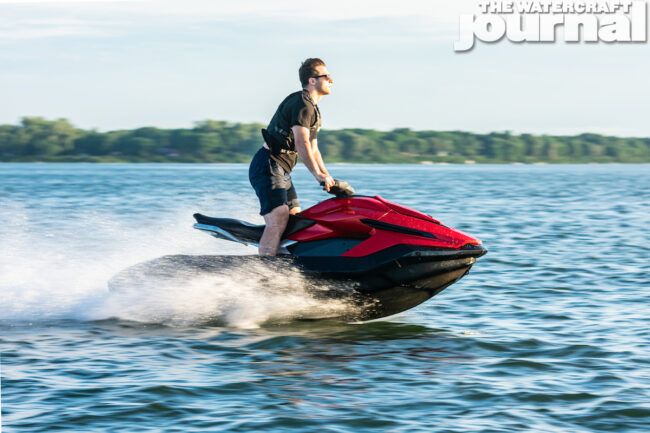 As Taiga's marketing campaign lures, "No more trips to the gas station, no more hauling fuel down to the dock or spills into the lake, and no more oil changes or winterization; Orca redefines the experience of owning a personal watercraft. Spend an afternoon on the water, charge overnight, unplug and repeat." Sounds pretty great, right?
Well, as we mentioned, nobody has seen any of the Founders Editions out on the water yet. But if you're itching to be one of the first to get your hands on one, the Orca Sport and Performance models are expected to be delivered beginning in summer 2021 (through Taiga dealers) with an online $100 USD deposit.