West Coast Watercraft Club had their annual Ironman 2 Jet Ski Adventure Ride from Long Beach to San Diego, California and back in one day, January 16, 2016, for a total of 222 miles. Our Long Beach crew consisted of seven riders and our Oceanside crew was five.
We met at The Queensway ramp in Long Beach at 6am sharp, and were launched by 6:30am, and on our way to Oceanside. The weather was partly cloudy, no wind, 50 degrees and calling for a 2-to-4 foot chop. Upon leaving the harbor we knew the weather report was wrong because it was a smooth sprint with little to no chop at 45mph riding 61 miles. We arrived at Oceanside on schedule at 8:30am.
Upon arriving at Oceanside our five riders were ready to go and waited while we topped off our tanks for the next leg of our trip to San Diego. We left Oceanside Marina at 9:30am heading to San Diego for fuel and lunch. Our average speed was between 45-to-50 mph for the next leg of 50 miles of beautiful smooth ocean with lots of dolphins navigating our way.
We arrived in San Diego's Point Loma at 11am, we had a gathering to discuss who needed 91 octane and the group split up to accommodate their fuel needs. After refueling, we all headed for lunch in Coronado at The Village Pizzeria. After lunch, it was time to get going. We left Coronado at 1:30pm, about a half hour longer than usual. At this point it was getting a bit choppy in the channel and lots of sail boats were out enjoying the nice winter day.
Twenty-five miles into our ride back one of our riders, Tony had sucked up a rope floating in the ocean, probably one left from a fishing boat. He even had a visit from the border patrol asking him where he had come from. Unfortunately, they were unable to assist Tony. He had to get into the cold water and cut the rope, using his good knife which he dropped into the water, luckily he had a second one with him. He got back on to his ski and this time it wouldn't start.
Instead of waiting for Sea Tow we decided to tow him back to Oceanside about 25 miles, which took a little over an hour to do. When we got into Oceanside at 3:30pm one of our Oceanside riders gave Tony their ski to return back to Long Beach. Knowing the time constraints ahead we had no time for any incidentals.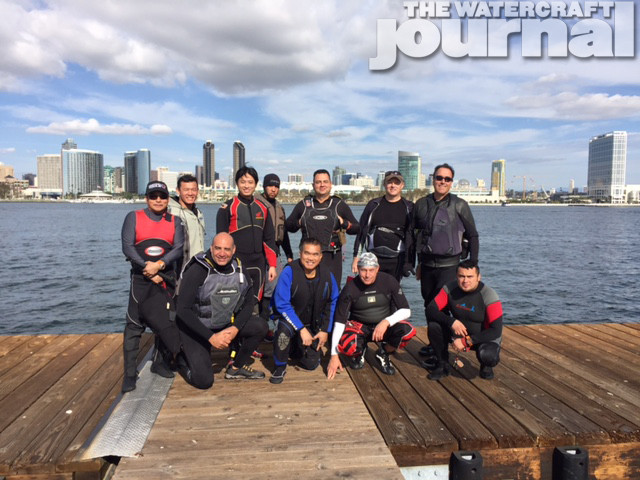 We left Oceanside at 4pm taking a pounding from consistent 3-foot swells for the next 61 miles. In order to beat the encroaching darkness we had to keep our speeds at 50 mph. Since we had some slower riders, we had to stop and wait now and again. We were exhausted when we arrived at Dana Point, so I suggested we dock at Dana Point Harbor and Uber back to Long Beach. Great idea, right? Nope! The team decided to continue onward and ride back to Long Beach. A bit crazy, I know, but this needed to be done to complete "The Ironman Ride 2."
I decided to turn on my video cameras to capture the sundown while we were hauling back through the darkness. We decided to slow it down to 20 mph and hug the shoreline getting light from the adjacent cities along the way. Somehow the group separated and it was just Tony and I keeping a safe distance from one another as we used our GPS to navigate our way back to Long Beach Harbor. A few times we were so close to shore when a few sneaker waves tried to take us out and pushing us closer to shore, it was a bit scary as I saw Tony disappear and then reappear in the distance.
When we returned to Queensway we found out that one person was missing. We contacted him via cell phone and found out he was picked up by the Harbor Patrol. Luckily he was not fined but Sea Tow charged him to move his PWC across the bay. We arrived back at Queensway around 6pm. It was a challenging journey, but we were all glad we did it, and can't wait for Ironman 3 next year!