Marine slides also known as bunk slides can be a great improvement to a personal watercraft trailer, or any marine trailer. The purpose of bunk slides is to not only protect the hull of the vessel but also aid in removing the ski from the trailer no matter if unloading in the water or sliding your PWC off the trailer and onto a shop cart. These slides make unloading and loading a PWC easier.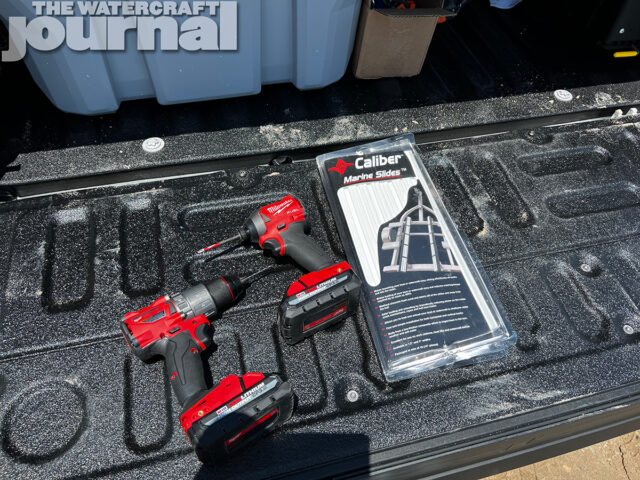 Installing bunk slides is straightforward. Depending on the length of your bunks will determine the size you need. For example, as shown, this is a single personal watercraft trailer with 6-foot bunks covered in marine carpet. Although this works fine for most people removing the vessel from the trailer onto a shop cart can be somewhat difficult as the marine carpet has a decent amount of traction.
Since this trailer has 6-foot-long bunks by 3.5-inches wide. Bunk slides were purchased in a 10 pack of 15 inch long by 3 inches wide. Four bunk slides per slide fit perfectly when they are spaced out 3 inches apart from each other. Installation is simple, included with the slides are stainless steel screws that mount in the groove of the slide to protect the hall from the screws themselves.
Once aligned and measured out installation is straightforward by adding six screws per slide and repeating until you have covered the length of the bunk and then repeat on the following side. Since you are drilling into wood it is recommended that you use a pilot hole first and then install the screw.
Once you know the size of the trailer bunks and you have purchased Bunk slides. It is time to install now there are two ways to remove the personal watercraft to install the slides. The first by far is the easiest is take your slides and tools with you to your local boat ramp launch the PWC and install in the parking lot. The other is to remove the ski from the trailer by using a PWC lift sling. Since most people do not have the equipment to lift a PWC the first option is better for most people.
Now that bunk slides are installed loading and unloading your personal watercraft will be that much easier. For more information about bunk slides and PWC lift slings check out these two quick topics from the watercraft journals YouTube page