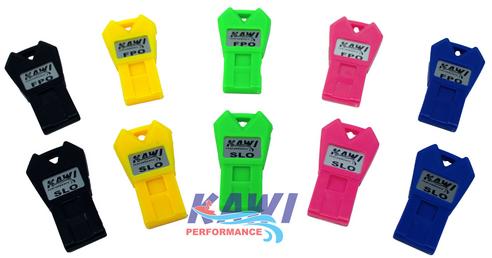 Whether you own a supercharged Ultra 250, 260, 300, or 310 or a naturally aspirated Ultra LX, STX, or SXR JetSki, Kawi Performance out of West Babylon, NY has innovative performance products every Kawasaki enthusiast will love.
"We live and breathe Kawasaki watercraft, so there really isn't much we cannot do. We build the best and most reliable motors, our parts speak for themselves, and we are always moving forward designing and developing new products."
In the past, if a customer lost both their SLO and Fast Kawasaki immobilizer keys, they would have been required to purchase a new (and very expensive) ECU! That has all changed. Kawi Performance now offers a Lost Key Reprogramming service that enables them to provide customers with replacement keys for a fraction of the cost.
KP's Lost Key Reprogramming Service for the Ultra 300/310/STX 160 is $350.00 while their service for the Ultra 250/260/LX/STX 15F is $300.00. Customers must cover the cost to ship their ECUs to Kawi Performance in New York. Turnaround time is typically a quick 1-4 business days.
Besides offering sets of OEM keys, Kawi Performance also offers a custom line of KP- branded immobilizer keys in black, yellow, green, pink, and blue, as well as the OEM programming tool and adapter that is required if customers wish to add up to 6 additional keys at home on their own.
KP-branded Keys retail for $49.99 each, while OEM Fast or SLO keys are $58.22 each. If you wish to have Kawi Performance program your keys for you, there is an additional  $75.00 programming charge, per key. KP's in-house programming allows them to add an unlimited number of keys to customers' JetSkis.
If you buyers wish to program their own spare keys at home, the OEM Kawasaki Programming Adapter tool is sold for $35.80 and the special Adapter Cable (Required for 300/310/2012+ Ultra LX/15F and STX 160 models) is available for $19.99.
KP specializes in making fleet keys as well, so if a rental business has 20 skis, they can make a master key that works across their entire fleet, or make all the machines have interchangeable keys- so labeling them is no longer required.