Most boats sit well over a foot higher in the water than a PWC, meaning that many PWC's can drift under a dock, damaging their paint. Of course, if you happen to have a Yamaha, know that their automotive-grade paint is particularly sensitive to impact, so this article is definitely for you.
Most skis have gunwales that stick up about 2-5 inches above the bond line. These areas are often the first to see damage from rubbing up against docks. While some people carry bumpers, these are often big and cumbersome to stow in your ski.
Rather, some old towels can work just as well to protect the hull and don't take up much room inside your PWC (plus, you can always use a towel). The towels are laid in place before backing down the ramp; and having a damp towel keeps them in place better, especially if it's windy out.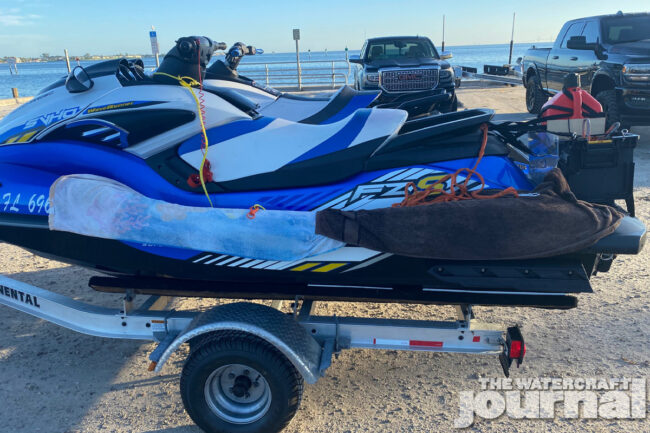 We've found that simple synthetic dock line – about ½" in diameter – works best. We have used cheaper 3/8" lines but you get what you pay for in thickness. The orange line shown in the images used at the stern of the boat doubles as a tow-rope with a bowline knot tied into each end.
We also use a swivel hook to clamp back on itself. These can be purchased in a variety of metals, however we found that brass and good stainless steel are the best in saltwater applications. We have also painted some of them orange. It is not fun trying to find one of these if you accidentally drop one on the seafloor.
The second line is wrapped around the handlebars unless you have dedicated cleats integrated into your PWC. Having a loop on each end of the rope allows it to pass the working end of the line through the loop and around the bars. Having a swivel hook on each end makes it much faster and easier.
Once we have all our lines and lanyard in place (and of course triple checked the drain plugs), we back down the ramp. You don't need to fully submerge your trailer. Usually, all that's needed is just enough to float the stern of the ski off of the trailer.
For those looking how to launch without getting your feet wet, a simple tug on the bow line will free your ski from the bunks. Then just throw one of the lines onto the dock. After walking up the dock, use one of the lines to maneuver the ski to a safe mooring location (and by "safe" we mean as far away from any other boater that may come in right after you.
Now your ski is safely moored to the dock, protected from unwanted scratches or impact, and ready for a day out on the water. It's really that simple.