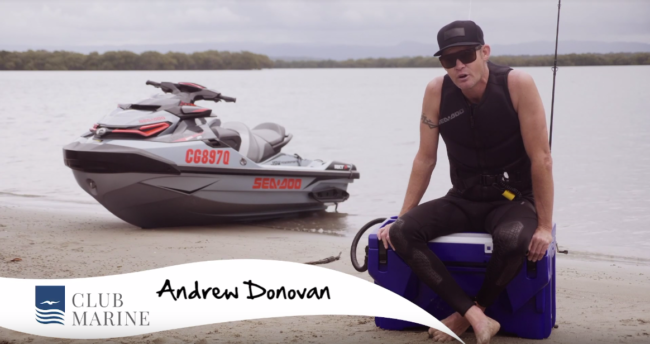 While some of us are living in places with freezing temperatures and snow, many people south of the Equator are getting out and fishing. One of these is Andrew Donovan. He and Club Marine teamed up for a video on how to fish from your PWC.
In the past we have talked about how fishing from a PWC is growing since they require less fuel than boats, are smaller and more nimble and tend to be a much cheaper alternative. One thing I thought was very interesting was that Andrew Donovan pointed out that on one of his fishing trips, he was able to ride in places that had less than one foot of water.  This allows anglers to go to new places and potentially have better luck fishing in places that rarely see any anglers.
With proper gear and a trusty fish finder, you should have no problem hooking into a fish. When you do catch a fish, you may ask yourself where you are going to put it. If you plan on having a seafood lunch you are going to want to bring a cooler with you. While there are many coolers on the market specifically designed for PWC's, choosing one with a live well is a pretty sweet addition. This keeps your bait fresh or for keeping your catch fresh. Many coolers now even come with rod holders equipped with them so that you can troll or put them there for storage.
The new 2018 Sea-Doo RXT-X 300 is what Andrew Donovan is using in this video. With Sea-Doo's new design, you are able to strap on a jerry can along with a cooler. This allows you to travel even further and still bring your cooler and fishing gear. Sea-Doo has come out with a brand new Fish Pro model of personal watercraft that is specifically designed for fishing but many different watercraft are able transform into an ultimate fishing machine.