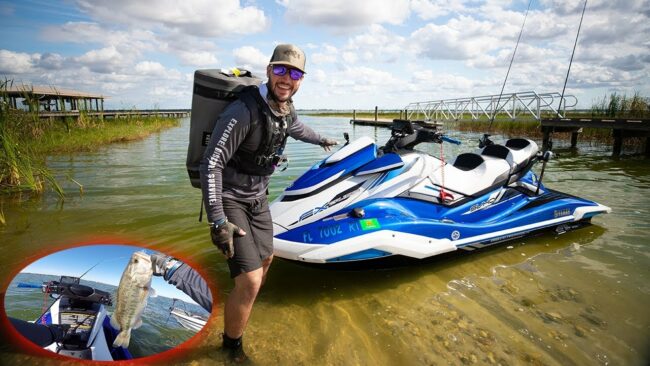 Brandon Jordan gives his fans what they want and this time he has outdone himself on a brand new 2019 supercharged Yamaha SVHO Cruiser equipped with a four-cylinder, 4-stroke, Super Vortex Output Yamaha Marine Engine. A video posted December 3, 2018 on YouTube features him preparing to head out on an unnamed lake in Florida. Jordan tells us that the water is deep, 15-25ft and 50ft in some areas. He's out for big bass and he handles them like a boss.
Jordan named the Yamaha WaveRunner "Blue Bae 2.0." The SVHO is equipped with Yamaha's Multi-Mount system, which is how the Hummingbird GPS Fish Finder easily installed. The Fish Finder sits in the mount where it's easy to view and operate. The Yamaha also has standard dual mirrors and many more accessories. The blue machine has sturdy rod mounts as well and Jordan raves about them. He has his GoPro mounted on the bow in order to catch good footage of himself and his surroundings.
The Yamaha SVHO shames some other well known fish ski setups. This machine is a beast. Jordan easily maneuvers it over large chop on the lake in Florida. Though the sun is shining, the wind is blowing at a good clip, which creates the two foot chop. Jordan's ability to handle the power of the Yamaha SVHO Cruiser helps him deal with the rough waters fairly easily. The SVHO is a powerful machine with a wide hull and it can easily motor through waves. The PWC is also equipped with a No Wake Mode, making it easy to troll for fish.
Jordan's excitement grows with every fish he catches. He also digs the easy to reach extra large watertight cargo storage, especially when one of the bass swallows the hook. He quickly reaches into the glove box and grabs his needle-nose pliers to pull the hook out of the fishes mouth. Jordan doesn't skip a beat. He releases the fish and away he goes.
Reading the comments, we found out just how happy Jiggin' with Jordan's fans really were. Most were thrilled to see him on Blue Bae 2.0. Why wouldn't they be happy? It's always fun when we're Jiggin' with Jordan, especially when he shows how well the new Yamaha SVHO adapts to all conditions.