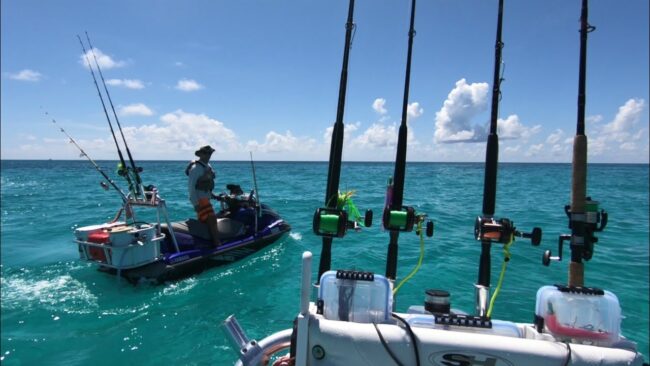 Dean Banyon and the WaveRunner Fishing Family have done it again! They put together another outstanding video. This clip showcases a fishing trip aboard their two Yamaha WaveRunners. Dean and son ventured 22 miles offshore in the Florida Keys. This would be the furthest they've gone.
They rigged two Yamaha WaveRunners for a day of trolling for Mahi. The Banyons were underway before sunrise with food, fuel, and a good amount of tackle. Motoring out, they captured some nice footage of dolphins breaking the water with the sun just peaking in the background. The water was slick glass, making for a great ride well offshore to prime fishing grounds. It is hard to believe that while filming this video, Hurricane Dorian was looming in the distance. The guys were fishing 20 miles off Islamorada, FL under beautiful blue skies
Fifteen miles offshore, in 600 feet of water, they wet some hooks baited with dead ballyhoo in hopes of reeling in Mahi or king mackerel.  The area didn't have a weed line and they weren't getting any hits, so they left there in favor a spot in 900 feet with a weed line. Bam! Fish on, one right after another. Mahi and Kings all day long. Using dead ballyhoo and cut up tuna, the guys scored fish after fish, so many that Dino ran out of room in his cooler. He handed off a good-sized Mahi for his dad to put on ice.
Shortly before heading back, Dean showed off his sweet tackle center which doubles as a leaning post for when a fish is hooked. The post helps to keep the ski stable while fighting a fish. A few hours later, they headed toward home with six nice sized fish. They made a pit stop along the way at sandbar popular with the locals. They were greeted with cheers as they floated into the cozy little spot to have a drink. These guys are living the dream! After taking a nice break on the sandbar, they made their way back home after an epic day of fishing.