In determining what qualifies as a possible candidate to win The Watercraft Journal's Watercraft of The Year award, each model must be weighed against a specific and immutable scale of excellence. This process must proceed without imposing any personal bias. Rather, the ranking of each of the finalists must be shown as being unilaterally balanced.
In doing so year-after-year, The Watercraft Journal has earned the respect from its millions of readers and viewers, as well as that from the Original Equipment (OE) manufacturers – even when they might disagree with the resulting outcome. The scale from which we judge from is called the IDEA score, an acronym standing for Innovation, Design, Execution and Affect.
In layman's terms, we acknowledge a personal watercraft's achievements in innovation; overall design aesthetic; the final execution of the production vehicle; and finally, the model's lasting affect on the marketplace and/or industry. Each of the categories are capable of earning a maximum of 10 points each, totaling a combined 40 possible points.
We were particularly cognizant of the many factors that played a role in this year's finalists. The earliest (and frankly, strongest) candidate quickly dropped out contention as production units were plagued with quality control (QC) problems. These machines suffered from cracking paint; thin or flimsy glove box latches that regularly snapped; and worse yet, outdated or incorrect parts.
Despite being widely hailed as a performance juggernaut, the failings listed above denied the vehicle entry into the final three. To that point, it bears noting just how close these three watercraft came within of earning the highest award. In specific segments, each of the PWC listed below excelled in one category or the other, effectively making each a top leader in their own right.
Lastly and most importantly, no entries were eligible that The Watercraft Journal's staff didn't personally review. If we couldn't get to ride it ourselves, we didn't feel right judging it. That means that all contenders were pulled from the near two-dozen personal watercraft that have been individually reviewed over the 2021 model year.
---
2021 Watercraft of The Year 2nd Runner-Up: 2021 Sea-Doo Fish Pro 170
Innovation: 8; Design: 8; Execution: 8; Affect: 10; Total: 34 points
From its inception, the Sea-Doo Fish Pro was simply a good idea. Adding to that the degree of detail which Sea-Doo has poured into making the Fish Pro a true "fully equipped" rig demonstrates the brand's dedication to PWC fishing. All that being said, many wouldn't see the differences between the 2021 and its original 2019 introductory model (apart from color). For us, the subtle changes made for 2021 are sufficient evidence to prove that Sea-Doo is intently listening to its customers – far more than you might think.
The 2021 Sea-Doo Fish Pro 170 is a masterclass in satisfying a niche market. [Don't get us started on the 2022 Fish Pro lineup. You can expect to see at least one Fish Pro here next year. –Ed.] It's no secret that the ultra-stable, deep-welled ST3 hull-and-deck platform was honed with the Fish Pro in mind; the Fish Pro's extended rear platform adding an extra 11.5-inches of deck length and a second set of LinQ attachments open up the Sea-Doo tremendously. Angled footwells, a flat bench seat and easy-to-reach center storage all add to the package.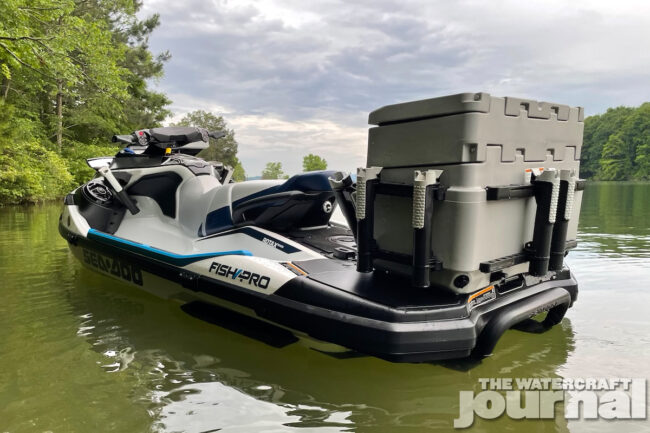 Equipped with standard features like an adjustable Trolling Mode; a Garmin Echomap plus 62cv Fish Finder (with a 6-inch screen and in-hull transducer, offering multi-function navigation, charting and fish-finding system); and a 13.5 gallon cooler featuring a cutting/work surface and a series of configurable slots for rod holders, as well as a tackle storage pocket. While this all sounds indistinguishable from from prior models, 2021 "plussed" the Fish Pro with added rod holders, new angled trolling placements upfront within reach of the driver, and a new LinQ cup holder.
A secondary 5.3-gallon tier atop the Fish Pro cooler separating your bait from your drinks and lunch was a welcome addition. Lastly, and easily the most impactful to the industry as a whole, were the additions of two major innovations: IDF and Sea-Doo's optional 7.8-Inch Panoramic Bluetooth Color Display. The latter replaced the LCD dashboard with a split screen data center linking one's smartphone to the dashboard (via Sea-Doo's new app), presenting live weather updates, GPS tracking, and vehicle vitals in full color, high resolution glory.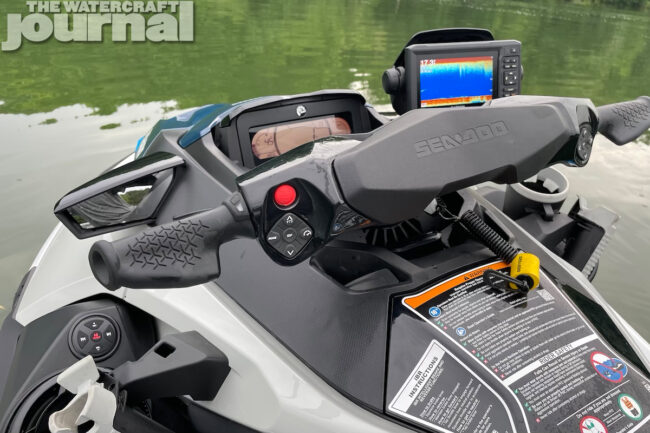 Sea-Doo's IDF (Intelligent Debris Free System) was the brand's most groundbreaking and problematic addition to 2021. Providing a series of short bursts of reverse thrust, the IDF system intended to push intake grate-clogging grass and debris out with a simple depression of the IDF button. For most, IDF worked fine, and thankfully, BRP engineers diagnosed cause of the few failures and updated the hardware by late June. BRP is so confident with IDF today, that all Switch pontoon boats come standard with the technology.
Priced at $15,599.99 MSRP, the 2021 Sea-Doo Fish Pro 170 broke ground as far as standardized and optional technology, but pressed deeper into a growing portion of the personal watercraft industry that has left consumers asking competing manufacturers for their answer to Sea-Doo's machine. The updates, upgrades and innovations poured into this sophomore watercraft testify to Sea-Doo's dedication to this segment of the market and the enthusiasts who are taking this sport further than ever before.
---
2021 Watercraft of The Year 1st Runner-Up: 2021 Yamaha SuperJet
Innovation: 10; Design: 8; Execution: 9; Affect: 8; Total: 35 points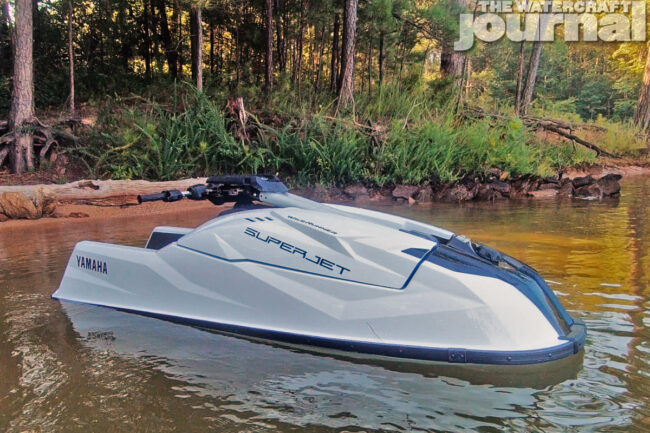 The 2021 Yamaha SuperJet could easily be ranked as the single-most anticipated entry from Yamaha since the first SuperJet in 1990. As continued pressure from environmentalists and local governments spelled doom for the venerable 2-stroke, standup enthusiasts clamored for a suitable 4-stroke successor. Despite continual rumor and chatter within the industry (primarily from The Watercraft Journal), Yamaha wouldn't rush the project.
By the time of its arrival, Yamaha's rival had quite a bit of aftermarket support behind it. Would this SuperJet be a worthy competitor many racers and performance enthusiasts wondered? "That's not really who we're going for with this," former Yamaha Project Development Manager and multi-time IJSBA World Champion Scott Watkins shared back in late 2020. "We designed [the 2021 SuperJet] with the first-time rider in mind. We want to welcome in a whole new generation of standup riders."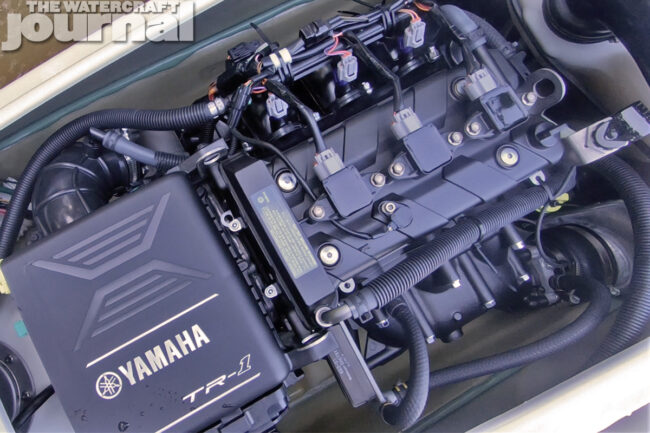 To Watkins' point, the 2021 SuperJet is pointedly not a direct competitor to the existing 4-stroke standups available today. It's 375-pound dry weight makes the SuperJet 142-pounds lighter than the other guy's ski. Equally, its total length of 6-feet, 9-inches makes the SuperJet 8.8-inches shorter too. Powered by Yamaha's featherweight 1,049cc 3-cylinder TR-1 4-stroke, a lightened flywheel/coupler, and redesigned exhaust manifold and muffler, the 102-horsepower triple delivers plenty of grunt to pop any rider out of the water.
Light, nimble and with plenty of ponies on tap, the 2021 SuperJet can trip the lights at 52mph, maybe a little quicker if its 5-gallon fuel cell is nearly drained and with a lighter rider. Yet, the new SuperJet is all about welcoming new riders and its L-Mode is easily its shining feature in this regard. Bumping the Stop button digitally de-tunes the TR-1 to 85-percent of its power output, making for a smoother acceleration curve and reduced top end, ideal for newbies (and untalented hacks like this author).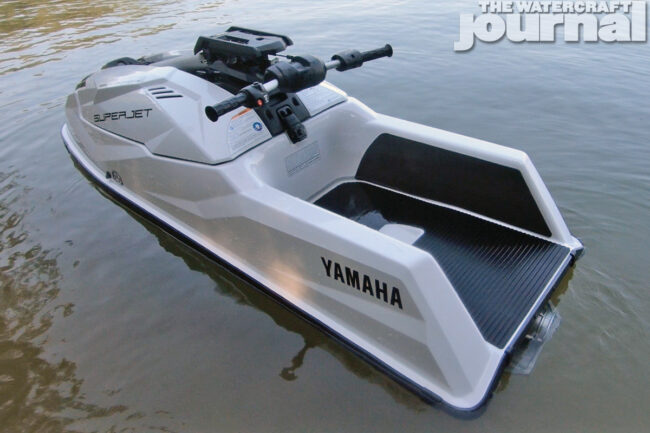 It's sealed 3-piece hood serves as the engine's air box, ensuring zero water ingestion even when submerged. The twin-strut handlepole is very reminiscent of aftermarket poles and offers 3-levels of adjustment (as do the steering assembly). Quibbles with the tray are minor: no padding above the gunwales makes deep water reboarding a slippery, often painful chore; and the center hand grip in the tray is too shallow to be serviceable. The tray itself is graciously wide enough for those with big feet too.
Although appearing noticeably spartan, the stark white SuperJet is a blank canvas for the racer or more decoratively-minded among you. [As we joked that the 2020 FX SVHO was "Darth Vader" we've come to call the SuperJet a "Stormtrooper". –Ed.] Priced at an astounding $9,499 MSRP, there's little wonder every single 2021 Yamaha SuperJet sold out in the United States, resulting in long delays for delivery. We hope to see a new crop of standup riders rise from this and give Yamaha all the credit for pushing for it.
---
2021 Watercraft of The Year: 2021 Sea-Doo RXP-X 300
Innovation: 9; Design: 10; Execution: 9; Affect: 8; Total: 36 points
Admittedly, we're having more fun with the 2021 Sea-Doo RXP-X 300 than we ever expected to be – and for all of the wrong reasons. For 2021, Sea-Doo chose to improve upon the existing T3-based RXP-X platform rather than discard it completely. The result was the T3R, which made a purported 30 changes to the running surface, particularly surrounding the pump intake and the now infamous "shark gills" running along its midships.
These tweaks increased hookup and eased the otherwise aggressive nature of the deep-bowed musclecraft, allowing it to swoop into wider arcs without the snappiness from before (respectively). And when trimmed up, the RXP-X glides surprisingly true through 1-to-2 foot wind-blown chop. Of course, on the buoy course (where it was originally aimed for), the RXP-X is surprisingly deft when wrangled properly. The unspoken chop, drop and roll into the throttle pattern delivers spine-breaking g-forces in the corner every time.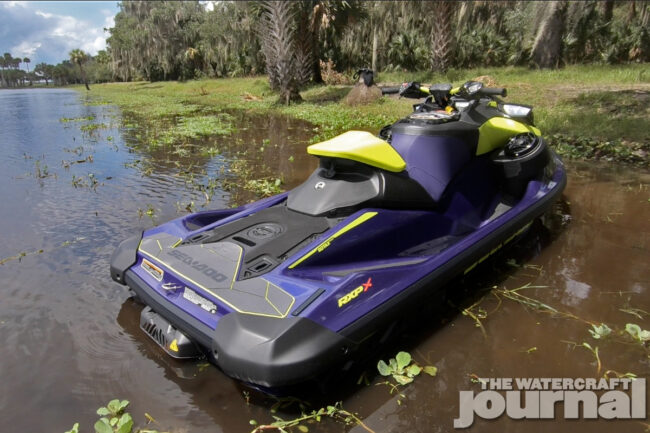 Leaning all the way into this characteristic, Sea-Doo daringly presented the 2021 RXP-X 300 as a one seater. The Ergolock-R high-backed, adjustable seat firmly plants the pilot forward over the X-series handlebars and deep into the resculped knee coves. Re-angled foot wedges allow for a second point of leverage for your knees as well. Gone are the "palm wedge" hand grips, replaced by sportier moto-style grips. Oh yeah, and Sea-Doo also managed to shave off 67-pounds from the previous generation too (780lbs. vs. 847lbs.).
While we mourn the loss of the adjustable X-steering, an optional telescoping neck is available for a premium ($184.99). Gone too are the adjustable X-sponsons, now sharing the less-than-desirable one-piece blades found on the RXT-X 300. Yet, Sea-Doo snuck in one last surprise, a true polished stainless 3-blade impeller. It is effectively, the most race-ready 4-stroke we've seen from Sea-Doo since the 2008 RXP-X 255. And humorously enough, we've been using it for long distance cruising…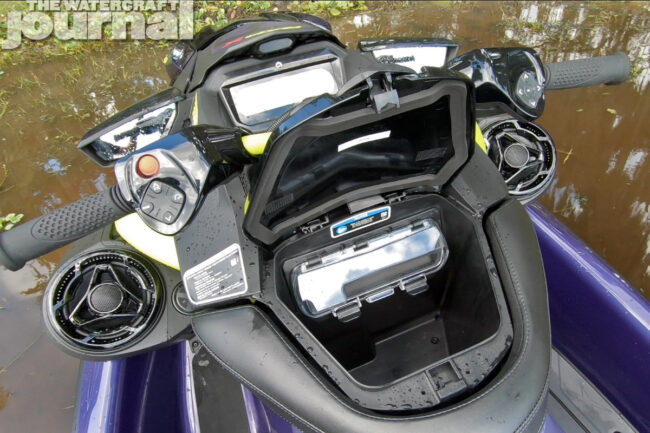 Once we added the optional rear passenger seat ($419.99), we filled the RXP-X's 40.6-gallons of storage space (split up between a 37.8-gallon front bin and a sizeable 2.5-gallon glove box), and hit the water with the kids. (In case you were wondering, the RXP-X boasts more cargo room than a RXT-X and GTX Limited. It also shares the same 18.5-gallon fuel cell and 300-horsepower ACE 1630 engine, too.) Add to that the available BRP Premium Sound System and its standard LinQ attachment system, it's almost begging to be used this way.
Admittedly, the 2021 RXP-X 300 came in with a steep asking price of $15,799 MSRP (and that's without the speakers and premium Midnight Purple paint), particularly when considering the extra bucks for a passenger seat and adjustable steering neck when compared to its closest competitor. All that being said, the 2021 Sea-Doo RXP-X 300 has surprised and impressed us at every angle. No longer the stripped down, bare-bones hot rod of its youth, the RXP-X has matured into European luxury supercar. And with that, wholly deserves the 2021 Watercraft of The Year Award.