Winter is upon us and we still want to participate in our favorite water activities and Jetski Safaris have provided us with expert knowledge about preparing for winter jet skiing. The water and air temps have dropped considerably so we have to make changes to our gear and what we wear on the water. If you're new to hitting the water during winter months, this means it's time to go shopping for the appropriate cold-water gear.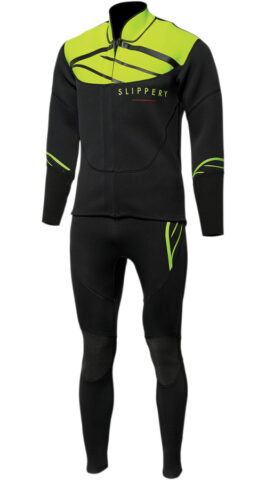 Seek out a reputable dealer for all of your cold-water needs. Depending upon where you live, this will dictate what millimeter wetsuit to wear. If you're like many others, wetsuits ranging from 2mm to 5mm and spray jackets will be taking up room in your closet.
Booties, gloves, a beanie, or balaclava are also cold-water necessities. 5mm booties with a grippy sole are what are needed for a good safe ride. 3 to 5mm gloves should be enough to keep your hands warm and able to give you what you need to hold onto the handlebars. Goggles or glasses are a good line of defense against the spray.
Try on everything, including your PFD and move around to loosen up and help you get the feel of extra neoprene. This will help make sure that when you take a ride, you'll be ready.
Now that the gear is purchased, it's time to learn about the weather and some good apps with websites to keep you in the know in real time. Extrapolate data from a few apps and average them out and you will get a good idea of the water and weather conditions. Windy, windguru.com, and xcweather.com(UK) are three top apps to download and compare data.
Weather is one of the most important things to check before heading out and it's also a good idea to keep an eye on the forecast while riding. Conditions can change in an instant and when you add the cold water and cold air temps to the mix, this is a recipe for disaster if you aren't prepared. Fatigue sets in much quicker during the winter months. Depending on the direction of the winds, a rough sea state may occur, forcing you to have to expend extra energy as you work to control your ski. Take frequent breaks when the opportunities arise, eat a snack, and try to get warm.
Before you even head out, make sure your ski is in good operating condition before heading out. Look over the hull for damage, check the oil, look inside the engine bay, and check the engine mounts by trying to lift the engine. If there's any movement, you may need new mounts or maybe a couple are loose. Also, look for water in the compartment. Use the rule of 1/3rds with fuel when heading out. 1/3 fuel out, 1/3 fuel to return, and 1/3 for emergency backup.
A safety kit is of utmost importance. A VHF radio is a big deal to have on the water and it should be attached to your person at all times. The radio could save your life if you get bounced from your ski and separated. Take a VHF course so you know how to use the radio.
Below is a list of other items that should be carried aboard your PWC at all times.
A tow line is another addition to carry aboard
An inshore flare pack
A small anchor and line should also be part of your kit.
A knife with a serrated edge.
Small First Aid Kit
Spare Killcord
Always leave your float plan with someone so they can for help if you're well behind schedule. Take a cheap cell phone in case you need to let someone know you're running late.
If you're in the UK, check out an RYA Jet Ski Training Course, powered by JetSki Safaris.
Stay within your limits. When in doubt, don't go out.