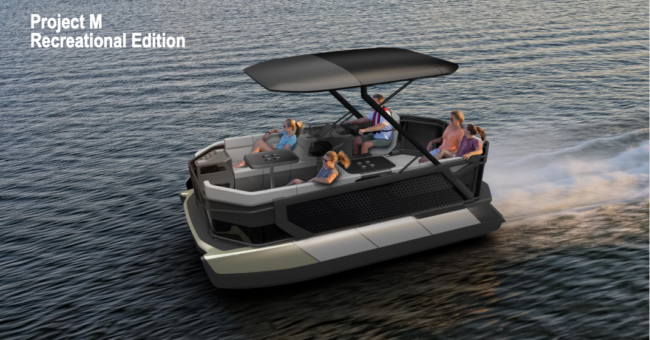 [Update as of 10:45am, 5/26/2021] It would appear that the true story behind these images was out in the public over a year-and-a-half ago. Presented as part of BRP's 2019 Analyst and Investor Meeting webcast (published on October 28th, 2019), the viewers were entreated to some new projects on the horizon for BRP's boating lines. Of them was then-Evinrude's "Project Ghost" propulsion system, which sought to replace the exposed outboard's propeller with a contained jet drive propulsion system.
Equally, BRP desired to create a "Spark equivalent" to the pontoon market, providing first-time buyers and budget-minded customers with an entry point product, in the same way the Sea-Doo Spark and Can-Am Ryker served their respective markets. The "Project M" line would do exactly that, by offering a trimmed-down, low-frills option while remaining fun and useful to the customer – all while employing the "Ghost" drive system. Equally, the Ghost drive system promised to run quieter and be less disruptive to the environment than traditional outboards.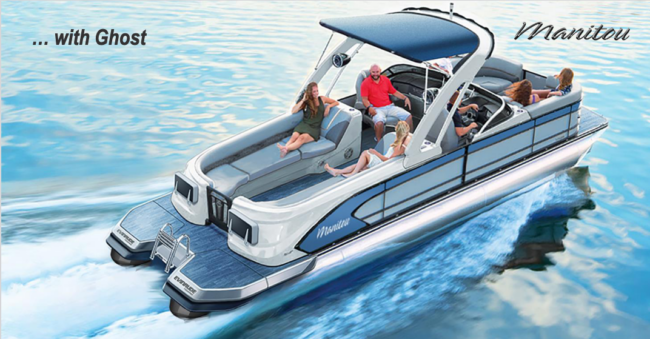 Admittedly, we at The Watercraft Journal had learned of the Ghost system over a year ago shortly after the presentation, but failed to recall it when shown the outboard-less pontoon images earlier this month. We'll claim a mea culpa on that one. As a publisher once told us, "A nice helping of crow is good for you every now and again."
The idea of a jet-driven pontoon still strikes us as a novel idea and we're excited to see a new batch of Manitou pontoons as well as Alumacraft and QuinTrex boats. As official as it can get, even Tracy Crocker, president of BRP Marine Group, presented the new "Ghost" program and "Project M" initiative, stating that BRP's goal was "to become the most innovative marine company that builds and integrates boats and engines in a way that gives consumers an unparalleled experience on the water."
---
Here's the unedited original article published at 12:01am 5/26/2021: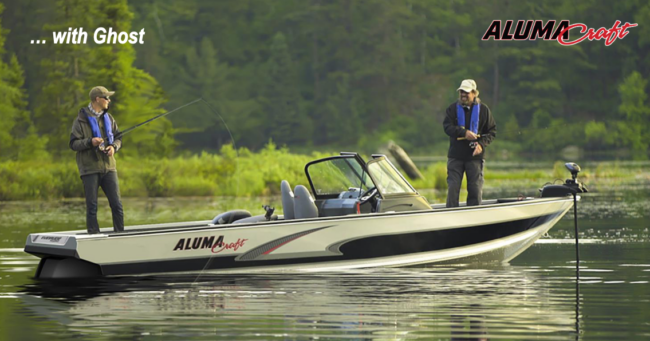 In August 2018, BRP confirmed its acquisition of Triton Industries, Inc., the leading North American manufacturer of premium luxury and performance pontoon boats, Manitou. Interestingly, 18 months later in May of 2020, BRP retired Evinrude, dashing a prospective pairing of the two brands. Rather, Manitou's 29 available models (per the 2021 catalog, including model and length variations) continue to employ Mercury outboards.
So with all of that said, what about the above image that was leaked to The Watercraft Journal, you may be asking? Frankly, we're not sure. It's clearly an artistic rendering, that much is clear (and no, it's not our artistic rendering. We save all of our half-assed photoshopping for April Fool's jokes). The two pontoon boats (what we surmise to be tritoons) appear to be relatively small – we estimate about 15 or 16-feet in total length – well below Manitou's smallest craft, the Aurora LE at 18-feet.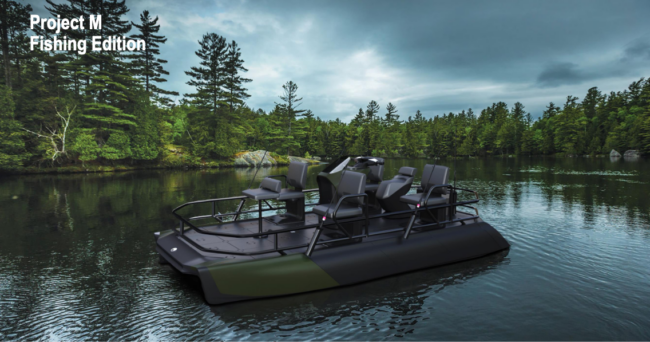 Curiously, both images appearing to show a set of Sea-Doo handlebars instead of a traditional helm. This is what led our "informant" to believe that these were yet-to-be-revealed BRP vehicles. Dubbed "Project M," the Recreational Edition features a dual-strut Bimini top and similar seating arrangement as the aforementioned Aurora LE. The Fishing Edition is an open deck configuration with a low railing and swivel-mount seat at the bow (and a fun pseudo-camouflage livery).
Of course, the big question yet to be answered is means of propulsion. Obviously, there's no outboard and the presence of a Sea-Doo handlebar system implies the use of a Sea-Doo jet propulsion system. The concept of a jet drive fixed into a center pontoon is an exciting one – and we'd definitely love to see how it works. Judging by its size and lightweight construction, it wouldn't require much to get these two to plane.
But again, seeing as we can't verify whose image this is, all we can do is speculate. So whether this official Sea-Doo contraband, a fun bit of art whipped up by fan, or the proposal for a possible aftermarket boat manufacturer we cannot say. Either way, it's a glimpse at a possible jet-powered future pontoon boat, and that's pretty cool to us.