The 2019 AquaX race season opened with a splash literally. Six-plus foot rollers that tossed around 800-pound runabouts like so many matchsticks kept the April season opener exciting, kept racers on the edge, and kept the safety crew on their toes. But high surf was not the only big attraction at Daytona earlier this month – a roster of some of the biggest names in the watercross world meant a weekend of nonstop battles where talent, courage, mechanical excellence and fortitude were tested – and where a small measure of insanity probably didn't hurt.
While AquaX took a brief hiatus from the popular Daytona race site in 2018, kicking off last season instead at Miami Marine Stadium, race organizers and athletes alike were glad to return to Daytona.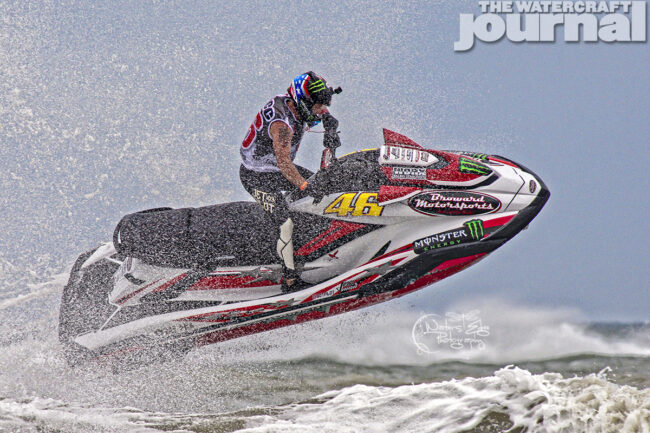 "Daytona has always been a p1 favorite from the beginning. It was where the first AquaX race took place. We went to Miami Marine stadium last year because an opportunity opened up for us to be the first marine power sports promoter to return after 25 years of the stadium being abandoned," explained AquaX's Michelle Petro. "Daytona has always given us challenging and exciting water for the racers and it has not let us down. Partnering with the Hard Rock hotel was perfect and literally icing on the cake. We look forward to going back next year. They were amazing to work with."
There was an almost palpable sense of anticipation in the weeks before P1-AquaCross kicked off it's 2019 season at Daytona Beach. A racer-favorite venue, Daytona Beach is known for its unpredictable surf, its sundrenched shores and its wild nightlife, and where 24/7/365 racing, adrenaline and excitement is the name of the game. Social media threads were packed with surf predictions to marine life worries, and no small amount of smack talk.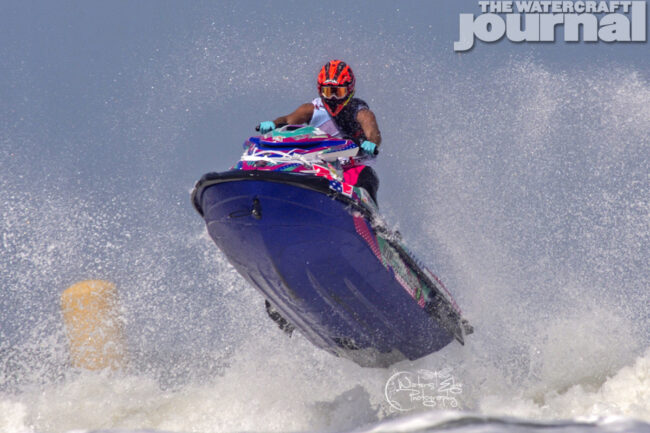 True to form, Daytona, nor the racers, disappointed. Surf conditions that were not only sizeable, but choppy, gave riders a definitely challenge to overcome. Add in sizeable lines, especially in the amateur classes, and just lasting out the clock was an accomplishment.
"Not only are you reading the water, you have to try and navigate through 40 plus riders also," said Amateur 300 class rider Christopher Landis. "Most people say to pace yourself, but you can't with P1 because it's so competitive. You have to ride 110% for 30 minutes, so it's pretty much just pin it and charge!"
Conditions were brutal," Brian Baldwin said. "The warriors came out on top"
While the Pro Enduro line was not as populated as the amature race, the roster read like a who's-who of watercross, and even the first laps of moto 1 proved that this was going to be a battle of the titans. 2019 AquaX champion Chris MacClugage, multi-time world and national champion Brian Baldwin, equally-titled Eric Francis, the doubly-talented Aswar brothers, Aero and Aqsa.
Rising star and 2018 Kings Cup champion Christian Daly. Sophie Francis, Eric Lagopoulos, Dennis Mack – the 2019 AquaX season opener brought together a mind-boggling pool of talent rarely seen all together on the same line.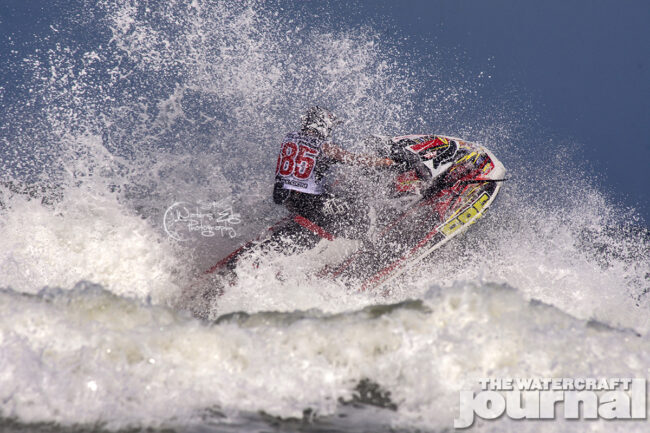 Bringing racing back to the basics is at the core of P1 AquaX's model, and at the heart of why so many racers have become dedicated to the series, said Petro.
"I think that P1 brought PWC back to basics. We have 1 pro endure class, 2 am classes and a level playing field," Petro told The Watercraft Journal earlier this week. "I think that P1 has stepped up the quality of the events as far as TV and social media which makes it appealing. We are conscience of the sporting side as well as needing to make the sport appealing commercially. I think we are almost there."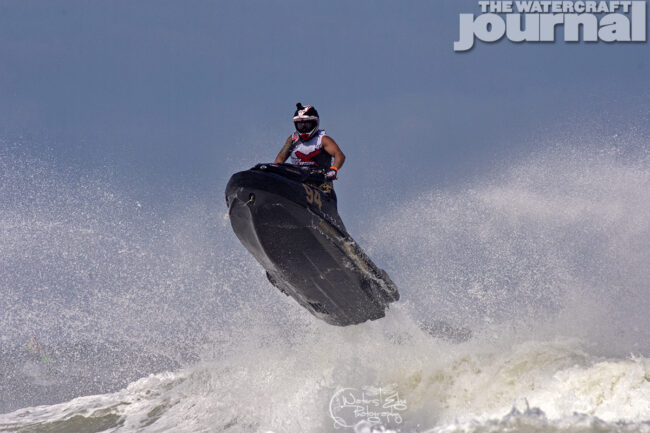 While Daytona provided edge-of-your-beach chair racing, it also highlighted some improvements yet to be made, Petro acknowledged, saying that the high surf made scoring a challenge, but adding that P1 is working diligently on making improvements to rectify those problems.
We have actually tested several different types of scoring systems, all have had issues one way or another. We are still working on looking for the system that will be most reliable on a race track on the water with multiple riders in the area. Once we have nailed that down, I think AquaX will be taken to the next level."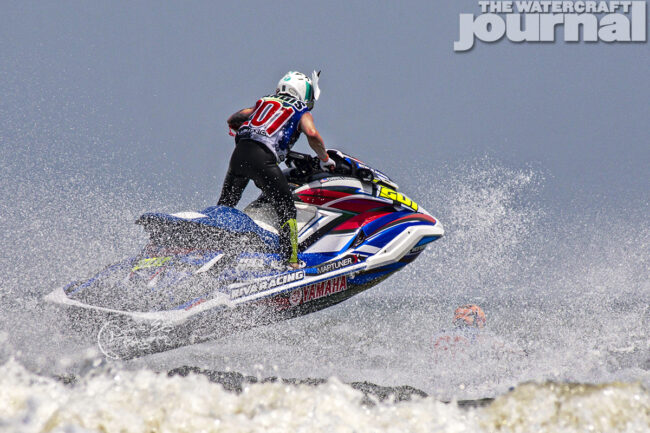 Petro also gave recognition to the AquaX safety team, who were tasked over the weekend with safeguarding riders as they rode the crashing waves – and sometimes got bucked off.
"The safety team were put to the test but they all worked hard and got the job done," Petro said. "We have the best marshals in the business."
Official results were posted on the AquaX website late Monday, and top finishers in each class were:
Pro Enduro
1st: Chris MacClugage/Yamaha GP1800
2nd: Brian Baldwin/Yamaha GP1800
3rd: Aqsa Aswar/Yamaha FX SVHO
Amateur 300
1st: Greg Radulski/Yamaha GP1800
2nd:Christopher Landis/Yamaha FX SVHO
3rd: Dave Davidson/Yamaha GP1800
Amateur 200
1st: Scott Reeves/Yamaha HO
2nd: Benjamin Mantel/Yamaha VXR
3rd: Frankie Mojica/Yamaha VXR
Pro Sprint (Ski 4-Stroke)
1st: Johnny Smith/Kawasaki SXR1500
2nd: Mouad Salhi/Kawasaki SXR1500
3rd: David Cabrera/Kawasaki SXR1500
Sprint SE (Spark, EX)
1st: Eric Lagopoulos/Yamaha EX
2nd: Jason Lester/Yamaha EX
3rd: Tory Snyder/Yamaha EX
Sport GP/Spec
1st: Billy Dearman/Yamaha Waveblaster
2nd: Shawn Reynolds/Yamaha Waveblaster
3rd: Johnny Smith/Yamaha Waveblaster