Maaan, I really wanted to love all three of Kawasaki's new 310-horsepower JetSkis but the 2022 Ultra 310LX-S just feels like a missed opportunity. It's the middle child stuck somewhere between the fully-loaded, hyper luxury, equipped-to-the-eyeballs 310LX and the stripped-down-to-the-skivvies, nothing but haulin' ass 310X (which I absolutely loved by the way. Go check out that review if you haven't seen it already).
Sadly, the LX-S is just kinda lost in between. Sure, it's the only model sporting Kawasaki's iconic Ebony and Lime Green color combo, so folks are gonna flock to it. But those are the diehard Kawi guys, and they're gonna get it because well, it's Kawi Green. But to the layman who is just shopping around, the LX-S has little that shouts "Look at me!" any more than say the 310X or LX.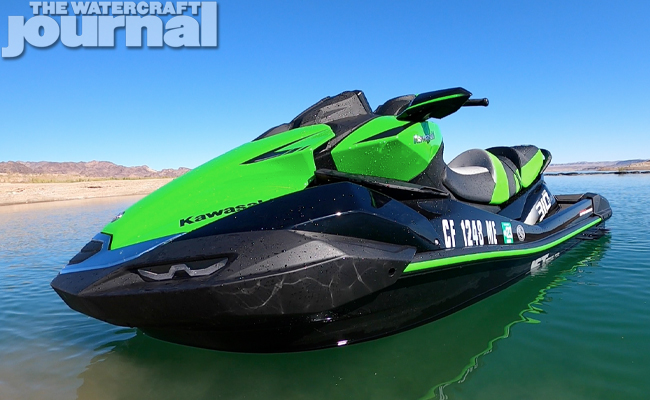 Instead, it comes equipped with three features that are – for the sake of being a little too harsh – what I would view as the least appealing of all of the LX's luxury options, namely the reverse-facing camera, Ultra Deck extension and LED running lights.
Heck, if Kawasaki offered a mid-tier JetSki borrowing everything else from the LX – specifically the four-speaker Jetsounds 4s sound system, 3-way adjustable seat and double USB-ports in the glove box – I'd consider that a superior package than the LX-S.
That and the name itself is confusing. Adding an additional letter on top of the LX denotes some level of superiority over the top tier JetSki – but it isn't. Instead, it's well below it. So the LX-S is both confusing in its intended target buyer as well as what its intended for.
So who is Kawasaki aiming the LX-S at? Initially, I thought I had that figured out. Oh, I get it, it's a towing JetSki. The reverse camera, the extended deck, the rope storage and tow eye in back… yeah, that makes sense. But then the more I thought about it, the more I was on the fence.
See, Sea-Doo's supercharged Wake Pro pumps out 230-horsepower, which is well below that of the Kawasaki's Godzilla-level 310 output. While 230 is enough to pull even a heavier adult rider up and out of the water on a wakeboard, the Ultra's 310 is enough to yank their arms out of their sockets if you happen to hit the throttle too hard.
While the LX-S comes with Launch Control – what they call Kawasaki Launch Control Mode (KLCM) – it's not designed for tempered launches with a skier or tube full of kids behind you. Instead, it's the kind of launch control you use when you're lined up against your buddies in a head's up drag race. Oh trust me, it works, and can be set for a single use or multiple launches, but again, you wouldn't want your kids on a tow rope behind you when you did it.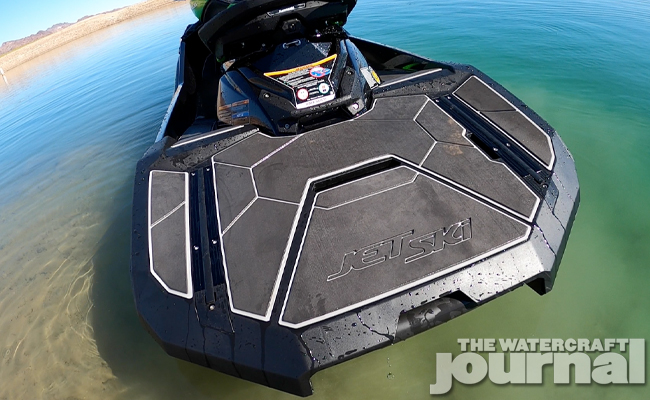 The Ultra Deck is a nice addition to the ski…especially, if you're hauling a big ol' tube to your destination of choice as it adds gobs of space to the rear swim platform. It's plenty big enough for a rear passenger to strap into a wakeboard – so again, the LX-S felt like the perfect answer to the Wake Pro.
The rear folding swim step is lengthened for easy boarding, and a trio of hand grips act as a functional ladder for deep water reboarding. And yes, the Ultra Deck also has integrated tracks for a variety of hard-mounted accessories (none of which I got the chance to play with, so I really can't comment on how easy they are to install or remove –sorry!).
Again, the reverse-facing camera too was one of those things that made me think the LX-S was made for tow sports. Accessible through the new 7-inch wide TFT digital dashboard that's controlled using a jog-dial control knob, the driver can look through the screen (that self-adjusts for brightness) at the raft or skier towed behind them.
While that legally doesn't absolve the driver from having a second person to act as a "flag man" it does allow the driver a better view behind them. Plus, the camera allows you to zoom in two more times, although the fish eye-style lens can be a little distorting.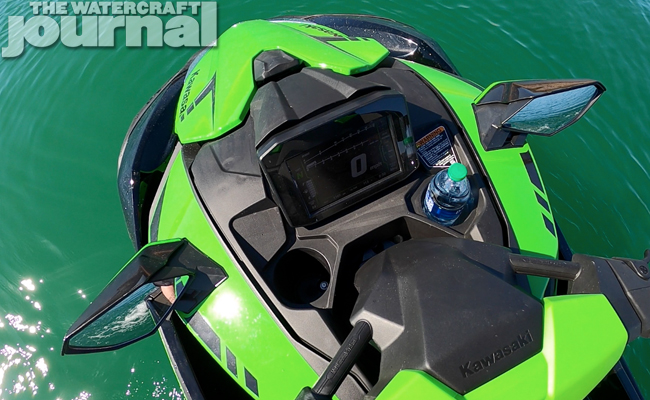 And yes, the new TFT dash is pretty trick and offers three different display modes, black or white backgrounds, a GPS-based speedometer, tachometer, fuel gauge, drive mode, boost pressure, clock, power mode, compass, trim, cruise and launch control, and three engine mode settings.
These are selected by the Mode button on the left-hand side of the handlebars, you choose between Full, Middle, and Low (which is basically like using the SLO – Smart Learning Operation – key). Every time you fire up the engine, you start in Middle (or Mpo) mode, which is roughly 80-percent of the Ultra's full power.
In Middle mode, you'll reach the Ultra's top speed, just nowhere as quickly as you would with the ski set on Full mode (Fpo). Low mode cuts the power down to 60-percent of the Ultra's total potency, and basically rides like if it didn't have a supercharger at all – which may be the right setting for towing a raft or skier after all.
Kawasaki also includes a one-touch 5mph Mode activated by a button on the right-hand side of the bars when idling, and is deactivated when squeeze on the throttle. But as I think of it, I'm sorta burying the most important addition here: the new Kawi's got brakes.
Dubbed "Kawasaki Smart Reverse with Deceleration" (KSRD), Kawi married the throttle trigger to the brake button, so it's one piece. When you squeeze the throttle, the brake button pushes back towards you. When you hit the brake, the trigger extends forward.
This means that the new reverse fully overrides the throttle, slowing you down by deploying the reverse gate until the Ultra comes to a standstill. When you let go of the brake, the drive mode indicator on the dash flashes to "N" for neutral. If you press the brake, it'll switch to Reverse; and obviously, if you squeeze the throttle, the dashboard will flash to Forward.
In my view, Kawasaki did a good job coming up with something different for system that had been done twice before. All three manufacturers have their own take on brake and reverse systems, and while the Kawasaki's is definitely the most unique, it's not hard to get use to.
To that point, if you're thinking I'm all down on the LX-S let me tell you, they did a LOT right with the redesign: The 5-way adjustable handlebars are back, but are redesigned with better ergonomics, pistol grip-style handgrips, improved control modules with redesigned buttons with sealed membranes, and a softer throttle spring for less hand fatigue.
Gone is the super-wide saddle too. Instead, Kawi leaned hard into making the rider as comfortable as possible with a new seat narrowed 3.15-inches at the knees. Pinching the seat at the knees means you're not riding so spread out. Equally, Kawi revised its urethane foam padding giving you deeper hip support and improved jolt and vibration absorption too.
Since Kawasaki added the new jog dial, gone is the traditional glovebox – instead, now you've got two of 'em. Each of the ski's side fairings swing up on gull wing-style hinges opening up a horseshoe-shaped 10.6-gallons of storage, with the right-side featuring a half-gallon-sized watertight box for your phone or wallet (there's also an optional USB port accessory to keep your phone charged).
Beneath the hood is the 32.8-gallon bow storage. There's also a molded-in pocket at the rear that adds another 2.8-liters (0.7 gallons) of "wet" storage – ideal for a tow line. And for those keeping track, that's a total of 44.5-gallons of storage, which is a heck of lot less than the previous generation's 60-gallons.
Yeah, you can cram a bunch of stuff in the bow, but the opening is so stinking small I fought to shove my camera bag in there. Seriously, did nobody during the testing phase bring a backpack with them? REALLY? Guys, c'mon. Open the dang thing up again.
The Ultra's fuel capacity bumped up half a gallon to a total of 21.1 gallons. The redesign also includes new built-in cleats, splash deflectors, and enlarged rear view mirrors. There's also some pretty deep cup holders up by the dash ensuring that you won't lose your bottled water except in seriously rough conditions.
There's s'more doodads and doohickeys in the LX-S that your dealer can walk you through that frankly, most people won't ever use or even know they have. Instead, I want to touch on two of the biggest changes to the new Ultras that nobody really talks about: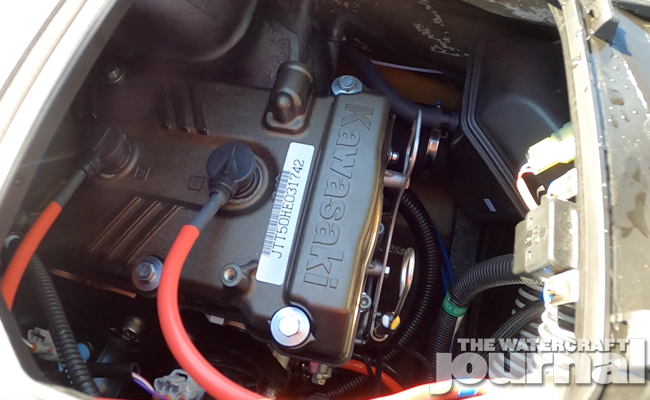 First, Kawasaki went full fly-by-wire, meaning that the supercharged 1,498cc inline four-cylinder DOHC powerplant has got a newfangled throttle control and engine management system. This allows for multiple acceleration maps, smart engine monitoring and lightning-fast throttle response.
Now in its fifth year, the current iteration of the Kawasaki 1.5-liter sports redesigned forged pistons, dramatically improved engine oiling, redundant cooling circuits, and increased heat mitigation. Squeezing the 8.2:1 compression slugs is a bonkers Eaton Twin Vortices Series (TVS) supercharger cramming a ridiculous 16.8 psi (at peak RPM) down its throat.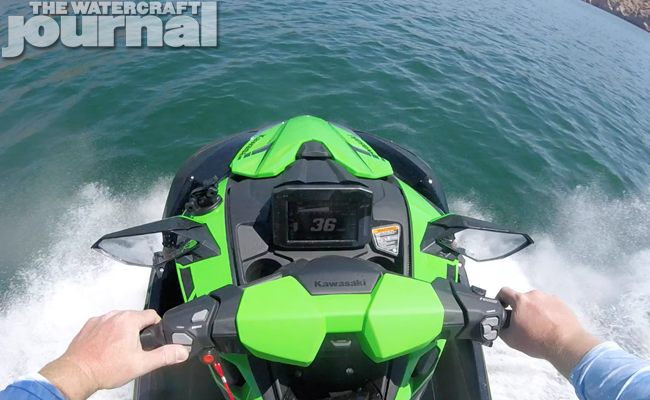 All of that adds up to a true 310-horsepower twisting out a class leading 1,890lbs. of thrust from its 160mm axial-flow, single stage jet pump. And if none of that made any sense to you, just know that's a metric ton of bad ass at your fingertip.
Next, while Kawasaki did reinforce the bow of the Ultra's 22.5-degree deadrise to stiffen it up, the rest of the true Deep-V hull hasn't been changed. It's still the same layered fiberglass covered in durable gel coat hull that's been dominating offshore racing for 15 years now.
Instead, the entire deck was totally redesigned – and more importantly, lowered. The new overall deck height was dropped by 1.38-inches; equally, the footwells were widened and dropped several inches, putting the rider deeper inside the hull.
This means that your body weight is closer to the waterline, allowing you to ride smoother and more predictably in whatever conditions you encounter. More importantly, this single change has unlocked the Ultra's ability to corner sharper and at faster speeds than ever before. Hairpins, S-turns, sweeps…the Ultra 310 can knock 'em out and do so in white-capped, wind-blown chop – something nobody else can claim.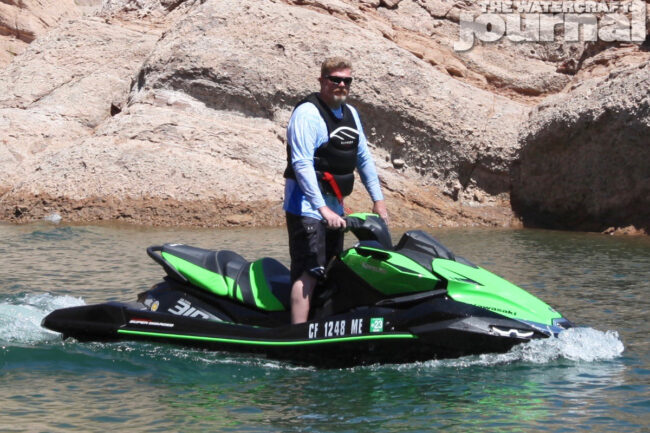 By the numbers, the LX-S didn't stack up against its lighter kin, the 310X. The LX-S adds nearly 35-pounds to its stripped-down sibling (1,065 vs. 1,031.9-pounds). Acceleration suffered as a result, putting it nearly a whole second behind the 310X's 5-to-65mph time of 4.77-seconds (5.65-seconds).
Top speed numbers weren't headline news either at 66.4 miles per hour, but these were recorded at 1,044 feet above sea level with a 240-pound rider, and in mid-90 degree air on Lake Mead, Nevada. Better conditions, less fuel and a lighter rider would certainly fare better results.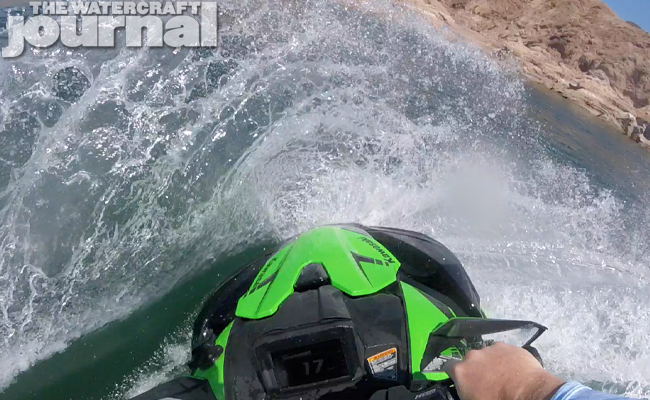 Again, the LX-S is fun – and I mean a lot of fun – but that's because of the hull, the improved ergonomics and engine management updates – all stuff found on the $17,999 Ultra 310X. The LX-S and its $18,499 MSRP still struggles to know what it wants to be.
Is it a high performance towing rig? Is it a hardcore offshore competitor? It's not quite luxurious but it's not exactly a stripped-down race ski either. Without a clear identity or a targeted audience, it's hard to know how to market the LX-S besides a middle tier trim package between two extremes.
The 310LX? I get. The 310X? I totally get. But the LX-S? Hmm…I dunno. It's just kinda there.
Personally, I don't think that does Kawasaki any favors in today's market. Consumers want to be told exactly what they're getting, what it's meant for and what to expect. In such a high demand market, skis need to say exactly what it is and what it does to stand out among the crowd. Heck, they need to scream it. And the Kawasaki Ultra 310LX-S just doesn't say anything, and that's a shame because it's a really good JetSki.