OK, this one's gonna go a bit differently. Some of you are gonna love this review. Some of you are really not gonna like it. Either way, it's the truth – at least as far as I can see it through the lens of my three decades in this industry. When it comes to performance jet skis, there are two characteristics that matter waaay more than anything else: First, how does the ski ride through choppy, wind-blown, and just plain ugly water conditions and second, does it have the power to push through it?
Any ski can ride smoothly on glass. It takes zero talent or ability to cruise on flat water in a straight line. Heck, a log on a river with enough current can do it comfortably. But when the wind kicks up or the tide goes out, you're gonna care waaay more that your new ski can track straight through chop than whether your can call up Siri to access your favorite playlist by voice command. All of the other stuff is just fluff.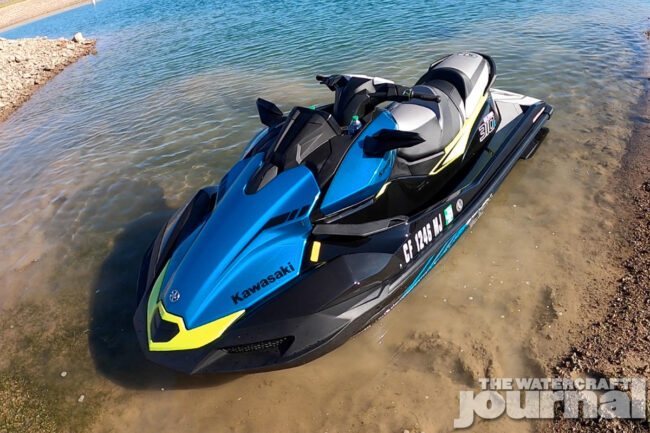 There isn't a jet ski out there that has enough bells, whistles and doodads that can compensate for a crappy, bouncy ride; unpredictable, garbage handling; or being a gutless toad that can't get out of its own way. That might sound harsh and a few of you pearl clutching, hand-wringing types might get offended and want to complain to my manager but that's the honest truth. And in this day and age, I think folks are more interested in harsh truths than me pussyfooting around people's feelings.
So let's just be straight: when it comes to open ocean riding, Kawasaki's Ultra platform is unmatched. It's racked up more offshore and long distance, endurance championships than any other ski not only available on the market today – but EVER. We're not talking roundy-round closed course stuff – we're talking big, open ocean man-versus-the-sea racing. Long Beach-to-Catalina; Oceanside-to-Dana Point; Karujet, AquaX – and the 300-mile Mark Hahn enduro.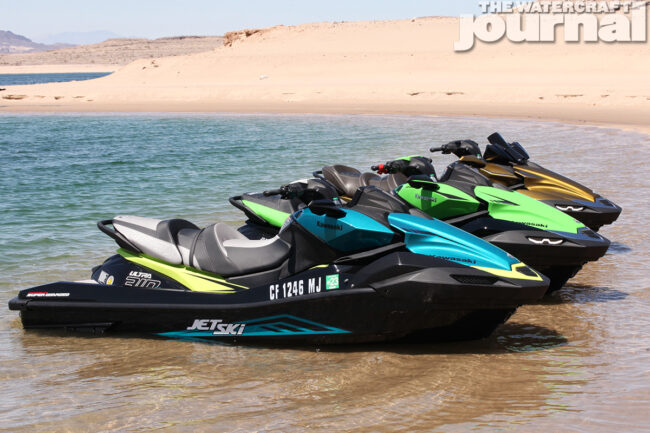 The scoreboard is bleeding green, guys. It's all Kawasaki across the board. Numbers don't lie.
So yeah, that's why Kawasaki didn't screw with its hull – that's because it's pretty much friggin' perfect. It's still made from durable gel-coated FMC fiberglass so it won't flex or crack like the other guys. But they did go ahead and reinforce the bow's 22.5-degree deadrise to stiffen it up, but that's not really the big news here.
When it came time to update the Ultra 310X JetSki for 2022, Kawasaki kept what worked – like the real-deal Deep-V hull and the powertrain – and went to work on fixing the stuff that needed the most attention. What that resulted in was a totally redesigned deck that lowered the ski's center of gravity, and radically improved the overall ergonomics.
Previously, you used to sit pretty high up in the saddle. The new overall deck height was lowered by 1.38-inches and the new two-piece, three-person seat was narrowed 3.15-inches at the knee. The new Kawi is also using a revised formula of urethane foam that provides deeper hip support and improved jolt and vibration absorption, so if you're sitting down, you're not going to get so beaten up.
Narrowing the seat at the knee means you're not riding so spread out, which over time, can really start to wear you out. Above the knees, Kawasaki did something really different, and ditched the traditional glovebox and instead, gave you two of 'em. Each of the fairings open up on gull wing-style hinges giving you a combined 10.6-gallons of storage. The right-side sports a half-gallon-sized watertight box for your phone or wallet (a USB port is an optional accessory).
In front, the narrow Formula 1-looking hood covers the 32.8-gallon bow storage. For some reason, Kawi thought shrinking the opening so dang small that you could barely stuff in a backpack was a good idea. Obviously, it wasn't and I'm pretty bummed about it.
A little .7 gallon open access pocket in back is good for stowing a dock line – and rounds out the Ultra's 44.5-gallons of total storage, which is a heck of a lot less than the previous model's industry-leading 60-gallons. Again, it's just something that's really disappointing.
But hold on, I kinda feel like I'm bashing the redesign where there's a ton to be stoked about: The changes upfront did manage to give the Ultra an extra half gallon of fuel capacity – bringing the ski up to 21.1 gallons – so it's still the industry leader on that front. It's also in Ebony and Metallic Electric Turquoise, which is a nice departure from the usual Kawasaki Lime Green.
The redesign throws in some built-in cleats for docking; splash deflectors (KSD – Kawasaki Splash Deflectors) and a raised rear bumper for a drier ride; and two big cup holders above the glove boxes. But again, that's little stuff when considering what went into making the Ultra ride better.
By making the footwells wider and deeper, you're literally deeper inside of the hull. That means your body weight is lower on the waterline. And what does that mean? It means the Ultra soaks up the bumps, bangs and vibrations far better than before – which was already really good.
Better yet, it also allows the hull to naturally roll into a corner smoother than before – and that's whether you're riding on glass or cutting through 2-foot chop. Yeah, that's right. You can sweep full throttle S-turns in crosswind-blown tidal surf if you want.
At the helm are the 5-way adjustable tilt handlebars. The neck cranes closer to your lap while sitting, and higher when tilted up when you're riding on your feet. Each end is capped with pistol grip-style hand grips, and features redesigned control pods with new buttons wrapped with sealed membranes.
That might sound weird, but these have the best response and feel of any controls before. Kawasaki also lightened the pull on the throttle trigger for less finger fatigue. The throttle trigger is connected to the long-overdue brake-and-reverse system (or KSRD, Kawasaki Smart Reverse with Deceleration), new for 2022.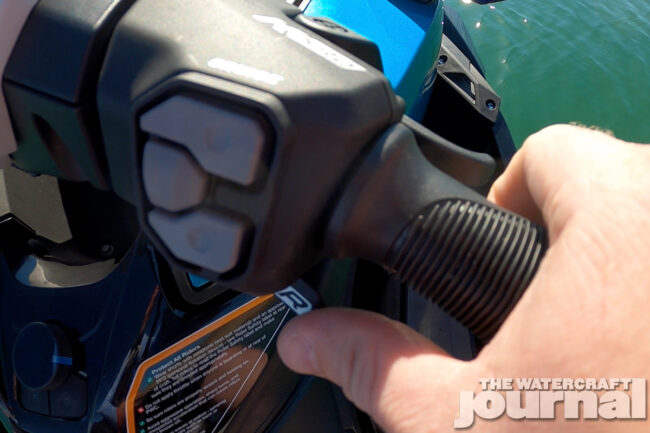 The brake and throttle operate on the same spring, so when you hit the brake button, it manually overrides the throttle, deploying the reverse gate and slowing the Ultra 310 to a halt. When you release the trigger, the bucket returns to a neutral position. If you keep pressing the button, the Ultra will spool up to a maximum of 3,000rpm and begin reversing until released. It's pretty easy to understand how it works.
Now for those of us familiar with how the other guys' brake and reverse systems work, it does take a little bit of practice. The brake is more of a drag, so the Ultra isn't going to throw you forward into the bars like the others will. It's more progressive and not as halting.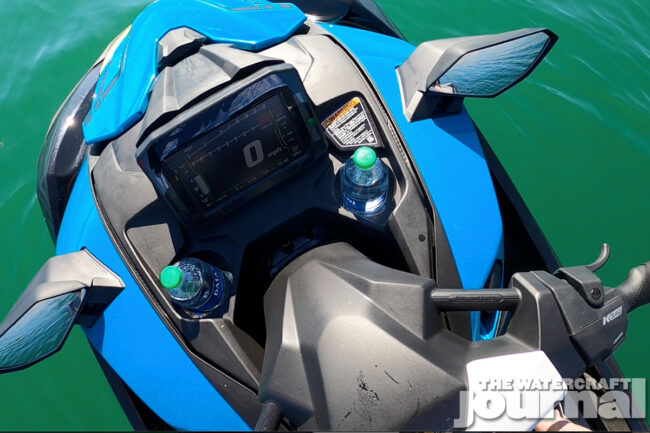 OK now onto the tech stuff: The new Ultra 310X shares the same 7-inch wide, full color TFT display as the LX and LX-S, just without a few of the higher-end features.
It's still got the three different display modes, black or white backgrounds, self-adjusting screen brightness, and a GPS-controlled speedometer, tachometer, fuel gauge, drive mode, boost pressure, clock, power mode, compass, trim, cruise control; as well as a display bar that can be set to show a trip meter, total & trip time, oil & engine temperature, battery voltage, intake air temperature, diagnostic code, and external air and water temperatures – yadda yadda yadda, you get the point.
All of this is controlled by a new waterproof jog-dial knob and confirmation buttons. The jog-dial scrolls through the various screens and features on the TFT digital dashboard.
In the bottom left corner of the screen is a big indicator telling you what "gear" you're in: Forward, Neutral and Reverse. In the right corner tells you what "Mode" you're in. Just hit the "Mode" button on the left-hand side of the bars and choose from 3 power modes: Full, Middle, and Low (which is pretty much the same thing as the SLO – Smart Learning Operation – key).
Full mode gives you all of the Ultra's industry-leading 310 horsepower. Middle drops the engine to 80% of the Ultra's total output – and is also the default setting when you first fire it up; and Low mode is 60% of full power. There's also a One-Touch 5mph Mode for No Wake Zones, and Cruise Control – as you'd expect.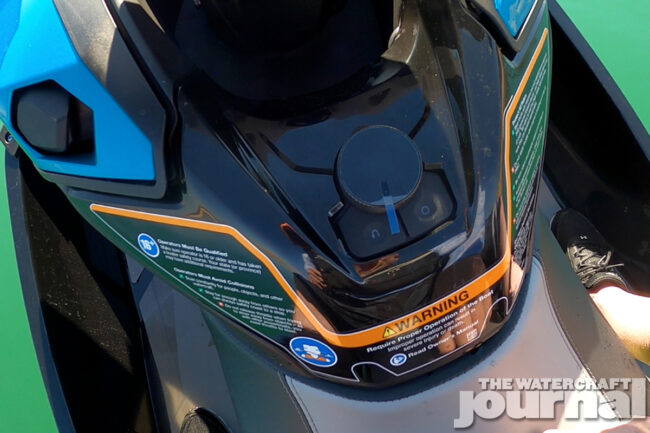 For you guys looking to best your buddies, Kawi's threw in it's new Kawasaki Launch Control Mode (KLCM). Allowing for Single and Repeat launches, KLCM automatically adjusts the trim for optimal acceleration. When set in Single mode, the Launch Control will only activate for the first acceleration shot, whereas in Repeat mode, the KLCM remains active until manually deactivated.
All of this is possible thanks to Kawasaki's full fly-by-wire throttle control and engine management system. This allows for multiple acceleration maps, smart engine monitoring and throttle response for the same 1,498cc inline four-cylinder DOHC plant Kawasaki has used since 2017.
Back in 2017, Kawasaki revised the pistons to include a V-groove at the second ring for greater oil retention. This added to the overhaul of the engine in 2014 gave the Ultra dual under-piston oiling jets fed by a dry sump oil tank built directly into the baffled and partitioned crankcase, dual cooling circuits feeding fresh ambient water through the enlarged coolant passages, and an external cooler circulating oil between two cooling jackets, mitigating heat soak and excessive internal engine operating temperatures.
This, force-fed by a Eaton Twin Vortices Series (TVS) supercharger cramming an almost excessive 16.7psi at peak RPM down its throat, the Ultra spits out a true 310-horsepower, producing 1,890lbs. of thrust from its 160mm axial-flow, single stage jet pump. All of that might sound like Greek to the uninitiated, but it's pure engine porn to us gearheads. And trust me when I say, the Ultra 310X uses every bit of that power.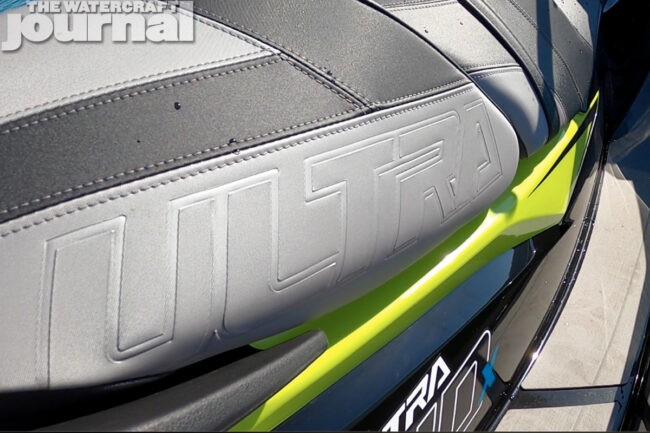 But hold on! To those guys who're gonna cry "Of course it does! It's a big ol' barge!" here's some easy math for you: The 2022 Ultra 310X is half an inch shorter than the current RXT-X 300. The Sea-Doo's also two-and-a-half inches wider than the Ultra too – so don't cry to me about putting two Kawis on a trailer together.
And if you're gonna whine about weight, get this: Kawasaki lists "curb weight" instead of "dry weight", which means full of oil and gas. Remember, the Kawi holds 21.1 gallons of gas, and at 6.1 pounds a gallon, that's 128.7 pounds. Toss in 4-and-a-half quarts of oil, and that's another 8.8 pounds.
Together that adds up to 137.6 pounds of fluids – putting the Ultra 310X at a hair over 894 pounds – or 65 pounds over the Sea-Doo …aaand if you measured both skis with 18-and-a-half gallons, the difference would be a little over 46 pounds.
But hey, you still might think that's a lot – and yeah, that's not nothing – but the Ultra's also got two waterboxes, a factory-installed catch can, blow-off valve and rear-exit exhaust and a thick-as-steel hull; all the stuff that you other guys wished every night your ski came with. Oh yeah, and both skis are identically priced with an MSRP of $17,499.
Personally, the 310X has got it all where it counts and doesn't come weighed down with anything it doesn't need. Instead, it's all business, baby. Out of the gate, this dang thing pulls hard; it's twin-screw blower just screams from under your seat. I managed to click off a 5-to-65mph acceleration time of 4.77-seconds, which bested a Yamaha FX SVHO I tested three years ago with Jerry Gaddis at 5 feet above sea level.
But this time, we were 1,044 feet above sea level and sucking mid-90 degree air in Nevada. This of course, also killed our top speed number – just a blip over 67 miles per hour with a full tank and 240 pound rider. Certainly better conditions, less fuel and a lighter rider would give up a few more miles per hour.
But again, what makes the new Ultra 310X the monster it is not top speed or acceleration numbers. That stuff's for bench racers to argue over on Facebook. What I'm talking about is ride quality and this thing's got that in spades. I don't know how the hell Kawasaki managed to take a 15-year-old hull design and somehow find a way to make it work better than it ever has before, but they did it. They friggin' did it.
It's super solid. There's no dumb rattles or weird chatter from loose panels. It's well balanced, exhilarating and just a helluva lot fun to ride. Sure, there's a few things that I'd like see fixed and/or changed – I mean the totally sealed engine cover? C'mon, who thought that was a good idea? – then again, name me something that's flawless.
But duuude, I'm telling you – when you nail the throttle… there's just nothing like it. I've given a lot of praise to other machines, some less deserving than others. But I'll you this: When people ask me, "Which of the brand new skis would you yourself buy?" my answer will be, "This one." It would be the 2022 Kawasaki Ultra 310X JetSki.