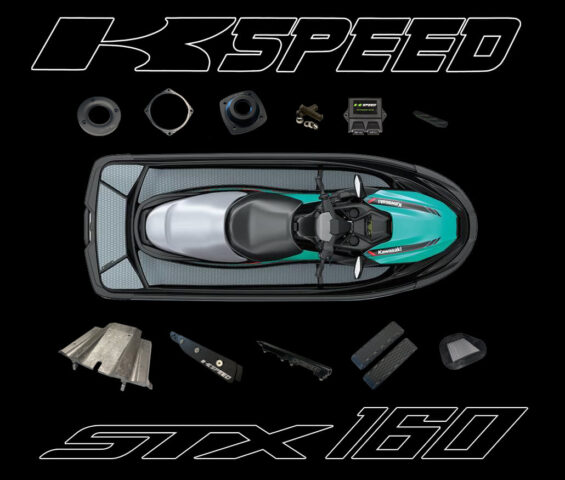 Brisbane Kawasaki has a full lineup of Kspeed parts for the Kawasaki STX-160. They have all the upgrades to make the best Naturally Aspirated ski on the market even better with the Kspeed parts. Check out the array parts for the STX-160 and grab some components to bring your jet ski up to its full potential. Adding some or all these upgrades will add power, speed, and fun to your time on the water.
Hydro-Turf Side Lifter Wedges will reduce fatigue when riding in the chop and they will also allow you to lock-in when making high speed turns. While you're considering lifter wedges, check out the Kspeed STS Sponsons for turning on maximum control and speed. The Kspeed STX Ride Plate will bump up control even more.
If you ride hard and in heavy swell; you definitely want to check out the Kspeed STX-160 Hood Mod. It will make your time on rough water a little more bearable by helping to prevent digging the nose of your ski when riding through big chop.
Grab some fresh ODI Troy Lee Lock on grips to go with your upgrades. A Kspeed Though Hull Bearing Support is included this line up of STX-160 upgrades. It will add longevity to your set up by eliminating forward and back movement. Kspeed also has an aesthetically pleasing exhaust tip to replace the standard outlet.
Add a slick new fuel rail for looks and performance. A new Pump Wedge will add a couple of mph on flat water. A reflash is necessary for the pump wedge to claim those speed gains. This is where the Kspeed STX-160 ECU Reflash comes into play. Brisbane Kawasaki will be glad to help you with the reflash and to discuss performance options for your Kawasaki.
Contact the team here for details or any questions you may have about upgrading you Kawasaki.