We found ourselves in a déjà vu moment as we headed down the long Interstate 95 stretch to RIVA Racing's Pompano Beach, Florida facility. I was reminded of a time when I rode Cedar Point's lightning-fast Top Thrill Dragster coaster. RIVA had just completed a Stage 3-equipped 2019 Yamaha FX SVHO test mule and they invited us down to try it out. If you remember last year we were in sheer awe by RIVA Racing's Limited Edition FX1800R.
Not only was the Limited Edition based around their 350-horsepower Stage 2 package, it also put the power down firmly and handled like a dream. Included was a laundry list of improvements in the steering, exhaust, and aesthetic departments. Needless to say, we were enthusiastic for the opportunity to get our hands on RIVA's Stage 3 test model. It has quite a few additional performance enhancements under the seat compared to the Stage 2 kit.
For starters, the factory Yamaha fuel injectors are replaced with RIVA's 1,000cc fuel injector kit (RY12040-I-KIT-100). Supporting the increased volume of fuel flow is their high flow billet fuel rail (RY12040-BFR). In the supercharger department, the OEM impeller is swapped out for RIVA's 20 psi SVHO impeller (RY17080-SCI-F20) since all of that extra fuel flow requires a healthy surge of fresh, densely-compressed air. The supercharger shaft is also upgraded for reliability (RY17040-UK-6S5-4).
Since the titanium valve retainer upgrade (RY19040-SRU) is carried over from the stage 2 kit as well as the list of other items, the Maptuner X can now safely spin the reliable Yamaha SVHO engine to 8,900 RPM, nearing to the neighborhood of 400-horsepower. Best of all, this kit is still conservative enough to reliably run on premium octane pump gas. Since this was a test ski, RIVA Racing also had a few other diagnostic items installed including individual wideband O2 sensors and the associated air/fuel ratio data loggers. As for the performance, this thing would rip just like their standard stage 3 kit.
Arriving to RIVA Racing's main facility, we were promptly greeted by the team and escorted to RIVA's private testing lake along with the beautiful FX SVHO watercraft. The team proceeded to brief me on the conditions, lake and ski setup, as well as safety precautions. I was cautioned that this setup included RIVA Racing's Pro-Series sponsons (RY26120) and while they were not trimmed all the way down, they were still set in the intermediately-aggressive middle position, meaning "be very careful because this thing is going to go exactly where you point it." Whether or not you go with it depends on your strength and readiness.
After I finally strapped on my riding gear and climbed firmly aboard the monstrously-equipped full-size runabout; my heart rate increased as I fired up the full-bred racing Super Vortex High Output 1,812cc engine. It didn't skip a beat as the motor which straddled between my legs roared to life. I backed off the trailer and idled away from the dock as the mesmerizing tame rumble of the free-flow exhaust (RY16070) made anything but a hint of what was to come. One of the great features about this stage 3 kit are the lengths that RIVA Racing goes to tune and refine the power delivery.
While there is immense power constantly on tap, the free-flow exhaust works seamlessly with the OEM water box to deliver a pronounced, yet not obnoxious sound which is great for the everyday recreational rider. As I pulled away and let the engine warm up a bit, I ever-so-slightly pulled in some throttle and began testing the turning and predictability of the watercraft.
I was immediately comforted by the responsiveness of the hull and knew that the combination of ride plate, intake grate, and sponsons that RIVA had designed was going to make an equally predictable and straight-tracking watercraft just as it had done on the Stage 2-equipped Limited Edition FX1800R.
I couldn't wait any longer to experience the raw power on tap. I lined up along a straight, undisturbed section of the freshwater lake, notched the trim down a few clicks, and leaned my body forward. I mashed the throttle and was instantly greeted with a ferocious thrust as the FX leaped into action. My feet buried into the foot wells and my bicep muscles were immediately requested to perform their duties as if my buddy was testing them at the gym by adding a few extra pounds to the workout machine.
Instantaneously, 0-to-60mph came and went in the blink of an eye. Within a few seconds, I was already at 80mph and climbing further towards the ski's maximum of 85mph as the engine screamed at 8,900rpm. As I approached the end of the lake, I backed off slightly, tucked my knee, and applied a gentle turning pressure to the handlebars. I was immediately reminded of the team's prior advice about the handling and sponson settings.
In this exact moment, I paid attention to their warning. Even if I wasn't prepared to oblige, the ski wanted to do exactly what it was just commanded and so I was forced to heed the advice given or pay the consequences. The FX SVHO's hull gripped the water tightly, the sponsons took a huge bite of water, and like a laser-guided missile, the watercraft carved the corner with precision. I held on for dear life and once I reached one hundred eighty degrees, I evened out the handlebars and commanded the throttle like a dictator at war.
My command was met with 20psi of supercharger boost and the 818-pound runabout pulled instantly and delivered the power linearly. It's almost as if the FX SVHO was told to go on an aggressive weight loss program. With so much power and handling ability on tap, it literally feels like a watercraft half its size.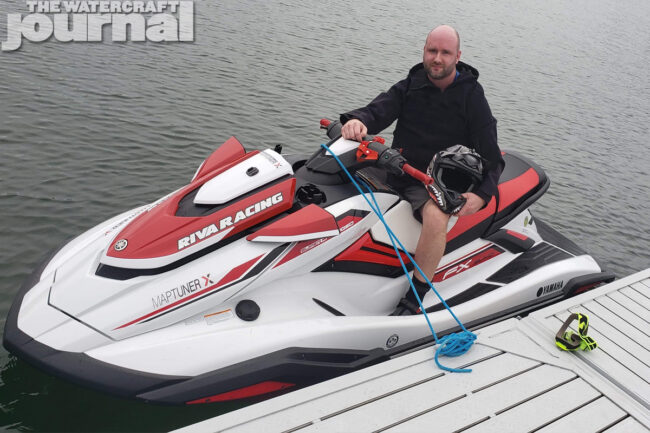 As I approached the dock again, RIVA Racing's Mike Hodges reminded me to stay within sight. I apologized and kindly obliged, however, with the pull and speed of this watercraft, they were really asking me to test the nature of physics since this thing disappears quickly at those speeds. As I got more and more comfortable with the true-tracking nature of this setup, I found myself squeezing the throttle more and more as I carved through S-turns. The watercraft never skipped a beat and failed to disappoint my greedy commands.
It took every instruction given and spit out intense excitement and an adrenaline-pumped ride. If I continued to push harder and harder, eventually my peak strength would be overcome, and the result would have been Newton's First Law of Motion throwing me overboard as the ski continued to track around the corner. RIVA Racing has definitely created a package that works together. The huge power gain of the Stage 3 power-adders works in unison with the handling capabilities to create a watercraft with endless possibilities. Chances are that no matter how long you ride this watercraft, it will wear you out before you overcome it abilities.