"We're doing things a little differently this year," RIVA Racing's Dave Bamdas hinted, pointing to the red-over-black 2020 FX SVHO next to him. RIVA Racing had rolled out a custom FX1800R prototype onto the checkered floor of its booth at the 2019 IJSBA World Finals, showcasing a near-catalog's worth of go-fast components. Referencing last year's Limited Edition FX1800R, Bamdas continued, "We produced a limited production run of 25 units in 2019. They sold out, but simultaneously, we got a lot of requests for custom builds."
A crowd had gathered in the RIVA Racing booth by now and things were getting cramped. He walked around the one-of-none custom WaveRunner, grabbing the ODI grip on the red-anodized steering system and gave it a quick jiggle, silently demonstrating how precise the steering feel was. "As you can imagine, fulfilling those orders ate up a lot of our guys' time. So instead, we chose to produce 10 of these Limited Edition Yamaha [FX1800Rs] and then roll out a couple other Limited Editions later in 2020."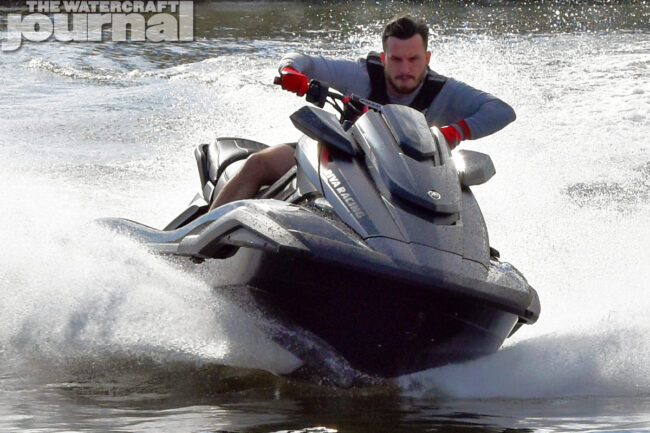 Previously, the company's annual Limited Edition builds, wherein RIVA Racing hand-assembles an exclusive run of a particular unit fitted with performance parts specially anodized to match the craft's new custom appearance package – beginning back in 2016 with a FZR followed by two years of Limited Edition GP1800s and then last year's FX-based unit – would be restricted to a single model. For 2020, RIVA is looking to change things up.
The latest RIVA Racing FX1800R Limited Edition is based on the standard 2020 FX SVHO in Satin & Gloss Black, which The Watercraft Journal nicknamed "Darth Vader" back during its introduction in August 2019; RIVA smartly did little to alter the Yamaha's aesthetics. Instead, RIVA made strides to replicate the look and feel of the factory graphics. While not replacing the Yamaha's accent panels, RIVA did choose to add bright red touches through the decals and anodized components.
Now, large "RIVA Racing" billboards stretch down the hood and across the hull below the bondline, with large "FX1800R" panels below the custom-stitched grippy seat cover. High up on the fairings, just below the handgrips are call-outs threatening, "350 horsepower, Limited Edition" for the close-up observer to read. A custom CNC-cut Hydro-Turf rear mat reads "RIVA Racing" and is matched to the factory two-toned black-and-gray mats lining the footwells. The aforementioned seat is equally as stealthy, with red stitching to break up the grippy black canvas (RY5-FX19-1).
The handling package has since been fine-tuned after a year's worth of national and world championships; the 5-way adjustable RIVA Pro Series Sponsons (RY26120) now feature anodized-red aluminum inserts that stand out particularly well. The pump is fed by a RIVA Yamaha FX SVHO & FX SHO/HO 2012-20 Top-Loader Intake Grate (RY22070), a Solas Yamaha 160mm Concord 13/18 Impeller (YV-CD-13/18), a RIVA Yamaha Pump Seal Kit (RY25070); and the most important addition, a RIVA Yamaha FX Performance Ride Plate (RY21120) – the one component responsible for the FX's improved tracking at high speeds.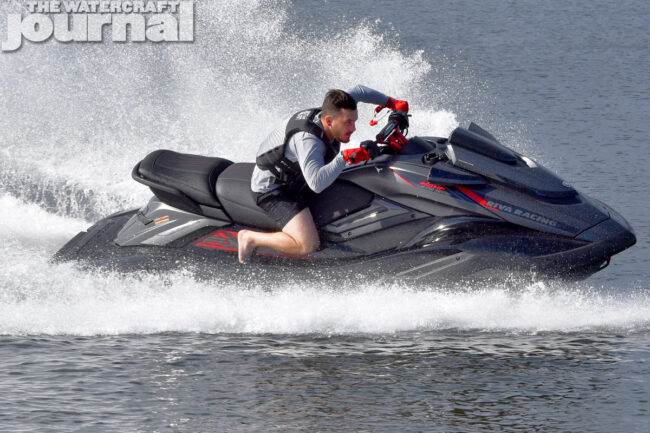 Completing the handling package is RIVA's Pro-Series Steering System for the Yamaha FX (RY20120), fitted with RIVA's Pro-Bar 30-inch Runabout Bars (RY205BK-BAR-2), ODI RIVA End Cap & Clamp kit (RY206-RD) and ODI's 130mm Ruffian Lock-On Grips (L31RFB-S), all of which replaces the plastic steering components with aircraft-grade billet aluminum giving the rider significantly better steering input and responsive feel.
It goes without saying that the biggest changes to the FX1800R are found beneath the reupholstered seat; engine modifications begin with a RIVA MaptunerX Yamaha License (RY110SC-TL); a RIVA Yamaha 1.8L High Flow Billet Fuel Rail (RY12040-BFR); a RIVA Yamaha FX SVHO 2019-up Power Filter Kit (RY13120); a RIVA Engine Breather Upgrade Kit, 2012-18 Yamaha 1.8L (RY19040-12-EBUK); a RIVA Yamaha SVHO/SHO Supercharger Shaft Upgrade Kit (RY17040-UK-6S5-4); a RIVA Yamaha SVHO "Gen3" Power Cooler (RY17081-PC-TV); a RIVA Pro Series Engine Cooling Upgrade Kit, SVHO (RY10080-ECUK-PC-2); a RIVA Yamaha Valve Retainer Upgrade Kit, 1.8L (RY19040-SRU); and finally, RIVA's through-hull Rear Exhaust Kit for the 2019-up FX (RY15120).
Although brandishing a slightly modified parts list than last year's model, the 2020 FX1800R produces a dyno-tested and more importantly reliable 350-horsepower at the flywheel, which when ridden on RIVA's private testing lake last year, delivered a sustained top speed of 83mph at 8,600rpm. It's also worth noting that RIVA states that all of its testing was performed with 1/3 tank of fuel, the trim set at neutral at sea level elevation, and the air temperature at 80-degrees F. When The Watercraft Journal tested the 2019 FX1800R Limited Edition, we recorded similar numbers.
Priced at $26,995, the RIVA Racing FX1800R Limited Edition provides performance enthusiasts a safe, verifiable way to hit mid-80's speeds while maintaining proven race-grade traction and handling characteristics. Sure, you can get pretty close to replicating the proven performance of the FX1800R by purchasing everything from RIVA Racing and try to either install it all yourself or have done by a reputable shop, but you'll wait longer and likely pay more. Or worse, try to cut corners and sacrifice championship-level handling to quickly pick up a few extra mph. If you're wanting what RIVA is offering, make the call and order a FX1800R before all 10 units sell out.