Do not adjust your screen or get your eyes checked. The "310" and "supercharged" decals on this 2020 Kawasaki STX 160LX have not been applied incorrectly. The guys at Kspeed Performance in Australia have created what many Kawasaki fans have been craving: a supercharged engine in the new 2020 STX platform.
It's say, the jet ski equivalent of fitting a Formula One engine in a tiny Toyota Yaris hatchback – and the result is as mind-boggling as you might imagine, and we'll get what it's like to ride shortly (once we plug our arms back into their sockets). But first: how we got here. While this is only a concept for now, the Kawasaki STX 310LX bolts together using mostly genuine off-the-shelf parts. That means it wouldn't be too difficult for Kawasaki to build this if they really wanted to (hint, hint).
The Kawasaki STX 310LX is the creation of Jamie Eade, who operates one of Australia's biggest Kawasaki dealerships and is also the man behind Kspeed. Before he entered the world of personal watercraft, he had two decades of experience as a fuel injection specialist and dyno tuner, working in motorsports.
It wasn't long after he began selling new Kawasaki JetSkis off the showroom floor that he thought of a way to plug a hole in what he perceived was a gap in the market. After tinkering with turbocharging, he quickly established the easiest way to make the Kawasaki STX rip was to use as many genuine parts as possible.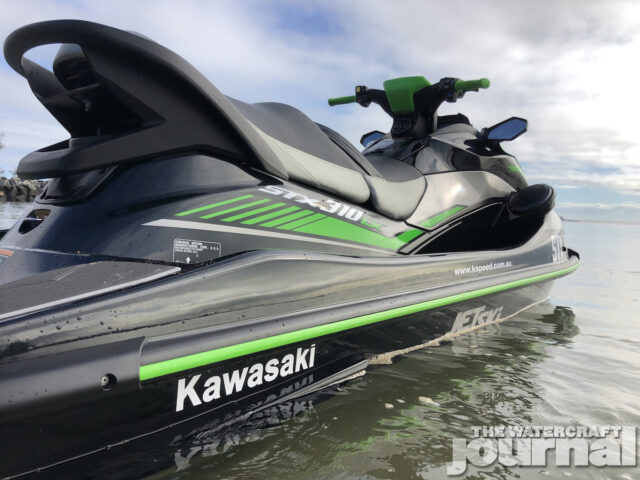 Mind you, this Kawasaki STX 310LX is not his first attempt at squeezing a lot of power into the brand's entry-level hull. A few years ago, Jamie ended up with an old STX-15F and an Ultra 250 – both of which were traded-in for small change. That's when he had a idea: Take the supercharged 1.5-litre 250-horsepower Kawasaki engine out of the battered and bruised Ultra fit it into the old STX-15F hull!
"We just did it as a bit of fun at first, during a quiet winter, just to see if it would work," says Jamie. "The guys in the workshop used it for a while as a bit of a weekend thrasher, but eventually it was junked for scrap." When the redesigned Kawasaki STX 160 came out for 2020, the guys at Kspeed thought it was time to revisit the project. This time, no expense was spared – and Kawasaki Australia also contributed to the project.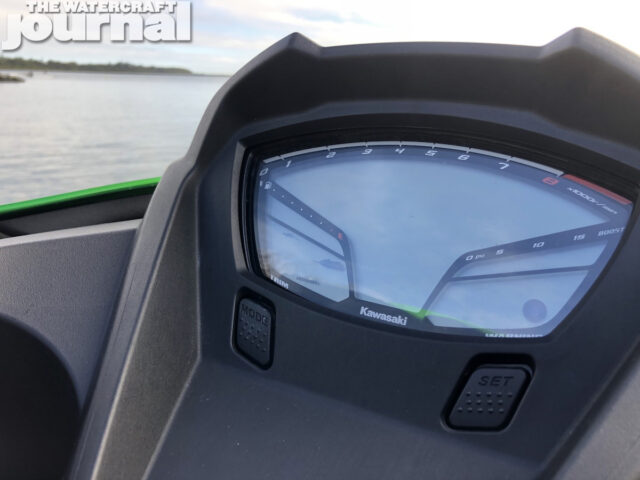 Kspeed bought a brand-new Kawasaki STX 160LX – one of the first imported into Australia – and an Ultra 310 crate engine out of the US, minus the supercharger. Kawasaki Australia helped out with a brand-new supercharger, intercooler, and wiring harness. Kawasaki also kindly supplied the trim and cruise control buttons and their handlebar housings, as well as the digital instrument display from the Ultra 310.
Surprisingly, there were a few items that needed to be made from scratch: Kspeed had to machine a new pump shoe so they could use the 160mm jet pump from the Ultra, as the STX has a smaller (148mm) jet pump. "I didn't want to drive 310 horsepower through the STX's jet pump, so that was a must," says Jamie. To make the pump shoe, Kspeed initially welded a larger ring onto the STX pump shoe, then machined it to the correct size.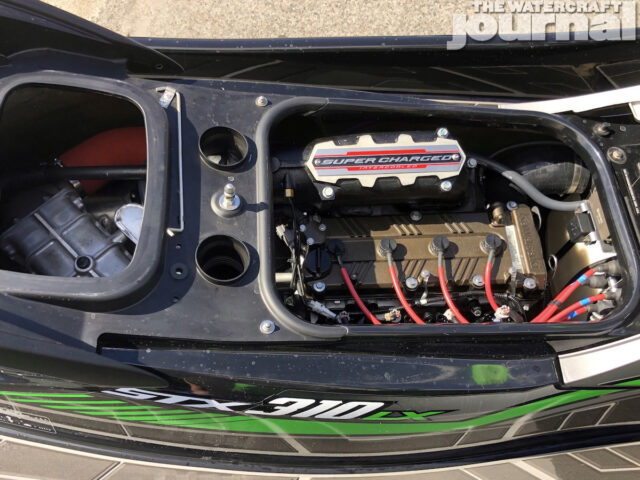 "If the factory were to do this, they would of course, tool this part, but it's definitely within the realms of possibility and not super expensive," says Jamie. Helpfully, the factory engine mounts are carryover and the engine bolts straight in to the STX 160 engine's location.
However, Kspeed's real genius was how they routed the exhaust. They fitted the exhaust, muffler, and rubber exhaust hose from the older Kawasaki Ultra 300 because that model's exhaust outlet is on the same side as the exhaust outlet for the STX 160. The air box is out of a Kawasaki Ultra 260 and, as Jamie says, "it all clicked into place".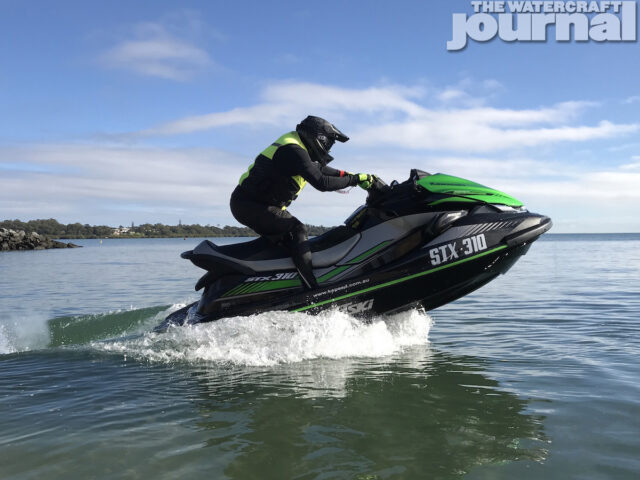 "Kawasaki has the tooling for all this stuff, and access to these parts already," says Jamie. "I had to make a hose from the supercharger to the air box, just two 90-degree bends. I had to shorten the Ultra 260 bracket to suit to the STX hull for the Ultra 260 airbox, cut the middle out of it, welded it back together, and it fit. Once that was done, it all fit perfectly."
Kspeed's hope is that by demonstrating what's possible using genuine Kawasaki parts, the bigwigs in the US and Japan might take the idea further and consider putting a supercharged STX into production. "It's fairly straightforward, just a few different things from a few different models," says Jamie, possibly being a little too humble.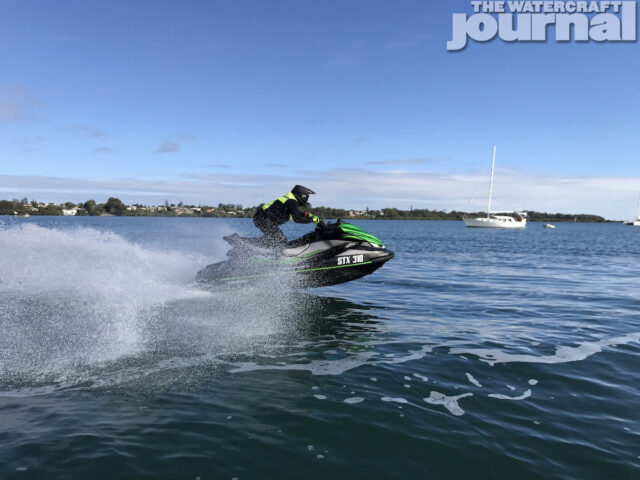 "I love the Ultra platform and I love the nimbleness of the STX platform, but to me the STX just needs a little bit more power," says Jamie. "Even in naturally-aspirated form, I wish it had 200 horsepower – that would be nice. You might say I've taken it to extremes with the 310 engine, but all this is possible."
If such a creation were to be built by the factory, Kspeed reckons a supercharged STX would line up nicely alongside the Yamaha GP1800R SVHO or the Sea-Doo RXP-X 300 – both mid-sized supercharged models popular with racers and thrill-seekers alike.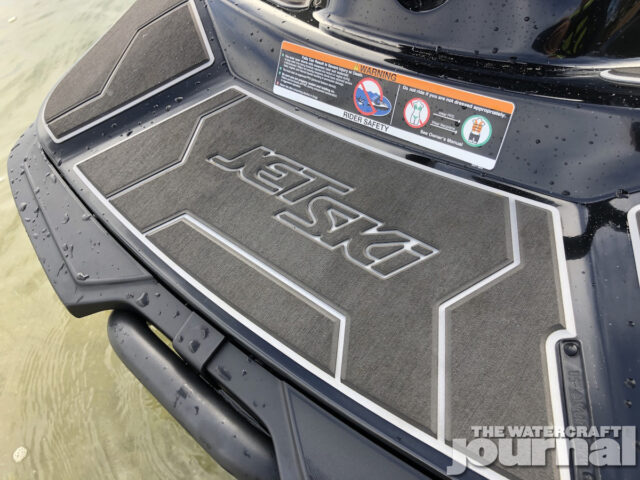 The top speed recorded by Kspeed on this beast so far is a staggering 80mph (129kmh) with, of course, the factory-fitted speed governor removed. We had planned on attempting to match this speed or wind it out as best we could, however the choppy conditions during our test ride quickly evaporated that idea.
Instead, we focused on its balance, handling and how it launched. And holy smoke does this thing launch. It cavitated the first couple times we pulled full throttle from a standstill. It initially struggled for grip as it fought to grab enough water to pump through without interruption. But that was because we had the trim turned up. In a flatter setting, it launched a lot more cleanly and ate the chop with ease.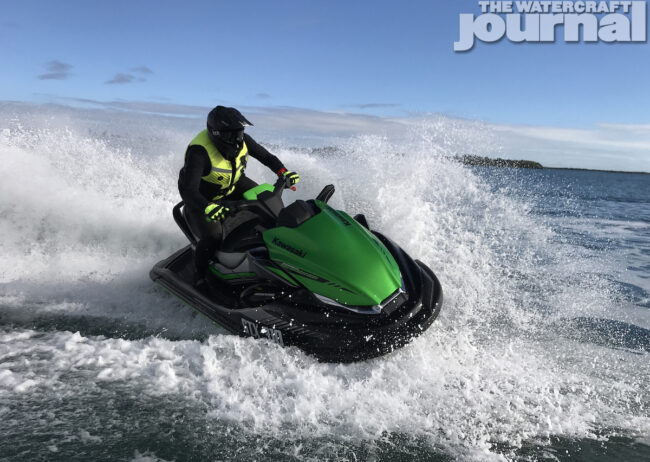 Once the STX 310LX got going, it felt like there was no stopping it. Sure, it hops around a bit in the chop, because it's a shorter and lighter hull than the Ultra. And, to be frank, this thing will really put hairs on your chest in rough conditions. We're not afraid to say it has almost too much power on tap, especially for novice riders.
Incidentally, we noticed the accelerator trigger on the Kawasaki is a little further out than it is on the Yamaha and Sea-Doo. This makes it more difficult to modulate your speed with a spare finger or two – tucked between the trigger and the handlebar – particularly in really bumpy conditions.
The hair trigger aside, the agility of the STX hull cannot be understated. It truly is a gem, even in its naturally-aspirated form – even though this hull design has been around since 2004. While the top deck had a major overhaul last year, when the model was renamed STX 160, everything below the bondline has been unchanged for almost two decades.
But, as the saying goes, "If it ain't broke, don't fix it." We're big fans of this hull (and its engine) in standard guise. It's a great mid-level performance JetSki and ideal for first timers who would likely appreciate its low-speed agility, ample storage and class-leading 20.6-gallon (78-litre) fuel tank. With practice, the STX 160 can turn quite easily on its own axis.
With 310 horsepower on hand, however, it commands respect and elicits a healthy dose of fear. Macho-types in the jet ski community might be dismissive of so much grunt in a such a small package, but we're here to testify that this thing demands your full attention. So it bears the question: is 310 horsepower too much for the STX? In a novice's hands? Yeah, probably. But in experienced hands, it feels like the sky's the limit with this machine.
As far as Kspeed is concerned, the STX 310 is a no-brainer: "I want to say that Kawasaki should and frankly, need to build this," says Jamie. "This is something that customers are asking about and really want. We have a hole in our line-up against the Yamaha GP1800R and Sea-Doo RXP-X, and this would slot in there quite nicely – and give the other two brands something else to chase for a change."