What happens when all existing industry materials fail to meet the standards of NASA for a special command module project?  They simply turn to the watercraft industry for solutions!
During a recent project involving the Orion Command Module, NASA's prototype development branch was having trouble finding existing market materials that would live up to the strict standards for this project.  That's when they decided to turn to Hydro-Turf for solutions.
Jeremy Parr is a former jet ski racer and freestyle rider who now works for NASA in their prototype development branch.  While working on a cradle design for the Command Module, Jeremy recalled some of the excellent properties of Hydro-Turf traction mats and noted that they might fit the bill for this design.
When The Watercraft Journal heard about this development, we decided to reach out to Jeremy to get some insight.  Here's why Hydro-Turf was chosen for this project.
Following the conclusion of its mission, The Orion Command Module re-enters Earth's atmosphere and touches down in the ocean.  Before the recovery team can even approach the capsule, it must be deemed safe by mission control.
That usually is no walk in the park especially when you're dealing with possible unexploded ordinances and rocket propellant traces explains Parr.  You definitely want to make sure it's all safe to approach.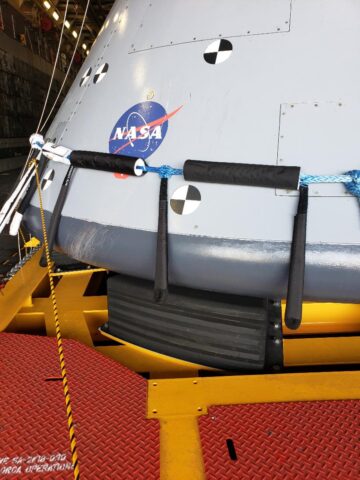 Once the recovery team takes over, the module is then towed back to a ship where it is then placed inside on top of a recovery cradle.
The cradle's job is exactly what it sounds like.  It securely cradles the module atop a soft spongy surface.  This is where the Hydro-Turf came into play.
According to Jeremy not only must the cradle surface be made of a soft and easily shapeable material, but it must also lead to low surface stress on the module's heat shield which is the bottom surface that rests on the cradle.
Initial designs for the cradle pad material were based upon common industry materials.  After modeling the predictive stresses upon the module heat shield using Finite Element Analysis software, NASA realized that these materials would impart too much stress and possibly cause damage to the Orion module.
After exhausting all available options, that's when Jeremy decided to utilize a play out of his prior Jet Ski racing days.  He turned to the folks at Hydro-Turf and had some of their traction mat materials shipped in.
T
he turf material obviously has a spongy nature to it.  It is also easily shapeable and could be layered and machined to match the shape of the module belly.  After a series of software calculations on the material properties showed promising results, it appeared NASA had a good candidate material for their needs.
Jeremy went to work designing the cradle with the new Hydro-Turf pad material.  The pads were layered up to a specified thickness and 3-axis machined to the dished shape of the Orion module's belly.
The final result worked as intended.  The Orion Command Module could now rest securely on the cradle ensuring even pressure distribution between the module belly and the Hydro-Turf pads.
Jeremy eventually hung up his watercraft racing and freestyling wetsuit after years of competition and show riding due to his family and work becoming the main focus in life.  Even though he no longer competes in sanctioned events, he still rides recreationally with his stable of Yamaha SuperJets.
He still also finds every excuse to look up watercraft products on mission critical projects at work.  Sounds like a true personal watercraft enthusiast to us!