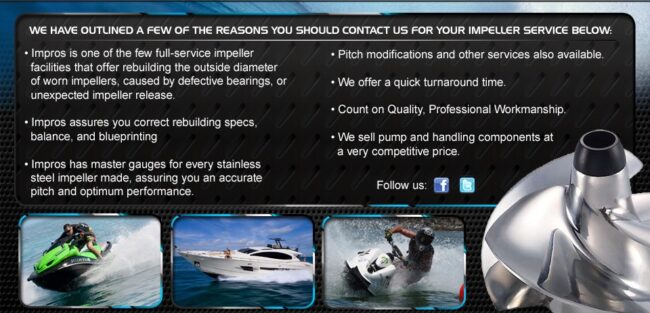 Possibly the single most important part of your personal watercraft is your impeller. Even with all of the best mods made to your engine, if you've got a damaged impeller, your ski ain't gonna go quick at all – and worse yet, vibrations and harmonics can quickly injure your powertrain at catastrophic levels! Unfortunately, because it is so out-of-sight it's also very much out-of-mind for many folks.
Rocks, bits of wood, cattails and other debris can quickly dull, blunt and bend the edges of your impeller blades resulting in slowed acceleration, lowered engine RPM, reduced top speeds and even harmful undulations that can wreck havoc on your Sea-Doo's carbon seal, or Yamaha's mid-bearing causing hull leaks or worse! Guys, it's imperative that your impeller is looking and operating at its best.
That's why all of us at The Watercraft Journal are excited to offer an exclusive 10-percent discount for all purchases of new impellers or repair services at Impros – WCJ10! Impros is the undisputed leader in impeller performance with a staggering 40-years of experience. Impros, LLC's President Glen Perry, is "a leading expert and go-to guy in the watercraft industry."
"Glen acquired Impros, LLC after an extensive history with Skat-Trak, a past industry leader of PWC part repair and manufacturing. Glen was a key component and gained a vast amount of knowledge in the multitude of designs, characteristics and differences of every stainless-steel impeller ever made for personal watercraft." So whether you're just maintaining your reliable cruiser or building a monster machine, hit up Impros and use coupon code WCJ10 to save 10% off of your next purchase.