Hey, do us a favor: Take everything you think you know and throw it out the window. There. Done? Good. We pretty much had to do the same thing when it came time to pen this article because contrary to everything we thought, this year's Top 10 most popular articles threw nearly all convention right out of that same window. Why? Because if you were to look at nothing but sales figures, the behavior of over 340,000 readers would not make a lick of sense. As always, the big draw is almost always impending product from the OEMs. Whatever we can share about the latest and greatest is always hot, but for 2016, if you were to draw one theme out from all of this list, it would be standups. Here, take a look:
10. Vicious Rumors And Vile Gossip: The Great '17 Kawasaki SX-R Rumor Round-Up
When Kawasaki released its teaser video announcing the return of the SX-R for 2017, it was all anyone could talk about. The problem was that in all this talking, people were still left with more questions than they had answers, and a few well-intentioned folks really wanted to sound like they were "in the know" far more than the rest. This spurred a avalanche of rumors and conjecture that was based on little to nothing.
The big question was whether Kawasaki had dedicated the time and resources into developing a powertrain for the new SX-R that was unique to the application or not. We played both sides of the argument and reasoned that a possible adaptation of the new H2 1,000-pound four-cylinder 4-stroke would be a tremendous fit for the ski, but as October would reveal, such was not the case. Additionally, we also published some never-before-seen schematics for the 4-stroke ski, also showing several different waterbox configurations. (7,617 unique page views)
9.Reign of Terror: 2016 Sea-Doo RXP-X 300 (Video)
The only watercraft review to break into our Top 10 list was the introduction and hands-on review of the re-energized 2016 Sea-Doo RXP-X 300. Although the 'P-X received the revised powertrain for the new model year, it's larger, full-sized siblings, the GTX Limited and the RXT-X (which also earned this year's Watercraft of The Year award) arrived with far more additions and changes, people still flocked to see how the RXP-X would rise to the top of the Sea-Doo hill. When so much is so good, very little needs to be changed.
Some of the world's best tuners agree that the Sea-Doo T3 hull is one of the finest when it comes to high speed closed course handling. A succession of Pro Open and GP Open world championships clearly echoes this sentiment. Still the super sportbike in a lineup of touring and cruising bikes, the RXP-X 300 fills the starting lines of nearly every runabout race, and is wildly popular on lakes and shorelines nationwide. Personally, we fancied the smoked and gloss black and Lava Red over the white and Dayglow Yellow livery. (7,746 unique page views)
8. Gallery: Introducing the 2017 Sea-Doo Lineup (Videos)
Sea-Doo surprised all when they revealed their 2017 lineup, especially as the OEM rolled out not one, but three new models to enjoy and a whole new engine. The GTR-X 230 not only married the GTR 215 and the RXP-X by giving the entry-level performance craft the sportier T3 hull, but also the new ACE 1500 engine producing a healthy 230-horsepower. Speaking of which, the ACE 1500 replaced the outgoing 215-horsepower Rotax and benefits from all of the technology and engineering advancements found in its mightier ACE 300 sibling.
Next came two very surprising introductions: the GTI SE 900 HO and the Spark Trixx. The new-fangled GTI is wrapped in gorgeous Sunrise Orange but more importantly, features a Polytec hull and complete Spark drivetrain. Cutting out over 150-pounds from conventional GTI models, the GTI 900 HO doesn't suffer terribly from the drop in power. Equally, the ride is altered somewhat, but not in all negatively. To whit, the Spark Trixx foregoes convention and encourages riders to push the Spark's Polytec hull to its limits by equipping a Spark HO with a rapid-rate VTS system and footwells to permit freestyle tricks a plenty. (8,134 unique page views)
7. Vicious Rumors And Vile Gossip: Could This be The 2017 SuperJet?
A surprising carryover from 2015, this episode of "Vicious Rumors & Vile Gossip" grew new legs as the tales of a 4-stroke standup began picking up momentum in 2016. It was all but certain that Kawasaki would forego all "sideline logic" and offer a new SX-R, but what of Yamaha's current standup? Insider knowledge knew that a prototype 4-stroke SuperJet existed; the introduction of the revamped, lightened and reconfigured TR-1 three-cylinder 4-stroke for the EX Series runabouts confirmed that. But what of the new ski? Many were left grasping at straws.
One peculiar image and some thoughtful investigation rendered a possible clue. Longtime Yamaha SuperJet rider and personal friend of Yamaha's Product Development head honcho Scott Walkins, Rob Flores leaked an interested peak at his garage in Las Vegas. The image showed a quiver of new 'Jets but all of which showing various changes in hull shape, overall dimensions and girth. Flores, who himself has admitted to playing a role in the development of future Yamaha product clammed up rather quickly and the image was pulled from social media. Whether that's a smoking gun or not is up to you. (8,214 unique page views)
6. Gallery: RIVA Racing's 2017 Sea-Doo RXP-X 350
As many have come to count upon, RIVA Racing – the industry's leader in designing, testing and manufacturing some of the highest quality performance and racing products – prepares a special "one off" customized vehicle for both the annual Sea-Doo and Yamaha dealer shows. This year was no different and as expected, RIVA delivered a wild machine for BRP's annual event. Boasting 350-horsepower, the RIVA Racing RXP-X 350 wielded the near entirety of the manufacturer's performance catalog and all with some very special flare.
Adorned in candy apple green highlights, the RXP-X 350 displayed how easy 350-horsepower and mid-80s speeds can be achieved through RIVA Racing and Sea-Doo. Unfortunately, many were led to believe that the unique machine was part of RIVA's unique Special Edition program where a certain number of said machines would be built for public sale; such was not the case, as this was merely a show vehicle and not for retail. Trust us, we've tried to squeeze RIVA into letting us take it out on to the water for a photoshoot, but every bid has been denied. (10,145 unique page views)
5. Gallery: Introducing The 2016 Yamaha WaveRunner Lineup
Interestingly, this recap from 2015 wherein we outlined the entirety of the 2016 Yamaha WaveRunner lineup retained its momentum throughout the entire year. This of course is explained in two ways: the popularity of Yamaha's latest machines continued to draw in potential buyers and those looking to do a little research on the matter, and secondly, The Watercraft Journal served as the primary resource for these people from which to gather their information; of which, both answers are perfectly acceptable to us.
What many will find most interesting is the very next in our list, as it simply echoes our first sentiment, that Yamaha's WaveRunners are garnering so much interest from the core and peripheral personal watercraft enthusiast market that people continue to return to us to unearth more and more information about these machines. We see this as a fantastic sign of things to come in the short term as already consumer confidence and securities trading is already tracking at an all-time high for the decade and we only expect things to continue to follow throughout the next four years. (13,688 unique page views)
4. Gallery: Introducing The 2017 Yamaha WaveRunner Lineup (Video)
Admittedly, we had this one wrong. Like really wrong. Well, OK not so wrong, as we had revealed that the GP1800 was scheduled to replace the outgoing FZ series and ride on a modified version of the existing VXR platform. But the other big half of the 2017 reveal was the introduction of the EX Series runabouts. Deemed a "measured response" to Sea-Doo's Spark, the new EX models came in three tiers of packaging, all touting a 100-horsepower TR-1 EX powerplant and all new coupling and pump design. The units are nimble-yet-stable, comfortable-yet-sporty and well-priced.
Of course, the 600-pound gorilla in the room was the return of Yamaha's steroid-fed super soldier, the GP1800. Trimmed down significantly from the outgoing FZ, equipped far more generously than the late two-seater, and superior in most every possible way, the GP1800 struggled to convince the diehards that it would supplant the FZR and S, but months of tuner testing has shown the GP to be a worthy successor. Obviously, results may vary as not all riders can handle such levels of performance and handling, but we're excited to see lineups of GP1800s and RXP-Xs battle each other in 2017. (16,239 unique page views)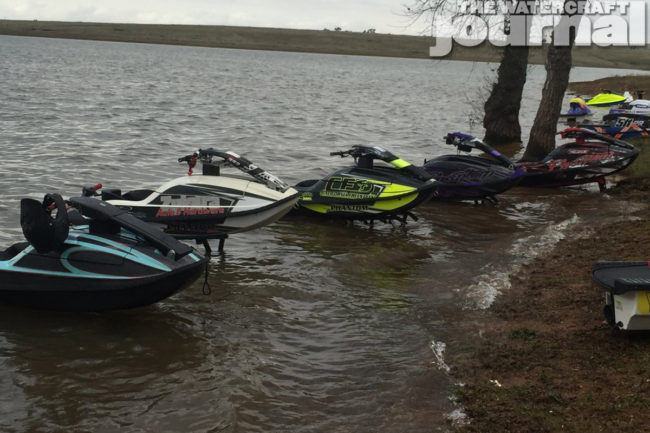 3. The Return of The King: Introducing The 2017 Kawasaki SX-R JetSki
OK, this is where things get crazy. The rest of this list is specifically and undeniably focused on the return of the Kawasaki SX-R JetSki, so we're going to be repeating ourselves a lot here. This article was the final reveal, the release after a year's worth of rumors, whisperings and anticipation. This revealed all, and we mean all, of the data – even more so than Kawasaki provided us to disclose. We had the full dimensions, weight and even a list of all of the various different units and machines that Kawasaki pilfered parts from to assemble this machine.
Yes, it's a new SX-R standup and the bastard makes 160-horsepower. Were it not for the fact that it weighs 551-pounds and is nearly 9-feet long, that massive horsepower number would melt the faces of most JetSki lovers. Yet, before you call it a barge, know that video documentation and radar testing has shown the new SX-R to out-accelerate Kawasaki's own 310X time and time again. This ski is stupid fast. Only a handful of civilians have been allowed to test ride it and they all repeat the same thing: it's fast. Those at the IJSBA World Finals saw both Craig Warner and Minoru Kanamori bobble, dip and weave a few times as they gained their bearings, so we wonder how the rest of us will fare. (25,473 unique page views)
2. Vicious Rumors and Vile Gossip: Why 2017 Will Be Kawasaki's Year
Alas, here is the point where we at The Watercraft Journal must swallow down a large helping of crow. We were fed information that directed us in the wrong trajectory. This has not been the first time we were told misinformation to ward us off the scent of what Kawasaki was doing, and will likely not be the last. For a company in such dire need to drum up excitement for its product line, it sure hates to utilize the media in a useful way.
We were told, "Kawasaki's got a new hull coming out next year. No, it's not what you think it is, but something for people new to the sport." We had mistaken "hull" as "runabout" and reported it accordingly, thus tainting the entirety of this article, first published in late 2015. Nevertheless, had you told us in 2015 that Kawasaki would eviscerate a STX-15F and build a 550-pound standup, we would've called you a fool too. We guess the joke's on us. Already the diehard standup crowd has formulated its opinions on the new SX-R even without having ridden it, so we'll see how that response changes when production units hit the water in April. (25,918 unique page views)
1. Video: Kawasaki Teases All-New 4-Stroke 2017 SX-R Standup
And here it is, the single-most popular article published on The Watercraft Journal in 2016. The story about this story is just as interesting as the reveal itself; we were alerted that at 1am (PST), Monday morning, August 22nd, that a video revealing the new SX-R JetSki would be revealed, and that the would be zero information with the video. We waited up until 3am (CST) for the email from Kawasaki's media department, having already written the article to accompany the video.
Sure to the alert, an email came in with the link, the video was immediately uploaded to our YouTube page, and the article published. Instantly, the post was made on all of our social media and "boosted" Facebook ads were purchased. We wanted to get the word out and fast. Within 10 minutes, we not only were the ONLY source within the industry to have published and shared the video, but the only one to have any hard information paired with it. For once, we were "Johnny-on-the-spot" and it paid off. Even when all of the information was dolled out in October, this story kept tracking. In fact, if you Google "2017 Kawasaki JetSki," this story comes up. It's nice to have hard work recognized. (34,694 unique pageviews)