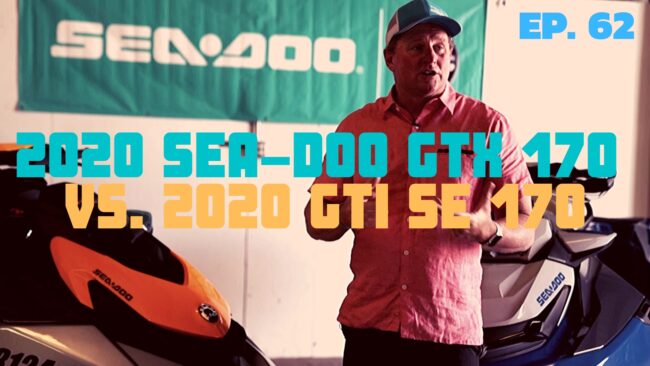 For the uninitiated or the would-be shopper, gathering as much information about the newest offerings from Sea-Doo can be a wee bit overwhelming. Considering the avalanche of features, options and configurations, deciding which model best suits you, your budget, your intended use, and riding style can leave many scratching their heads. For this reason, The Watercraft Journal partnered up with Sea-Doo Public Relations' Tim McKercher to walk us through the many similarities between the 2020 GTX 170 and the all-new GTI SE 170, as well as what differences distinguish the two.
First, it's important to understand that the GTX 170 rides on the larger ST3 hull, bringing the GTX's overall dimensions in at 135.9-inches long, 49.4-inches wide and a total of 776-pounds. Compare that to the GTI SE 170 and its smaller and lighter platform, and you're looking at a difference of 4.5-inches in length (130.6-inches long), .2-inch in width (49.2-inches wide), and 37-pounds (739-pounds total dry weight). Moreover, the larger GTX touts a massive 18.6-gallon fuel cell compared to the GTI's 15.9-gallon tank.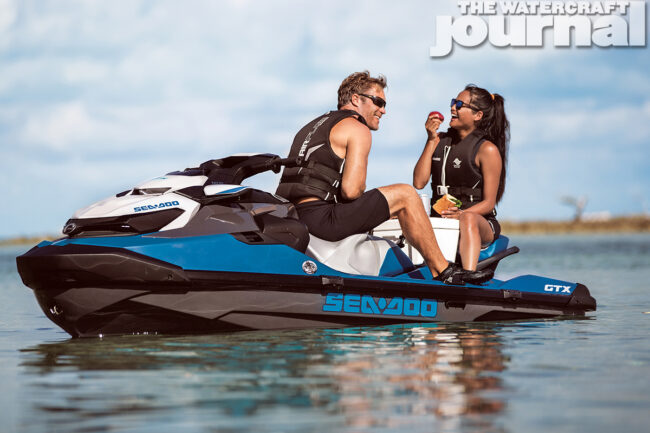 Interestingly, while total rider capacity is identical at 600-pounds, the GTI has a total storage capacity of 42.5-gallons compared to the GTX's surprising 26.1-gallons. Yet, as Tim illustrates in the video below, accessing the cargo aboard the GTX is made demonstrably easier thanks to Sea-Doo's central storage system. Unlike the GTI's more traditional bow storage that requires a little bit of flexibility to reach the bottom, leaning down into the belly of the GTX can be done from the driver's seat. And so can refilling the gas tank, as the filler cap is found directly under the GTX's glove box.
While both the GTI and GTX feature Sea-Doo's watertight phone storage pocket, the glove box of the GTI is far roomier, permitting the storage of a couple bottles of water, sunscreen, or even a digital camera. As both machines are equipped with the identical 1630 ACE four-stroke, both enjoy robust torque delivery from Rotax's efficient 3-cylinder engines; yet, it's the lighter GTI that claims a dramatic increase in 0-to-30 acceleration over its previous iteration (or the GTX for that matter). And both come equipped with Sea-Doo's third-generation of iBR (Intelligent Brake & Reverse).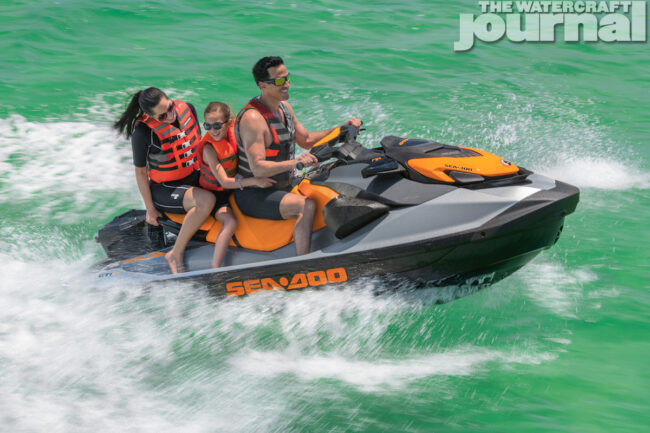 When first introduced in 2018, the newly redesigned GTX rode on Sea-Doo's innovative ST3 platform. The hull is a blend of an ocean-going 23-degree deadrise at its bow that tapers to a smoother, wide – almost flat – second half. This gives the ST3 phenomenal balance and buoyancy at low speeds. The 2020 GTI, on the other hand, is entirely new for this year and rides on a very unique hull. The shape itself is tremendous, well balanced and predictable with a progressive 17-degree deadrise. Yet, what's most unique is Sea-Doo's use of a second-generation Polytec that is both scratch resistant and lightweight.
Above the bondline, both the GTX and GTI employ Sea-Doo's industry-leading "Ergolock" tapered seating and ergonomics, as well as its modular accessory system "LinQ." Featuring twin pop-up cleats, both watercraft can carry one of two coolers, a gas caddy, or storage cases. Additionally, a removable puck reveals a port to install the retractable ski pylon – making either of these two machines into its own "Wake" model. McKercher further details the many features – including Speed Control, optional iControl speed settings, and much more – so watch the whole video below.