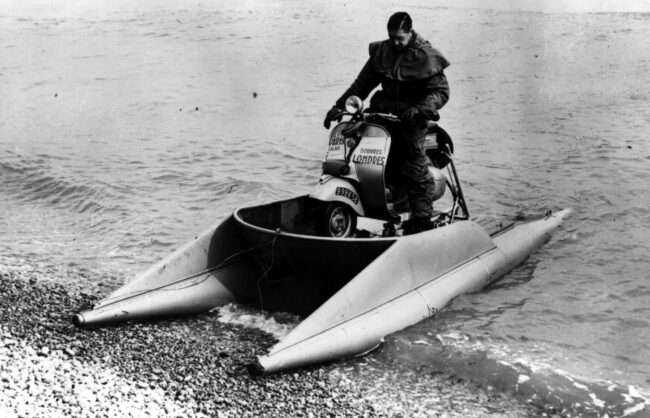 Famous Vespa dealer, Georges Monnert, crossed the English Channel on a converted Vespa scooter in 1952. Monnert was quite a character and well known for his many marketing stunts. The amphibious Vespa that he and a crew built was beyond just another stunt. The amphibious Vespa was built with a world record in mind.
The machine was built for the Paris to London Race and in order to set a world record, he would have to cross the Channel. Monnert needed a machine that would allow him to make the crossing, so on October 8, 1952, he left Paris for Calais. He met a crew in Calais who installed a pair of custom pontoons to a scooter. Voila! The amphibious Vespa was born.
The craft was powered by a 1952 125 cc Vespa Douglas, on which, Monnert successfully crossed the English Channel on the curious watercraft. Onlookers were baffled.
The idea to create this ingenious contraption came to Monnert while he was reading a story about an Italian gentleman who ventured onto a lake with a scooter mounted on floats. This in turn led him researching watercraft engineering.
The machine that he and the crew built, consisted of two long aluminum pontoons and a wooden platform to secure and float the Vespa. A steering system was also installed which used the front wheel of the Vespa to steer the rudder and two rollers beneath the rear wheel to power the three bladed propeller via a three-speed gear box.
The prop could be raised and lowered for beach landings. The amphibious Vespa was pure working simplicity and could easily be detached for street riding. The machine was fitted with an extra-large fuel tank, which was perfect for the English Channel crossing.
He won the race and acquired his record too!
Georges Monneret, famous Vespa dealer, crossed the English Channel in 1952. He was quite famous for a variety of marketing stunts.

Posted by Classic Motorcycles on Saturday, December 31, 2016