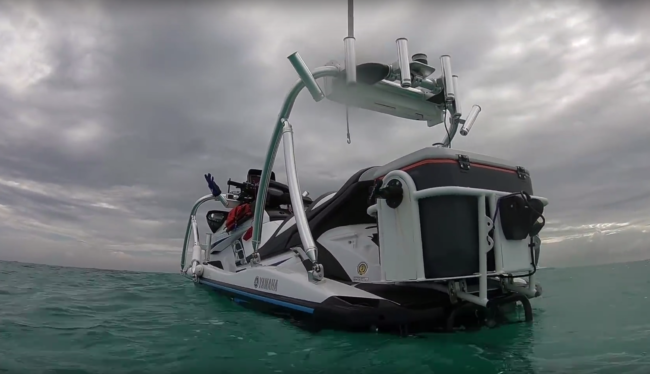 This isn't the first time we've shared one of Dean Baynon's videos, and we guarantee it won't be the last. Dean is an avid jet ski fisherman out of Islamorada, Florida, and has heavily modified both his FX High Output Cruiser and VX Cruiser with some serious fishing and offshore boating equipment, turning his WaveRunners into a pair of small open ocean vessels. Complete with full instrumentation, angler towers, rod holders, a massive tank and a whole lot of stainless steel, his Yamahas are truly impressive.
In his latest video, Dean does a little free diving from his FX a few miles offshore to do a little lobster diving. Although conditions in the morning were a little dicey, according to Dean, the seas calmed and temperatures leveled, giving him a wonderful day out on the water and almost completely undisturbed by other boaters. The water is amazingly clear, the seafloor comes completely into view, and Dean is left to hunt out his meal with relative ease.
We did catch a tuft of seaweed jutting from his intake grate meaning Dean got a little close to shore at one point in the day's journey, but later footage shows the obstruction to be cleared out (just a little observation). At the end of his free dive, Dean properly measures and releases those catches that don't meet the proper size regulation, and takes home a total of four lobsters for a meal that night. Considering the cost of going out to eat, or even purchasing a live lobster at the grocery store, the price of fuel is a small exchange for the savings Dean made. It's just cost effective!