To say that 2021 didn't go according to plan would be an understatement. Logjams in international and domestic shipping; sudden winter ice storms freezing pipes at processing plants; and sweeping national shutdowns halting production delayed Yamaha's production and delivery of its 2021 model line much to the chagrin of dealerships and customers alike.
Add to that the perfect storm of ever-increasing public demand and the reveal of a newly redesigned VX and GP lineup, Yamaha had more than its fare share to contend with in a single model year. So it came to us as a huge surprise that Yamaha didn't just reissue last year's models with some "bold new graphics", but rather made major significant changes to the brand's flagship FX line, as well as add a new machine altogether.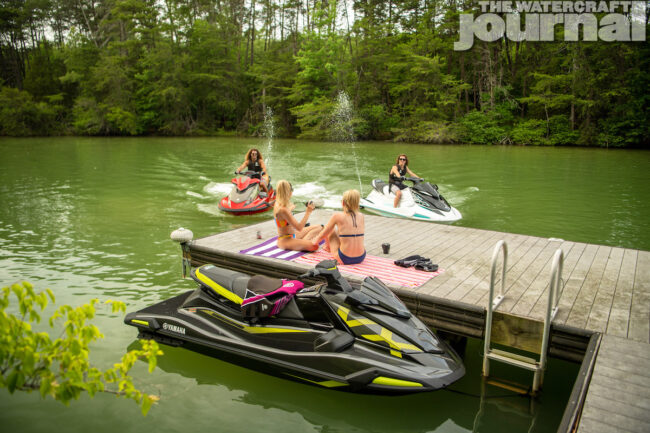 Above: Being recently redesigned, the VX models received only new paint and graphics as well as some price increases: VX-C (MSRP $9,449 –up $300); VX (MSRP $10,449 – up $400); VX Deluxe (MSRP $11,249 – up $400); VX Cruiser (MSRP $11,549 – up $400); VX Limited (MSRP $12,849 – up $400); VX Cruiser HO (MSRP $12,449 – up $400); VX Limited HO (MSRP $14,049 – up $500)
Above left: Changes to Yamaha aren't immediately visible from even a few feet away, but when seen in person are demonstrative. Above right: Part gokart and part stunt craft, Yamaha's newest addition to the WaveRunner lineup is an absolute riot.
"Consumers are looking to use their WaveRunners in all new ways on the water, whether it's a touring adventure, all day cruising and lounging, watersports, or fishing," said Bryan Seti, general manager of Yamaha's Watercraft Group.
He continues, "We wanted to create a WaveRunner line and related accessories that power our consumers' passion for the water. […] Our new FX Series pushes the bounds of luxury, tech and performance. And our all new RecDeck offers a new level of customization for anything our customers can dream of doing on the water."
Above left: Yamaha expanded its accessory offerings in a big way for 2022; new are the detachable, floating speakers for the EX Series. Above right: The GP1800R racecraft continue for 2022 in new eye-catching hues. Prices for the GP1800R HO (MSRP $13,149) and GP1800R SVHO (MSRP $15,349) increased $600 each.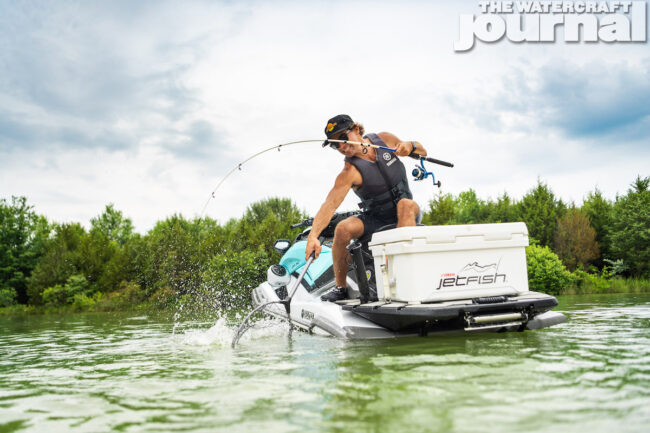 Yup, you heard that right. Yamaha is going fishing. As we at The Watercraft Journal rightly predicted, Yamaha wouldn't solely dedicate a single runabout to fishing. Rather, the option was to allow the entire range of redesigned FX WaveRunners access to the same accessories needed to enable any customer to custom-fit one-of-two JetFish packages, each using Yamaha's all-new multi-function RecDeck platform.
Sold as its own accessory, the RecDeck ($999.99 USD) is a 6 sq.-foot flat platform featuring integrated tracks and four built-in, fold-flat cleats designed to accept a vast array of accessories with nearly limitless arrangement possibilities. Covered in CNC-cut MarineMat carpeting, the RecDeck also features a stellar full-length reboarding ladder that tucks up beneath the platform.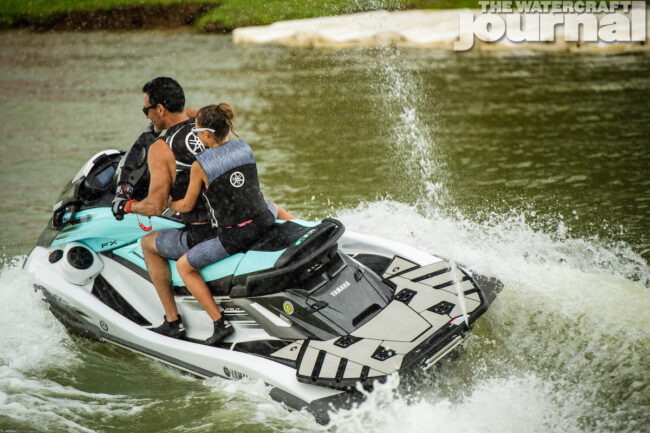 Above: Yamaha's new RecDeck is versatile, modular and useful in as many ways as you can think of.
The RecDeck can be mounted to any 2019-and-up FX WaveRunner, and surprisingly, can be removed to return the FX to normal use in a few minutes. (Support struts replace the factory swim step, and two small receivers permanently mount to the footwells.) A separate Multi-Use Rack ($599.99 USD) is used to rigid-mount the Premium JetFish package, as well as the Lounging Package's folding 25″ wide rear-facing Folding Bench chair, cup holders and saddle bags ($499.99).
The lower-tier JetFish package forgoes the Multi-Use Rack, strapping the cooler down with motorcycle-style straps, but includes the same Engel 45 JetFish-branded cooler, rod holders, cup holders, and tow eyes. Although part of the accessory group, the massive Garmin ECHOMAP UHD 63cv 6" Fishfinder/GPS (with an Ultra High-Definition Scanning Transducer), and extra rod holders are separate from the two JetFish packages.
Above left: Equipped with Yamaha's Premier JetFish package atop the new RecDeck, this 2022 FX HO can be stripped of its rearward accessories within minutes, or reconfigured to carry a near limitless array of accessories. Above right: The Tow Package and the RecDeck make for a perfect pairing.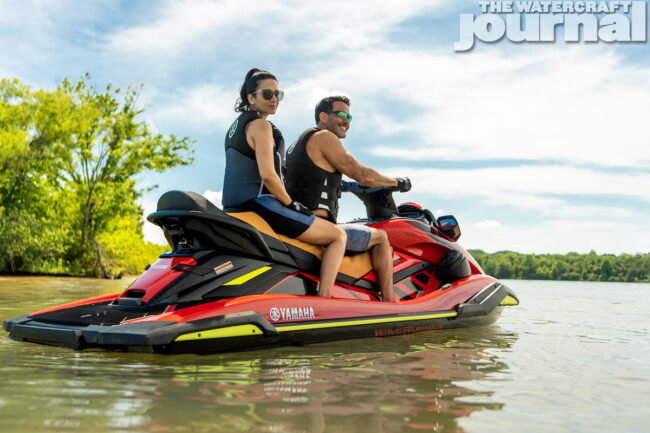 Above: Changes to the FX Series also include some considerable price increases for 2022 compared to 2021: the FX HO (MSRP $14,299 – up $500), FX Cruiser HO (MSRP $14,799 – up $500), FX SVHO (MSRP $16,799 – up $1,000), FX Cruiser SVHO (MSRP $17,499 – up $1,000) and FX Limited SVHO (MSRP $19,099 – up $1,400). 
Lastly, the Towing Package includes a single-rider tube (yellow or grey), a 12V pump, towrope and bungee hold-down ($199.99). In testing it, we found it more fun to simply dive from the RecDeck and reboard using the 3-rung ladder very obviously taken directly from Yamaha's boat division. The fold-flat cleats will receive any number of bungees or straps to tie down extra fuel, a cooler full of drinks, or a small camping grill (don't think we haven't thought of it).
Of course, all of these will work great for Yamaha's refreshed FX lineup. Changes to the full-sized segment are so significant that it's sure to upset those who waited extra long for their 2021 model to show up. From 10-feet away, most won't notice the changes as few are so drastic; but upon closer approach they reveal themselves in a big way – in a big, 7-inch wide way.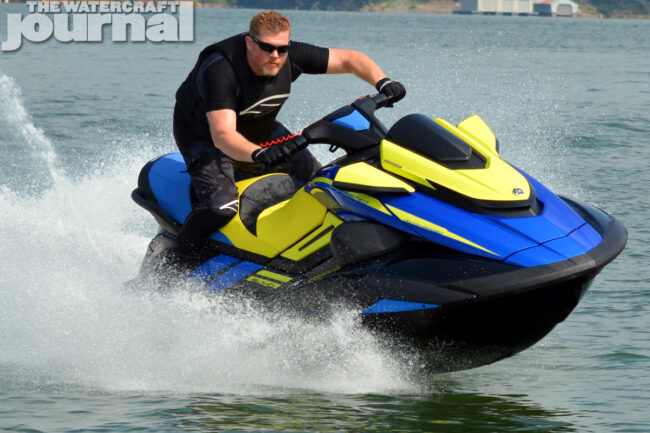 Above: Changes to the FX lineup are dramatic – even without the massive upgrade to the infotainment system. The reshaped ride plate brings the FX to plane quicker; the relocated sponsons bite stronger in a hard lean-in turns. The SMC fiberglass hull absorbs the surface chatter, mutes the bumps and reduces vibration in a big way. All stellar changes.
For all SVHO-equipped (Super Vortex High Output) FX WaveRunners, Yamaha has upgraded the touchscreen dashboard with a high-response, glare-resistant glass 7-inch display. This full-color touchscreen dashboard provides audio controls, phone and text notifications (when synced via Bluetooth to your smartphone), GPS mapping and Yamaha's Drive Control functions (first featured on the 2021 GP1800R models). All standard High Output models receive all of the same functions but with a smaller 5-inch display.
Both the 5 and 7-inch systems feature GPS mapping with geo-fencing. This means that with the optional GPS map card installed (each card is sold separately for a $199 one-time fee), the operator can input GPS waypoints, follow tracks, and "geofence" a riding area where the watercraft can be operate. With geofencing activated, a virtual fence is created and will sound an alarm telling the operator that they have ridden too far – ideal for young or first-time riders. …and it also means a true GPS speedometer.
Above left: The EX Series continues unchanged except for new accessory offerings. Above right: Both the HO and SVHO-powered GP1800R WaveRunners remain some of Yamaha's most popular.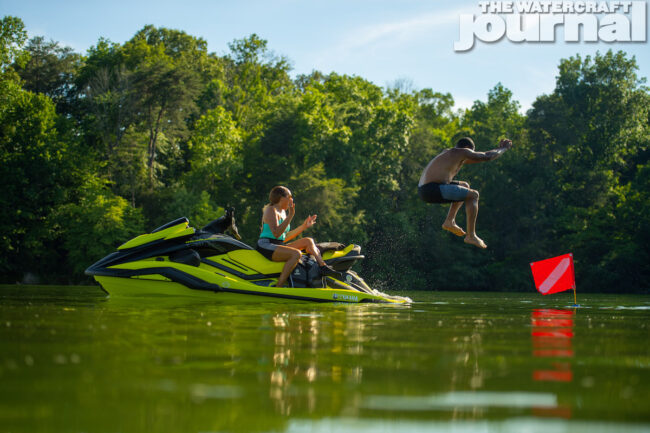 Sharing with last year's redesigned VX and GP series, the FX is available with a factory-installed, digitally-integrated audio system. Featuring twin 4.5-inch 50-watt waterproof marine speakers, an integrated two-channel amplifier, and a low-voltage regulator to protect the battery. Like the VX and GP, the system is operated through a control pad, found beneath the steering column. When synced, a visual prompt will appear on the the Connext touchscreen.
Equally, you can now receive incoming calls and view incoming text message notifications on the Connext screen. There's even a noise-reducing microphone (found above the audio controls) allowing you to make phone calls using the voice command button and your phone's AI assistant (be it Siri, Alexa, HAL, SkyNet, etc.). Note that the audio package comes standard on the FX Limited SVHO, and as a factory-installed option on all the other FX series models ($800 USD) – it can't be added later by the dealer.
Above left: The switch from NanoXcel2 to SMC fiberglass adds 40-pounds to all SVHO-powered FX runabouts. The added weight isn't a deterrent though, as the extra heft improves the hull's engagement with the water and straight-line tracking in chop. Above right: The VX, GP and FX all share the same sound system.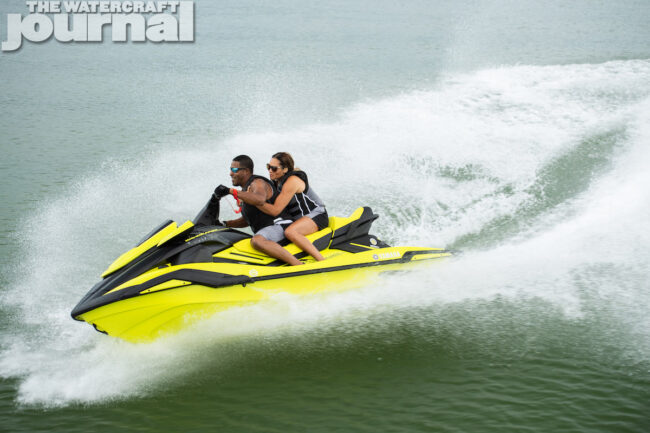 The entire control console has been redesigned for 2022, including the return of cast-in cup holders – the RAM mounts are now fixed to each bottom. The FX Series also inherit similar sleeker adjustable handlebars and control pods from the GP series, including the single On/Off button and relocated Cruise Assist control. This time, Yamaha has integrated dual hoops into the steering neck, making tying up at the dock easier.
The FX also receives a new glovebox. Dimensionally, it's the same as before, but the lid is spring-loaded, rising up on its own. Gone is the rubberized latch, now with a sturdy plastic one instead; and inside the FX receives the same LED lights, 12V socket and USB port, as well as the cell phone pocket as the aforementioned VX and GP models.
Above left: Yamaha made several changes to the FX glove box; the door is spring-loaded, the latch is made of durable plastic (not rubber). Inside are LED lights to illuminate a cell phone holder, as well as a 12V socket and USB port. Above right: Yamaha resculpted the center console to bring back the molded-in cup holders. The RAM mounts are found at the bottom of each cup holder.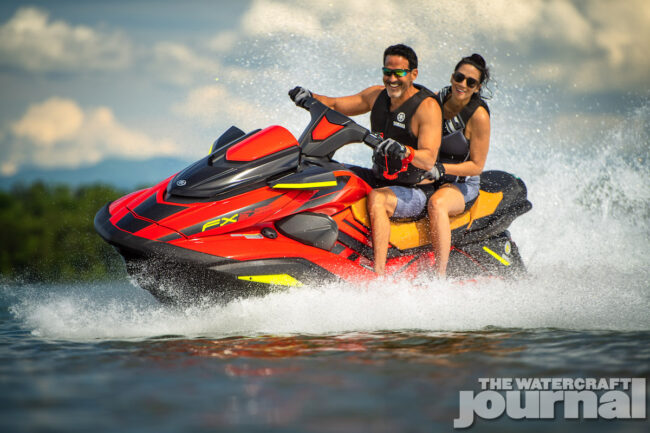 But if you think that's it for the FX Series, you'd be waaay off. Below the bondline is where things get really interesting. First, Yamaha looked very closely at what aftermarket tuners were doing and radically tweaked the ride plate. The center surface is angled up 3º on an extended runner, raising the bow up reducing drag and that wet ride. The plate's flanks were shaved down with deep skegs that provide knife-like rails for added tracking.
On the sides, Yamaha moved the sponsons forward 50mm (nearly 2-inches) to reduce hull packing, particularly in corners. But the biggest change goes completely unsung: no more NanoXcel hulls. That's right, all FX WaveRunners now have SMC fiberglass hulls. While NanoXcel and NanoXcel 2 will continue in Yamaha's decks, all full-sized runabouts will ride on thicker, traditional fiberglass hulls, as explained to The Watercraft Journal by Product Development Manager, Martino Ruggiero.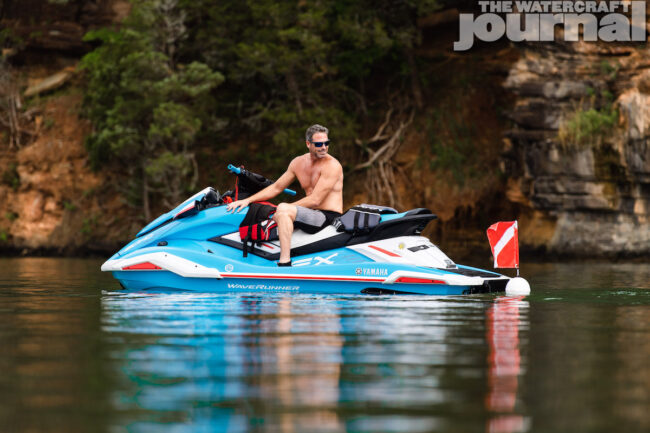 Above: Colorations for 2022 are vivid, and welcome a warm, summertime feeling.
As SMC far outweighs Yamaha's Nano materials, the development team created a lighter inner liner to stave off a bit of the weight gain. Regardless, all FX HO models increased by 4-pounds (for example, the 2021 FX HO weighs 836lbs.; 2022 FX HO weighs 840lbs.) while those SVHO-equipped FX models gained 40-pounds across the board (ex. 2021 FX Cruiser SVHO 820lbs.; 2022 FX Cruiser SVHO 860lbs.).
While some might decry the switch to SMC, the decision – at least, in our view – is brilliant. SMC fiberglass is denser, which absorbs vibration and chatter better. It distributes the force of impact with far less damage. There's less flexing, cracking and overall failure to boot. And more importantly, it's easier (and cheaper) to repair – all things which the long-term owner will appreciate.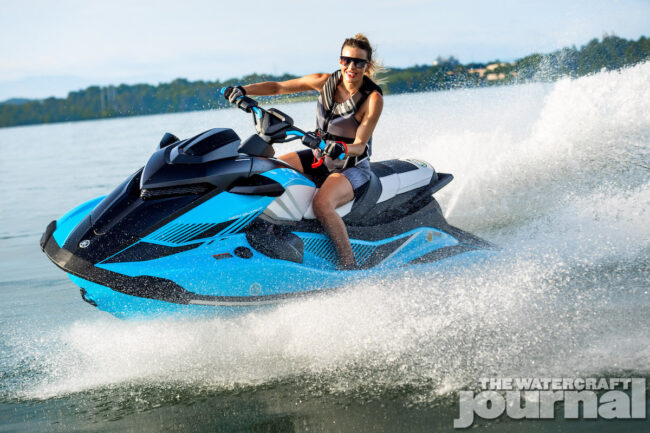 Above: The GP1800R HO is all the lightweight, race-inspired raucous fun of the SVHO but without the high-octane requirement of the supercharged engine.
With the new year also come new colorations and prices: FX Limited SVHO (MSRP $19,099) in Black with Lime Yellow; FX Cruiser SVHO (MSRP $18,299 with sound; $17,499 without) in Torch Red or Black with Titan Gray; FX SVHO (MSRP $17,599 with sound; $16,799 without) in Cyan; FX Cruiser HO (MSRP $15,599 with sound; $14,799 without) in Carbon with Mint or Lime Yellow; FX HO (MSRP $15,099 with sound; $14,299 without) in White with Mint.
For those concerned about the sportier models, the GP1800R SVHO and its naturally-aspirated sibling, the GP1800R High Output do not change in weight or power output – only their colors, namely the SVHO being offered in either Cyan or Black with Titan Gray, and the HO in Cyan or Black with Lime Yellow. Equal too are the VX and the EX Series…well, except for one major change.
Above left: Just because the EXR left the lineup doesn't mean you can't push the EX to its limit. Above right: The JetBlaster enjoys the same TR-1 HO producing 110 and NanoXcel2 hull and deck as the outgoing EXR.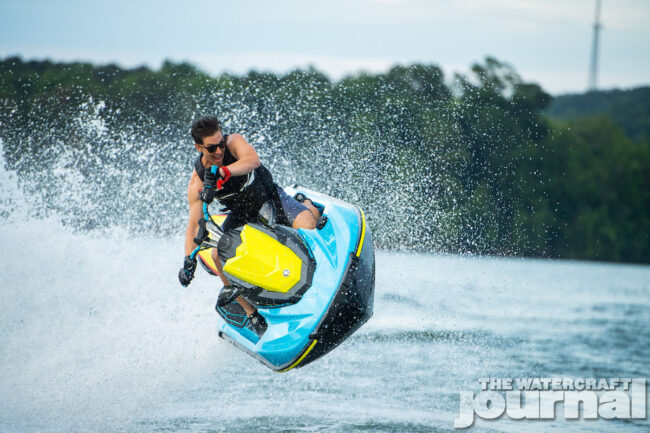 Gone is the EXR, the lightweight 110-horsepower, NanoXcel 2-hewn Rec-Lite rocket. Instead, Yamaha has rechristened our favorite little EX the JetBlaster (MSRP $9,999). Bathed in Cyan with Lime Yellow splatter-paint graphics, the new 2022 'Blaster takes the fight to its competitor with angled, padded foot chocks, an open-neck steering system with wider handlebars; and custom-configured electric trim ideal for wake jumping and powerslides.
The TR-1 HO provides plenty of grunt to get the 'Blaster up to speed, enough to lay the WaveRunner hard on its rail and powerslide its NanoXcel 2 hull 10-to-20 feet across the water. It's super-squirrelly and hyper responsive to body English. So snapping the tail loose, roosting friends, and spinning 360's are child's play – the 'Blaster makes it easy. Weighing in at 549-pounds, the JetBlaster joins the 4-stroke SuperJet in Yamaha's new "Freestyle" category.
Above left: The JetBlaster is perfectly capable of submarines, power slides and sloppy 360s. Above right: Remember all that talk about not jumping wakes? Yeah, forget that.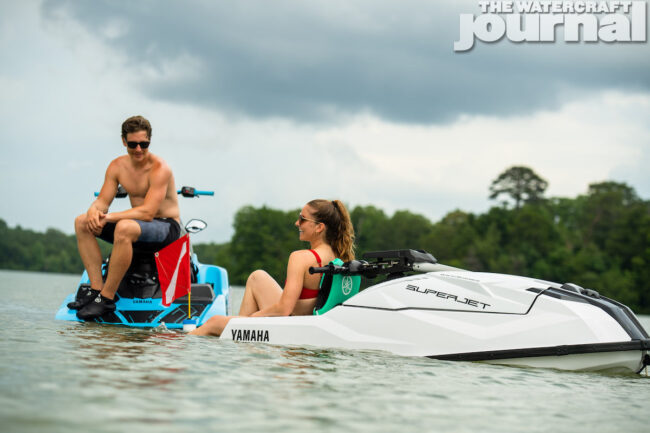 Above: The SuperJet sees a small price increase of $300, from $9,499 to $9,799. No changes apart from some optional storage accessories and an adaptive bracket to fit two small EcoXgear speakers were made for 2022.
Again, when you sorta wouldn't blame Yamaha if they chose to take it easy this year and just to let the dust settle, they go and totally surprise the market with some major upgrades to its full-sized FX runabouts, threw in a ton of new accessories and features, and even introduced a new freestyle WaveRunner. So yeah, you can kinda forget that whole "taking it easy" thing – Yamaha's charging hard into 2022 with a full arsenal of killer watercraft…not like you needed a reason to camp out in front of your dealership already.