It was almost exactly three years ago that The Watercraft Journal loaded up a brand-new 2017 Sea-Doo GTR-X 230 with a Kool PWC Rack, a pair of Rotopax jerry cans and the biggest cooler we could fit in it, and journeyed a couple hours south of Nashville to Tims Ford Lake in Franklin County, Tennessee. Wanting to reunite with the Middle Tennessee Personal Watercraft Club for their "Pandemic Pandemonium Relief Ride", we brought with us our brand-new 2020 Sea-Doo GTI SE 170 equipped with the 4.5-gallon LinQ cooler stocked with plenty of cold drinks and snacks.
This time around, there was no need to bring extra fuel as the Sea-Doo's naturally-aspirated 1630cc ACE 3-cylinder is nowhere near as thirsty as its supercharged counterparts. Although packing plenty of punch to propel the Recreation segment leader, its CM-Tech deck and Polytec 2.0-hull drop the Sea-Doo's weight down to an impressive 739-pounds. That alone accounts for a power-to-weight ratio of .23:1 (or roughly a quarter horsepower per pound) – not bad when you consider Yamaha's most popular naturally-aspirated runabout, the VX Cruiser HO, comes in at .21:1.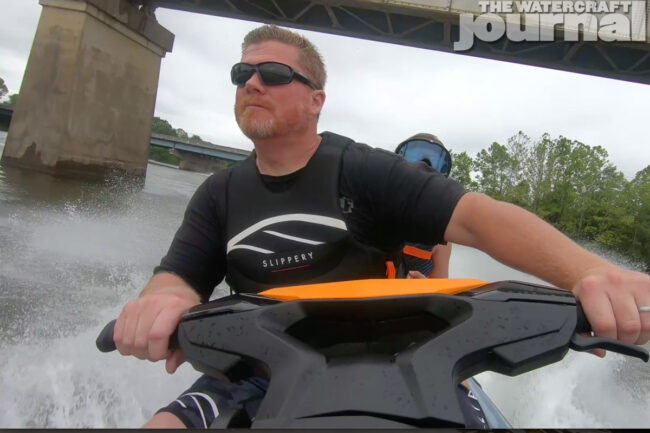 Built as a reservoir for Franklin and Moore Counties back in 1933, Tims Ford Lake occupies over 10,700 acres of surface area. Fed by Elk Creek from the south, Tims Ford also shares a freshwater aquifer with Cave Spring Hollow which famously supplies the Jack Daniels Distillery in nearby Lynchburg. A winding, serpentine lake marked with seemingly endless pockets and coves, we set in early on a Saturday morning, knowing full well that the lake was soon to be bursting with locals and vacationers looking to escape the confines of their homes this sunny weekend.
Fourteen of us boarded nearly a dozen runabouts – most of which being aforementioned Yamaha FX High Outputs, and pair of Kawasaki Ultra LX JetSkis – and sped off towards adventure. Although our schedule often keeps us too busy to attend every scheduled event, we strongly recommend pairing up with a local riding club or group. It's always great to share days like these with like-minded persons, as well as exchange experiences, tips for equipment or locations, or just get out and be more social. We could all use a few new friends, after all. We've hitched up with a few groups over the years and love the opportunity to talk shop, compare notes and generally just chat up new people.
Our first point of interest was a hollowed-out cave in the side of a cliff face. Grey clouds hung overhead this morning, and even doused us in some on again/off again showers on our way to destination. Once arriving, MTPWC President Mike Majka noted that when the water level was much lower, he ventured deep into the cave to discover a beaver dam. Today the water was far too high for us to go more than a few feet into the cave, but the high water also assured that bottoming out on an unseen sandbar was also going to be unlikely. In fact, Tims Ford is known to rise and fall as much as 15-feet throughout the year, so it wasn't all that unexpected.
After a short break, we meandered over to a favorite spot – a quiet corner of Elk Creek hiding a submerged grove of trees. Jokingly referred to as the "Christmas Tree Lot" the trees are spaced out evenly allowing riders to idle through the rows like perusing a Christmas tree lot. Club members quickly pulled out their cameras and selfie sticks and began snapping pictures. Other took a moment to grab a cold drink or a quick snack. My copilot for the day, my 10-year-old daughter Morgan, didn't hesitate to jump into the water for a short swim. In fact, I'm pretty sure the only reason she joins me on these rides is to go swimming in new places.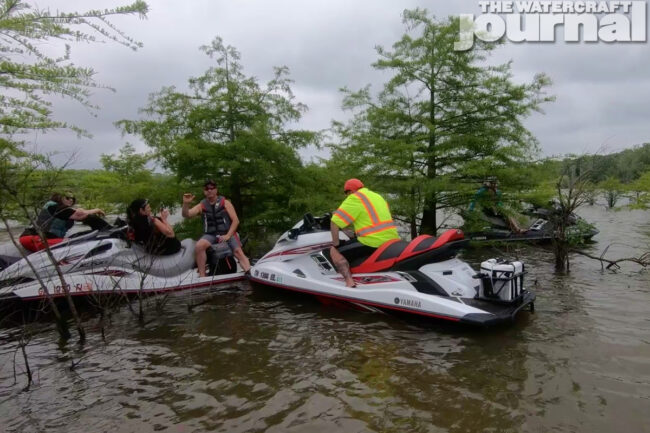 While we racked up a little over 60 miles this day, our Sea-Doo GTI SE 170 never once disappointed. Typically cruising with a large group means maintaining a conservative speed (usually around 30-to-35 miles per hour), it was pretty common to engage ECO mode to maintain the pace. Thankfully, the new Speed Control mode on the 2020 Sea-Doos allows us to cap our speed without needing to keep the throttle set at all times. Meaning, we can accelerate and decelerate like normal, but never surpass our preset speed. It made cruising in the group immensely easier and trouble free.
Passing through the Winchester Springs' side of the lake, we passed Jackson and Gourdneck Hollows towards the Bluegill Grill and Marina for fuel and lunch. Although miserly with the fuel consumption, our Sea-Doo's 15.9-gallon fuel cell is still small compared to the Yamaha's 18.5-gallon and Kawasaki's massive 20-plus-gallon tanks – so a little refill was in order. Here, the group grabbed lunch and a beverage while resting their rumps under the air conditioners. The floating dining room was swarmed by hungry catfish uninterested in what was on the menu as long as it was thrown over the side for them to grab. Our camera being one of them.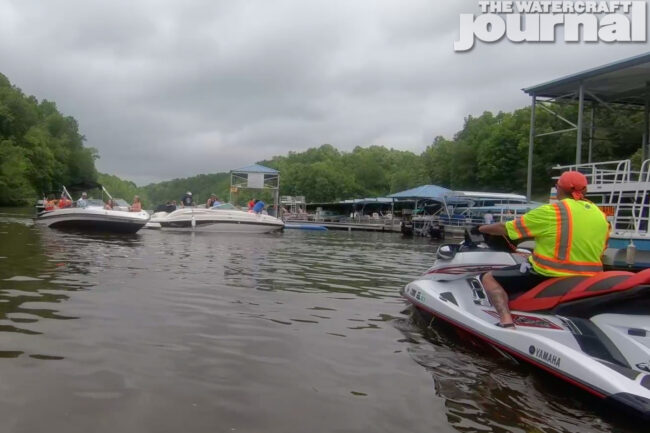 After lunch, Majka promised two more "must see" spots – the Tims Ford dam and his favorite "secret spot". Getting to the dam required a bit of navigation through the lake's labyrinthine series of hollows and islands. Zipping by Leatherwood Island and The Narrows, we finally came around Wiseman Branch to see the hydroelectric dam come into view. Completed in 1970, it stands 175 feet high and 1580 feet long, and produces an average of 36 megawatts of hydroelectric power for the nearby counties. Again, we couldn't resist a quick dip in the water, although it was a little more brisk than most would've liked.
Promising a "far better swimming hole" we reboarded, toweled off and strapped back in to find Majka's secret spot. Following the group leader deep into Hatchet Hollow, we're met by a rocky berm topped by the paved Lost Creek Road. Yet, off to the side is a large rectangular cement culvert, large enough for a personal watercraft to squeeze into. Hiding behind Lost Creek Road is Sander's Hollow, a small lake (just slightly too big to be called a pond) that's fed by the same Lost Creek. It's this Lost Creek that is fed by the same aquifer that supplies Jack Daniel's Distillery with the mineral-rich spring water to make its world famous whiskey.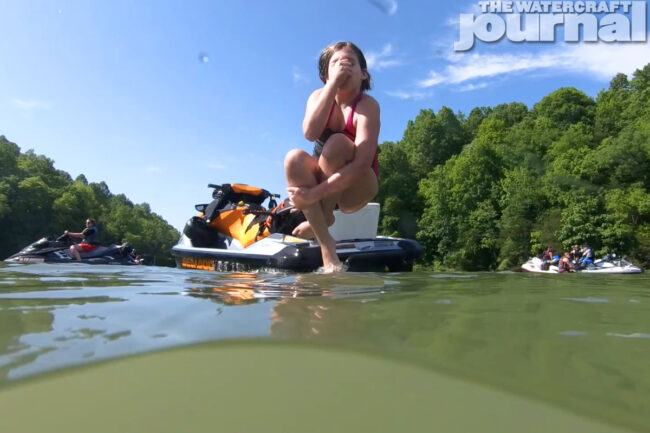 Alas, here we happily jumped overboard and swam until our arms ached. A few others not part of our group but familiar with the secret spot also enjoyed the privacy as well; we eyed a couple testing out a nearby rope swing as others searched for a quiet corner to claim some shade. After a good bit of rest and relaxation, we bundled up our things and began our route back to the launch ramp. Although the sun sets late in the day this time of year, we could tell the day's ride was done and made quick work of loading up the trailer and tying everything down.
Saying goodbye to our friends, and with a two hour drive home before us, we cranked up the truck's air conditioning and settled in for the cruise home. We passed some curious deer wandering the treeline and enjoyed the meandering route through rural Tennessee back to the highway. It wasn't long before my copilot was sound asleep and the mirrored skyline of Nashville came into view. Memories like these can only be made on beautiful days like today, so never let the chance pass you by.
Additional photography courtesy of the Middle Tennessee Personal Watercraft Club.