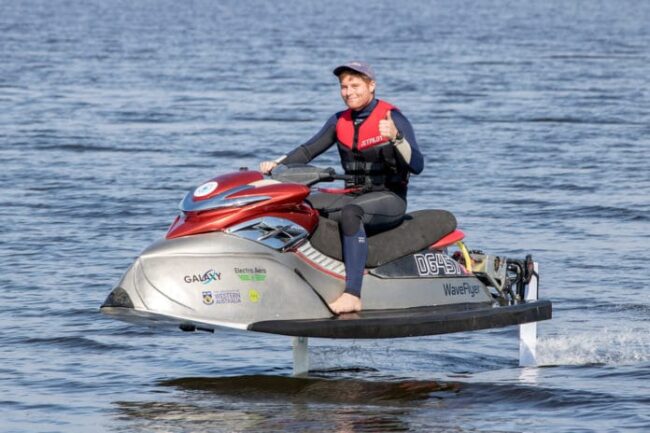 The University of Western Australia's Renewable Energy Vehicle Project teamed up with Perth's Electro.Aero and Galaxy Resources to build the first electric hydrofoil PWC. Electro.Aero helped with the technology operations and Galaxy Resources, an ASX-listed lithium producer, provided the funding.
The electric hydrofoil PWC was built in 2015 and named WaveFlyer. It is similar to a standard PWC and even looks like one until it's cranked up. During operation, it rises above the water by using an actively stabilized hydrofoil propulsion system. It's much quieter and produces no emissions, like conventional PWC.
University of Western Australia and Renewable Energy Project Director, Professor Thomas Braunl uses a YouTube video to present the reasoning behind building the electric hydrofoil PWC. He states that the hydrofoil uses only a fraction of the power, will go much longer, and is more energy efficient than other watercraft. Braunl also says this ski will be great for ecotourism and other water sports because the electric hydrofoil PWC will be allowed in areas where gasoline powered watercraft are off limits, like certain areas within lakes and rivers.
The machine is outfitted with two kilowatt-hours of energy in lithium ion batteries, which allows it to run for more than thirty minutes with two riders underway.
Braunl also says that jet skis are already fun, however the hydrofoil is more fun because it's like flying above the water. He sees tremendous commercial opportunities for the environmentally friendly machine. We will continue to follow the progress of the WaveFlyer and let our readers know of any further developments. Currently, the WaveFlyer is still in the prototype stage.