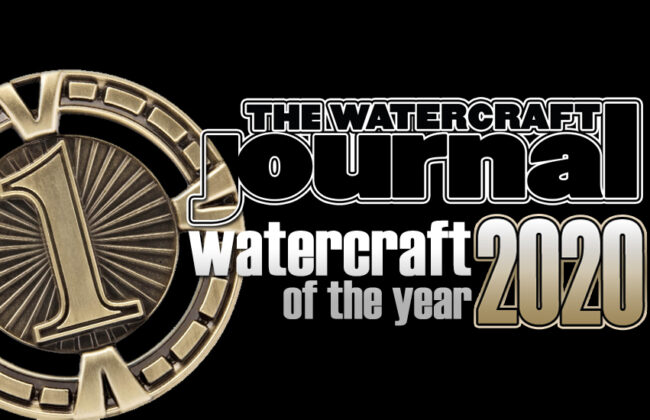 In crowning a Watercraft of The Year award, it's imperative to weigh each vehicle upon its individual merits, and to do so without leveraging in any personal bias. Over the course of The Watercraft Journal's near decade of publishing, Original Equipment (OE) manufacturers have come to respect and appreciate the effort taken by The Watercraft Journal's staff to acknowledge achievements in innovation, design, overall execution and the model's lasting affect on the marketplace and/or industry.
What we've come to call our IDEA score. Each of the aforementioned categories (innovation, design, execution, affect) are capable of earning a maximum of 10 points each, totaling a combined 40 possible points. This year, as we did last year, we have gone ahead and listed each model's accumulated score, as it'll clearly show how each model in our Top Three lined up against the other; and the narrow margin that some models were within to its next contender.
Again, judging a potential winner is not merely a matter of subjectivity; we took into account a variety of factors, compared notes with others outside of our staff, culled public opinion, and even considered the past year's service claims, etc. Moreover, contenders were pulled from the near two-dozen personal watercraft individually reviewed over the 2020 model year. We feel it's important that no entries were eligible that The Watercraft Journal's staff didn't personally review. If we can't get our hands on it, we won't review it. It only seems fair – we hope you feel the same.
Finally, as we've done over the last few years' of Watercraft of The Year award, we've including the video review of each respective model that earned its place on our podium. The Watercraft Journal is the only personal watercraft magazine that publishes full-length reviews of the newest PWC as well as produces a video to accompany each feature, giving the enthusiasts (and first-time buyers) the best, most comprehensive data to make an informed purchase.
As we've said in years previous, each of the machines in this article are worthy of the top honor – in certain key segments, as every PWC excelled in one category over the other. Although awarding one machine the highest honor inevitably incurs some push back from those with dissenting opinions, it is important to know just how close these three watercraft came within of earning the highest award.
---
2020 Watercraft of The Year 2nd Runner-Up: 2020 Kawasaki STX 160LX JetSki
Innovation: 9; Design: 9; Execution: 8; Affect: 8; Total: 34 points
The long-overdue redesign of the STX-15F was both highly speculated and greatly anticipated. What many didn't expect was the creation of three new models out of the refresh. In revamping much (not all) of Kawasaki's Recreation segment entry, the brand gave us the STX 160, the STX 160X and the STX 160LX. While the hull and 148mm axial-flow jet pump (as well as many other internal components) remained the same; the new STX's deck, hood, seat and even its 1,498cc four-cylinder 4-stroke would be upgraded. Equally, new standardized features – particularly, those found on the top tier 160LX model (MSRP $11,699) – gave this 877-pound JetSki a direct-through-the-sternum-into-the-heart injection of adrenaline, earning it a spot on this year's Watercraft of The Year podium.
The newly molded deck gives the 2020 STX 160LX deeper and wider footwells, a stepped rear swim platform featuring a soft foam-padded folding swim step that integrates into the bumper rail. Kawasaki integrated a two-rung reboarding ladder behind the rear passenger seat and tucked in a rubberized pouch that stows a dock line or tow rope. Two-tone, CNC-cut Hydro-Turf traction matting looks sharp as does the grippy, two-tone seat cover (using the same heat resistant material found on Kawasaki's Ultra 310LX). A neat new feature is Kawasaki's hinged rear seat that folds up to reveal a removable, deep well storage tub. For the pilot, two cup holders were molded into the top deck, fore of the LCD dashboard. (But don't be too surprised to find a manually-operated reverse lever; brakes are still on the horizon.)
Below the STX's redesigned handlebars is a split glove box with a separate waterproof phone pocket, a USB socket and Kawasaki's "Immobilizer" colored key anti-theft system. And while its 35-gallon total storage capacity is competitive with Yamaha's VX, its massive 20.6-gallon fuel cell gives the STX the largest fuel capacity of any entry into the segment. Of course, the major change was the addition of Kawasaki's full fly-by-wire throttle, ignition and engine management system, giving the STX – most noticeably – Cruise Control and No Wake mode. The 160LX designation also gives the Ebony-and-Candy Lime Green JetSki the Jetsounds audio system providing a pair of 30-watt waterproof speakers powered by an amp rated at 20W (x2 channels, max 40W x2) that can play all of the MP3s your smartphone (or other digital music player) can carry.
---
2020 Watercraft of The Year 1st Runner-Up: 2020 Yamaha FX SVHO WaveRunner
Innovation: 8; Design: 9; Execution: 9; Affect: 10; Total: 36 points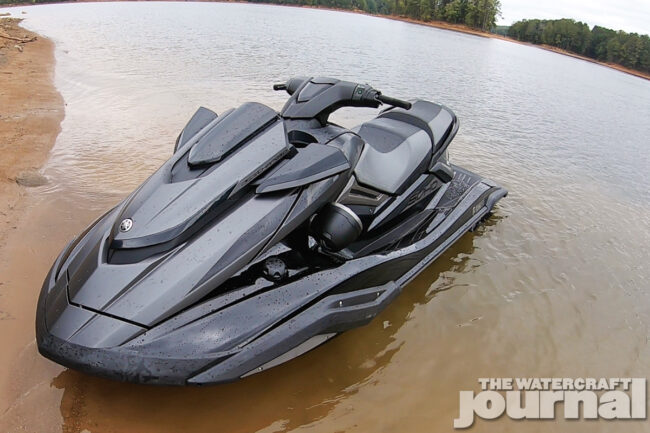 Admittedly, changes made from 2019 to 2020 were entirely aesthetic. Yet within that single production year, the Yamaha FX SVHO WaveRunner has become the most successful full-sized 3-seater runabout in professional racing. Since its 2019 redesign, the FX SVHO and smaller GP1800R were the ONLY two machines ridden by competitors in the Pro Stock class at 2019's IJSBA World Finals. This alone is absolutely astounding. Evolving from a staid, somewhat tame 3-seater into a full-sized runabout that can cut hairpin turns around a buoy course or slamming through open ocean waves is a remarkable feat, and the FX SVHO can do so with aplomb. Long (140.9-inches long) and lean (818-pounds dry weight), the only change Yamaha could make was to paint the whole damn thing black.
From bow-to-stern, the 2020 FX SVHO (MSRP $15,699) is slathered in a two-tone combination of inky gloss and textured flat black. Sure, black is difficult to see at times; it can get hot as blazes baking under the sun; and it's the single-most difficult color to keep clean but daaang, is it gorgeous. Beneath its seat is the supercharged-and-intercooled 1,812cc Super Vortex High Output delivering lightning quick fly-by-wire throttle response from the industry's largest-displacement 4-cylinder four-stroke. The 4.3-inch Yamaha Connext touchscreen dashboard offers data on fuel consumption rates, miles to empty, or a 4-digit security PIN number, among a bevy of other analytics.
Yamaha's RiDE brake & reverse system is standard fare, as are Yamaha's No Wake Mode and Cruise Assist. No Wake Mode's default speed is 5mph, with an adjustment of 1 mile per hour either up or down. For Cruise Assist, you're given up to 5mph of advancement or deceleration, before being required to reset to a different speed. For 2020, we tested Yamaha's optional JL Audio System pounding out of a face-melting 600-watt, 4-channel amp through two pressure-washer safe, waterproof footwell speakers. Priced at $1,800, the dealer-installed option is best paired with the available 8-inch subwoofer kit, which goes for an additional grand and eats up much of the FX's watertight glove box, cutting down the FX's 44-gallons of storage a bit. The trade though is without a doubt, the clearest, most explosive sound system we've seen (or heard) available on a PWC.
---
2020 Watercraft of The Year: 2020 Sea-Doo GTI SE 170
Innovation: 10; Design: 9; Execution: 10; Affect: 9; Total: 38 points
Awarding the 2020 Sea-Doo GTI SE 170 as The Watercraft Journal's Watercraft of The Year was unequivocally one of the easiest decisions we've made in years. Starting with an entirely fresh sheet of paper, Sea-Doo managed to design and execute one of the most innovative, groundbreaking and just plain enjoyable personal watercraft we've had the pleasure of testing. It's not often when one PWC can please on so many levels, but the all-new 2020 GTI SE 170 (MSRP $11,399) does it – and does it right. Everything about the 2020 GTI is new; the fiberglass-stringer reinforced Polytec 2.0 hull material; the multi-strake, low-angle V-design of the hull; and the 170-horsepower, naturally-aspirated 1630 ACE engine – and everything is spot on.
Sea-Doo pulled from its recent years of innovative development to pour it all into the entirely redesigned 2020 GTI platform. The deep footwells and unmatched Ergolock seating are stellar, flowing back into a removable rear passenger seat and LinQ accessory attachment system. Whether you're bringing along Sea-Doo's 4.2-gallon cooler or the massive 13.5-gallon Fish Pro cooler, the GTI can haul it. A spring-loaded rear swim step snaps taut to the bondrail; integrated grips are molded into the bow for easy loading; and a class-leading 42.5-gallons of storage gives this Recreation-segment PWC far more capacity than even Sea-Doo's full-sized skis (including a giant 2.3-gallon glove box with a watertight phone storage case).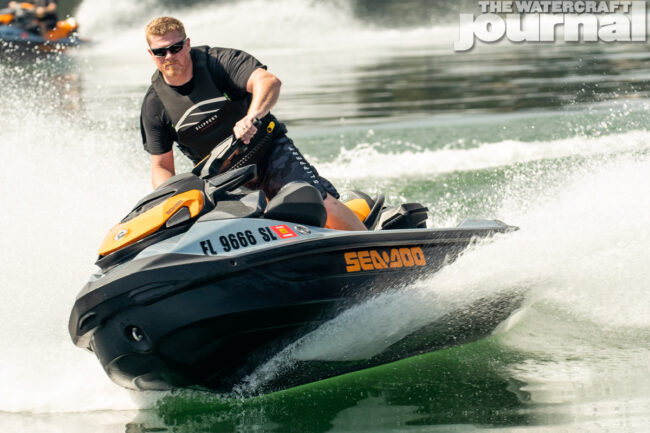 Optional is BRP's 100-watt Bluetooth-controlled Premium Audio package. A new 4.5-inch digital display (featuring an orange backlight) reads off the vitals. As in 2019, gone is a conventional cruise control, replaced by Sea-Doo's Slow Mode. Acting as a speed regulator, Slow Mode permits the driver to set a top speed, and when the GTI set at neutral, to program a low "no wake" speed for idling through marinas or the like. Sharing the same left hand side toggle pad as the GTI's Variable Trim System (VTS), Sea-Doo lets the operator choose from several low speed presets – from a near dead crawl to upwards of 9mph. When used while under throttle, engaging Slow Mode artificially caps the GTI's top speed, giving you an ideal feature for novices learning to operate the GTI.
With 2020, Sea-Doo retired the 1503 Rotax engines and introduced a 1,630cc naturally-aspirated ACE 1630 3-cylinder, cranking out 170-horsepower; making it the most powerful naturally-aspirated engine ever produced by Rotax. The larger displacement and added 15-horsepower gives the 170 variant a 20% improvement in acceleration over the previous 155, equating a 5.2-second 0-to-50mph against the outgoing 155-horse GTI's 6.6 second run. We managed a top speed of 57.4 mph at 7,700rpm. And as mentioned, the new Polytec 2.0 hull is not only a far superior shape in a variety of water conditions, but tracks and handles more predictably than any other model Sea-Doo offers. Add to that a reduced curb weight of 739-pounds (51-pounds less than last year's GTI SE 155), and the 2020 Sea-Doo GTI SE 170 is without a doubt the single-most worthy recipient of Watercraft of The Year we've had.