Well before Covid lockdowns encouraged tens of thousands of people to explore local lakes and waterways, recreational boat sales were already steadily climbing. And of those sales, pontoon boats equated for the overwhelming majority. Those with access to calmer waters gravitated towards pontoons – and sportier tritoons – over the past decade, particularly as the quality of materials, accessories and ease of use all progressed. Within a decade, pontoons calculated for a massive segment of the recreational boating community, and powersports manufacturers took notice.
Yet, it was one key element that stood out to the product planners and engineers at BRP: as amenities and performance options for pontoon boats increased, the pricing multiplied to the point that entry and mid-level buyers were pushed out of the market. Wanting to address this segment square on the chin, Sea-Doo applied some of its Spark-mojo into developing a whole new segment of tritoons – the Sea-Doo Switch series. Employing its popular powertrains and Polytec materials, these jet-driven tri-hull pontoons are poised to shake up the pontoon industry.
Above: Power comes via a selection of 1630 ACE Rotax engines; a 100 or 170-horsepower naturally-aspirated version, or the supercharger 230-horsepower variant. The new catalytic converter-equipped exhaust comes on all 16 and 19-foot models. The 13-footers are exempt.
Being the world's most popular personal watercraft magazine, The Watercraft Journal was invited to fly out to Lake Minnetonka, Minnesota to test drive a handful of Switch models – since there are three different-length platforms, those being 13, 16, and 19-feet (the latter two able to be fitted with a 2-foot swim deck, increasing the overall length to 18 and 21-feet when equipped). The longer of these two different-length platforms can be equipped with specially-equipped package groups, namely "Sport" and "Cruise" as well as wide variety of optional sub-packages [more on those in a minute –Ed].
BRP began by developing a configurable chassis that allowed for quick assembly, despite the desired vessel length or trim package. Cast from Sea-Doo's proprietary Polytec polypropylene-material, the center hull sits 7.32-inches deeper in the water than the modular outriggers, keeping the jet pump engaged for continual thrust. The hull itself is progressive with a mild deadrise, featuring prominent shelved chines for the utmost stability. At speed, the different-length hulls come to plane a little differently, but all allow for a gentle inside lean when throttled into a corner.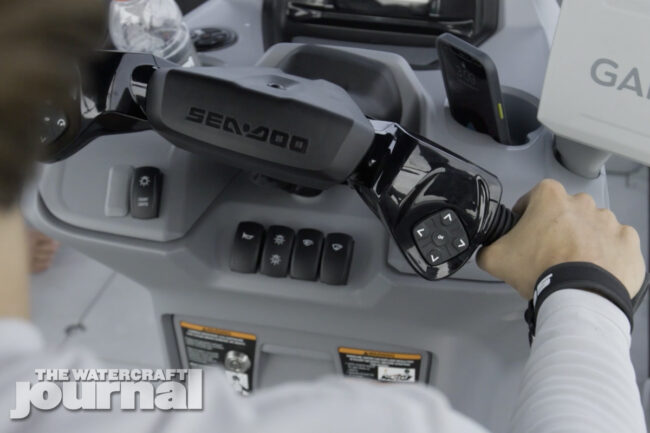 Above: The Sea-Doo runabout-inspired helm is surprisingly natural for the tritoon. All iTC (Intelligent Throttle Control buttons are direct carryovers, including IBR (Intelligent Brake & Reverse) and IDF (Debris-Free control). Below the helm are the bilge and bilge blower controls, as well as that for the running lights and horn.
The hull literally sits inside of the deck, fastened together at what might be considered the bondline in a personal watercraft. The center hull – like a watercraft – contains the 29-gallon fuel cell and 1630 ACE powertrain. All Switch models are configurable with one of either three engine options: the 100-horsepower 1630 ACE, the 170-horsepower variant, and the supercharged-and-intercooled 230-horsepower 1630 ACE 3-cylinder four-stroke. And to remain compliant with the strictest emission laws, Sea-Doo has engineered a high-flow catalytic converter-equipped exhaust system that also manages to reduce engine noise and drone.
The outriggers are less like traditional pontoons as they are not watertight, but rather, a paneled Polytec framework that have been tightly packed with high-density foam and feature a unique serrated surface to break up drag (much in the same vein as the "Shark Gills" on the revised T3R hull beneath the current RXP-X 300). The result is a smooth, predictable ride that traverses mild lake chop firmly and predictably. While the modular framework did flex and chatter in rougher water, it never bounced or jostled erratically – delivering a very enjoyable – and in the case of the 13-footer, thrilling ride.
Above: The freedom to reconfigure the deck seating is one of the larger appeals of the Switch platform. Every seat also contains a storage cubby beneath the cushion.
While this is very cool in its own right, it's the ultra-configurable deck which allows for customized seating and accessory integration that is the star here. Sea-Doo's team demonstrated how the deck can be fitted with a variety of benches, tables, and every LinQ accessory imaginable (and all available through a collection of packages or individually through the catalog) – each item securing firmly to the deck using the new 16-inch Modular LinQ Tiles. This feature permits anyone to literally design and construct their own custom configuration – truly making every Switch pontoon unique.
Each chair has a small storage cubby beneath its removable seat. The chair itself can be released from its perch by pulling on the neon handle and relocated to any spot with the corresponding receptacles. The same goes for the deck-level Lounge backrest – simply pull the handle and move it over to a new location. The padded Lounge Deck panels have small plastic teeth at all four corners that snap into place with a tiny bit of pressure. On higher tier packages, corner tables either with integrated Bluetooth speakers or extra storage and cup holders are also available. In several trim levels, a folding rear bench seat comes standard.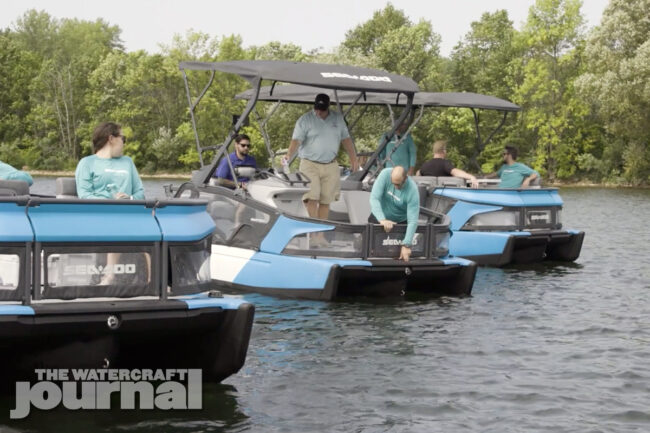 Above left: Every model Switch features a voluminous 105.9-gallon storage bay beneath the deck. Above right: The LinQ Rail Bumpers are rather ingenious, locking onto the pontoon's railing, these bumpers are tethered and can be dropped over a foot lower to protect against low or high dock heights.
As to storage, each Switch regardless of length or trim contains a spacious 105.9-gallon cargo area accessed by a wide removable panel. Inside can accommodate multiple life vests, an inflatable tube and tow rope, dry bags and much more. At the bow is a standard feature on all models: a full-sized marine-grade anchor and 100-feet of line. This way you're not having to drag a muddy anchor onto your Switch's deck, but tuck it away in its own compartment. We were particularly fond of the new LinQ dock bumpers that snap to the fence railings or can dangle on short ropes to deflect impact at lower-height docks.
While the features will increase with each tier of the trim level scale, every Sea-Doo Switch comes with a retractable swim ladder that tucks neatly into the rear, and every captain's console includes a Sea-Doo watercraft-style handlebar instead of a traditional helm. Although some bristled at the idea, the watercraft handlebars worked very intuitively and of course, included Sea-Doo's Intelligent Brake & Reverse system, making the Switch the only pontoon boat with brakes. Equally, every Switch comes with IDF, the Intelligent Debris-Free System debuted only a year previous. And the cost of every Switch includes a trailer to tow it with.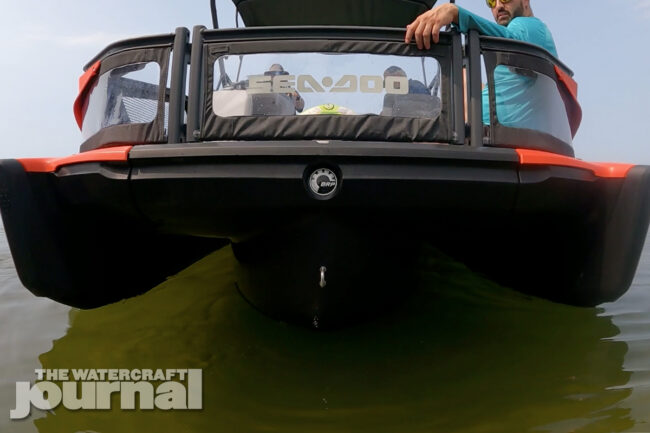 Above: The key to the Switch is its runabout-inspired center hull. Housing the 1630 ACE drivetrain and jetdrive, the center hull rests 7.32-inches (186mm) lower than the outriggers, allowing the Switch to rise on a center keel while at plane.
Above: Despite the accessory package that you might purchase, you can reconfigure the lounging deck of your Switch any way you see fit. The padded tiles snap into place with gentle pressure. The backrest – like all points of adjustment for all Switch models – has a neon yellow tab that you pull to release and push in to lock back in to place.
The base Switch starts with an entry MSRP of $17,999, and can be ordered at either 13, 16 or 19-feet in length. Two engine options are also available, the 100 or 170-horsepower 1630 ACE. Capable of seating between 5-to-9 passengers (depending on length, of course), the base Switch is only available in Caribbean Blue. The Switch Sport (with a base MSRP $23,999) comes in at either 13, 18 or 21-feet in length, seats the same as the base model, and can be optioned with either the 170 or 230-horsepower 1630 ACE engine. Each Sport comes equipped with a quick-attach inflatable holder for tube storage, rearview mirror and Sea-Doo's exclusive Ski Mode; and is available in either Caribbean Blue, Neon Yellow, Coral Blast.
The highest tier Switch group is the Cruise, which promises to "take the party up several notches" with included additions like a collapsible Bimini top, swim platform, sound system, Garmin GPS navigation and more seating and tables. The Cruise begins with an MSRP $26,999 and is available in either 18 or 21-feet lengths, as well as a choice of powertrains: 100-horsepower (18-feet), 170-horsepower (18 and 21-feet), and 230-horsepower (21-feet) – although we seriously recommend the two high outputs, the 100-horse option is just not enough to get your party moving. Additionally, there are three Cruise Accessory Packages: the Family ($30,41 MSRP), Watersports & Fun ($37,909 MSRP) and Comfort ($42,619 MSRP) that "plus" your Switch accordingly; all models are available in Caribbean Blue, Neon Yellow, Coral Blast.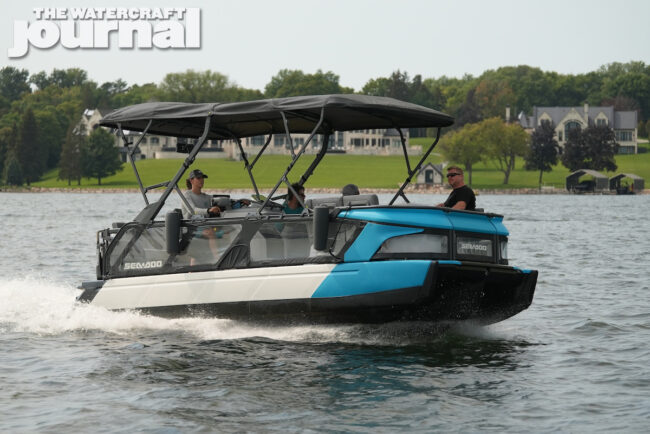 Above: The top tier 21-foot Cruise equipped with the 230-horsepower 1630 ACE provided the most seating, shade and configurable accessories.
Above left: We toyed with nearly everything. The Cruise's collapsible table went together rather easily and in a matter of seconds. Above right: All Switch models come with a black-powder coated anchor and 100-feet of line in its own dedicated bow storage bin.
When it came to on-the-water speeds, Sea-Doo had provided us with some rough estimates, namely 26-28mph for boats equipped with the 100HP 1630 ACE; 34-44mph with those running the 170HP 1630 ACE engine; and upwards to 44-46mph with those pushing 230-horsepower. Obviously, those ranges depended upon the length of the hull and how heavily it was equipped. For our testing, the 100-horse 16-footer never saw above 18mph with four adults onboard. Meanwhile, the 230-horsepower 18-foot Sport saw 43mph with a full crew. The other 230-horsepower model, a 21-foot Cruise, ran a steady 40mph with five adults aboard.
When it came to a fun, playful ride it was the 170-horsepower 13-foot Sport that really shined. Even with three other adults on board, the 13-foot Sport could whip a tight hairpin turn, bounce over chop and cut a tight figure-8. With 230-horsepower on tap, the longer 18-foot Sport made for a spirited ride without losing its footing. Although we enjoyed the premium seating and long shaded deck of the full-length Cruise, the mid-sized Sport with the top tier powertrain managed to check nearly every box that we could dream up.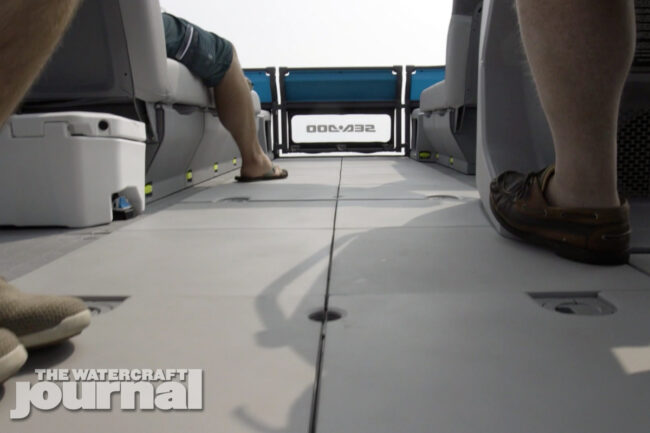 Above: The deck of the Switch is where the real magic happens. All Switch models can be personalized to fit your intended use for the day, whether you're bringing the family to a favorite cove or alone for some quiet fishing.
Above left: All Switch models also include a collapsible swim ladder that tucks neatly into the transom. Above right: Our biggest criticism came from the 100-horsepower option on any Switch above the 13-footer. The two larger platforms beg for the 170 or 230-horsepower option.
With seemingly miles of options and endless configurations, it's almost impossible for us to tell you which model and accessory package is the "ultimate" one to get. And we didn't even get to try out every option that's available. When it comes to choosing a Switch you really need to spend some time on Sea-Doo's redesigned website and build your own. And don't get too stressed out because the way that the Switch is made, you can literally switch it up with each new accessory or piece of deck furniture any time you want.