It wasn't all that long ago that pushing a Kawasaki Ultra 300 or 310 into the 70's required a great deal of effort. Professional offshore champions like Jean-Bruno Pastorello and Craig Warner piloted 80-mile per hour Ultra JetSkis to dozens of top-of-the-podium finishes; but the degree of modification and budget to replicate such a build was well beyond that of the typical performance enthusiast or privateer racer.
Exotic turbocharging kits, ECUs costing thousands of dollars, camshaft swaps and aftermarket pistons were what was required to unleash the industry's most powerful PWC to race-winning speeds. At least, that's what most people thought. Several manufacturers like TBM, R&D Racing and Worx Racing each offered their solutions as well – but few found the results they were hoping for.
In a recent episode of The Watercraft Journal's weekly "Sunday Night Sessions" podcast, we discussed two of the "Stage 1" offerings from industry's leaders in performance Kawasaki tuning: RIVA Racing and Kspeed. First, it bears noting that "Stage 1" is an arbitrary term; there is no universal definition for what constitutes a "Stage 1" package. What one manufacturer may offer in their Stage 1 kit might offer radically from another manufacturer.
Secondly, the prices and performance results we list in this article are directly taken from the retailers' respective websites. We have not privately tested these, nor claim these to be definitive truth (as a point of reference, we know that RIVA regularly "sandbags" their top speed numbers as others may not be able to replicate RIVA's ideal testing conditions). Either way, this data published below will be hyperlinked to the appropriate websites for you to see for yourself.
RIVA Racing Kawasaki Ultra 310 Stage 1 Kit
For RIVA's initial testing, the as-is factory Ultra 310X recorded a top speed of 67mph at 7,400rpm. When upgraded with their Stage 1 kit, the same Ultra 310X recorded a maximum GPS-recorded speed of 73mph at 7,800rpm. Additionally, RIVA notes that air temps were 75º, the tank was 1/3-full (6-plus gallons estimated) and trim set at neutral – all pretty much ideal testing conditions on RIVA's private testing lake as noted earlier.
Priced at $2,087 USD, RIVA Racing's Stage 1 kit is extensive, including RIVA's Kawasaki Ultra 310/300 Speed Control Override Module (PT# RK11110-SCOM); RIVA Kawasaki Ultra 310/300 Performance Power Filter Kit (PT# RK13100); RIVA Kawasaki Ultra Waterbox (PT# RK16091-1); RIVA Ultra 310 Free Flow Exhaust Kit (PT# RK16110); RIVA Free Flow Exhaust Coupler, Ultra 310 (PT# RK15-2.38/3.25); and RIVA's Kawasaki Ultra Pro-Series Sponson Kit.
Equally, RIVA includes Worx Racing's Kawasaki Ultra 300/310 Intake Grate (PT# WR236) and a TBM Kawasaki Ultra Ride Plate (PT# TBM123-UL3). These 8 items radically open up the 1.5-liter's fresh air access as well as freeing up its exhaust flow. Equally, the sponsons, intake grate and ride plate completely revise the Ultra's handling and tracking characteristics – all helping the big JetSki corner sharper and track through ocean chop easier.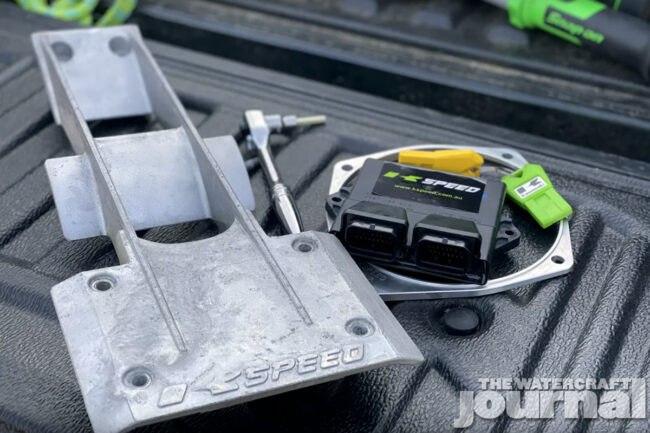 Kspeed Kawasaski Ultra 300/310 Stage 1 Kit
The performance branch of Brisbane Kawasaki notes a slightly better baseline for the Ultra 310X, recording 68mph at 7,600rpm – the perimeters of the weather conditions not withstanding. Unlike RIVA Racing, who wires in a speed control override module (SCOM), Kspeed simply reflashes the factory ECU, bumping the rev limiter up and completely re-mapping the timing and fuel curves, as well as removing the speed limiter, and in the case of the 310, traction control.
This new tune results in crisper throttle response, sharper acceleration and a more efficient fuel burn giving the Ultra a 10-percent (or 30-plus) horsepower gain. Together with just two more parts – Kspeed's 2-degree Pump Wedge and Kspeed's Intake Grate – Kspeed is reporting speeds of 77mph at 7,900rpm. The other two Kspeed components radically change the angle of water entry as well as the exit angle of the pump, lifting the bow and better planting the tail of the hull.

"Better hookup, better hole shot and a far less loss of speed when traveling in rough conditions" together with increasing "mechanical lift" as the hull generates less drag gives the Kspeed Stage 1 kit the added speed over RIVA's offering. That, and the bargain-basement asking price of $1,200.00 AUD (totaling $927 USD) truly puts the Kspeed package over the top – at least when it comes to measuring top speed. You might be asking, what about handling/cornering?
KSPEED Ultra Racing Sponsons
If somehow dishing out $930 bucks for an Ultra 310X that runs 77mph just isn't enough to tickle ya, Kspeed's fully-adjustable milled billet alloy Racing Sponsons are what your Kawasaki Ultra (LX, 250, 260, 300 or 310) needs. Whether it's for maximum tracking control in open ocean surf or executing tight hairpin turns, Kspeed's CNC-machined sponsons offer an incredible 48 different place settings. Priced at $950.00 AUD ($734 USD), these black anodized sponsons promise to be everything the professional racer or performance enthusiast need.
Even tacking on the extra $734 to the Stage 1 kit's $927 asking price, the combined $1,660 is still well below the cost of RIVA Racing's Stage 1 kit – and offers great acceleration, tracking and of course, top speed. Sure, you're getting far less parts (full exhaust, air intake and ride plate), but Kspeed claims to have the "other guys" beat cold. While we'd certainly love to perform the shootout between the two packages personally, getting both the parts and a test unit is going to have to wait as paying customers are lining up to fork over good money to go really fast on their Kawasaki JetSki.